Guilhermina Out for 3 World Records in London
Brazil's Terezinha Guilhermina has set out to be the fastest visually impaired sprinter in the world.
02 Jul 2012
Imagen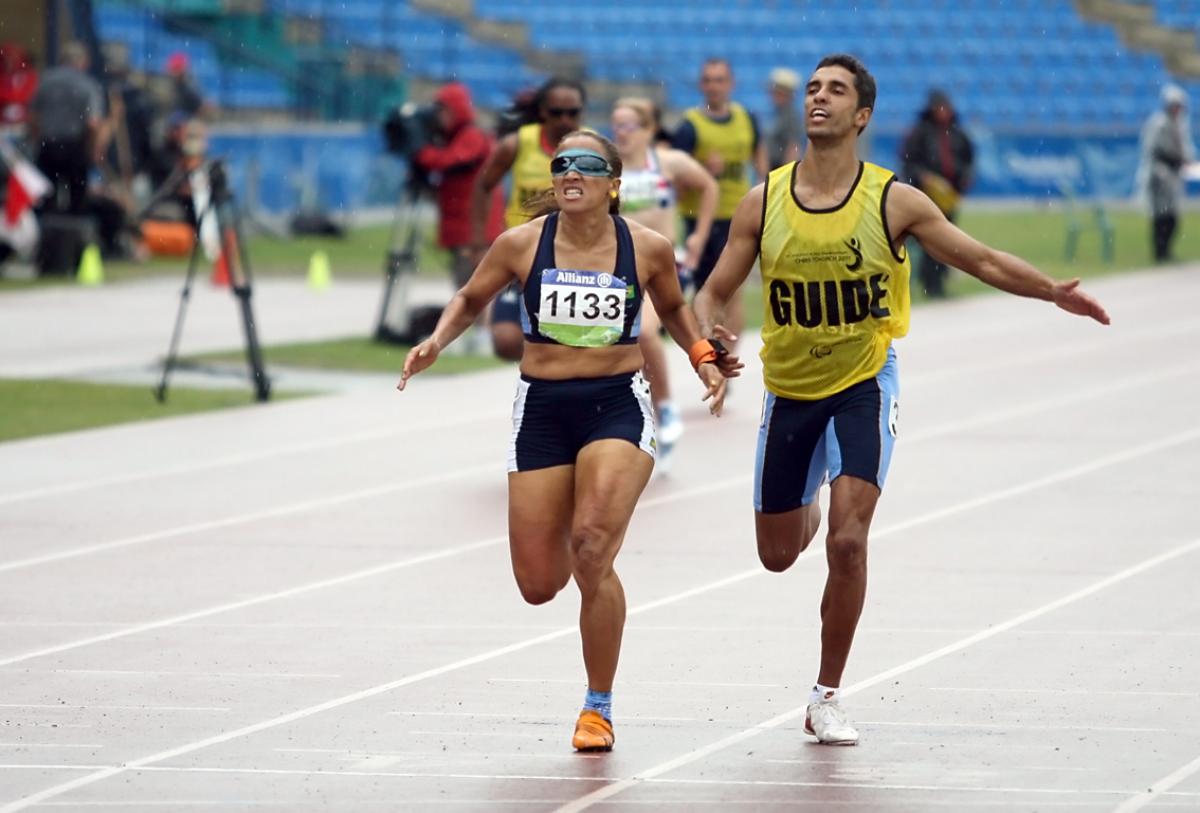 ⒸNPC Brazil
By IPC
"I don´t worry about my opponents, I focus on my preparation and I wish to conquer three gold medals."
Brazil's visually impaired sprinter Terezinha Guilhermina already holds the world records for 100m, 200m and 400m.
In London she does not want to just win gold, she also wants to smash her own records.
Last June she ran the 100m in 12.04 at a meet in Bottrop, Germany, and she is set on breaking the 12-second mark.
"It has been four years of preparation and adrenaline accumulation," said Guilhermina. "I want to head to London and come back with the title of the fastest blind woman in the world."
To do this, she will have to run faster that Cuba's Omara Durand, who at the 2011 Parapan American Games in Guadalajara ran 11.99 in the 100m T13, a class for runners with a less severe visual impairment than Guilhermina.
The Brazilian's other world records were set in Mexico in April this year - 24.67 in the 200m - and at the Rio 2007 Parapan American Games - 56.14 in the 400m.
"I have been dedicating myself to break all my three records," she said. "My will to win is huge."
"I don't worry about my opponents, I focus on my preparation and I wish to conquer three gold medals."
It is not that Guilhermina underestimates her opponents, but the two-time Paralympian has been competing for long enough to be able to cope with the pressures of competition, for which she believes preparation is key.
She trains six days a week, focusing on her strength and technical abilities. When she does competition simulation she trains with her guide, Guilherme Santana.
"Training is very intense, and we're doing much more now with the Paralympic Games so close," she said "I am dedicating myself to my training six days a week, twice a day, from 8 to 11 a.m. and from 3 to 6 p.m. I consider myself really well prepared for London 2012."
At the Paralympic Games, Guilhermina will compete in the women's 200m T11 heats on 1 September at 10:54, with the semi-final the following day at 12:56 and finals at 19:36.
The women's 400m T12 preliminaries start on 3 September at 11:04, with the final the following day at 20:57.
The women's 100m T11 heats take place on 4 September at 11:18, and Guilhermina will hope to make it to the semi-finals the following day at 13:16 and finals at 20:18.
Related Images