From hardwood courts to asphalt, Annika Zeyen golden in Para cycling at Tokyo 2020
Bonn-based star won the women's time trial H1-3 on the former Formula 1 track at the foot of Mount Fuji with a time of 32:46.97
31 Aug 2021
Imagen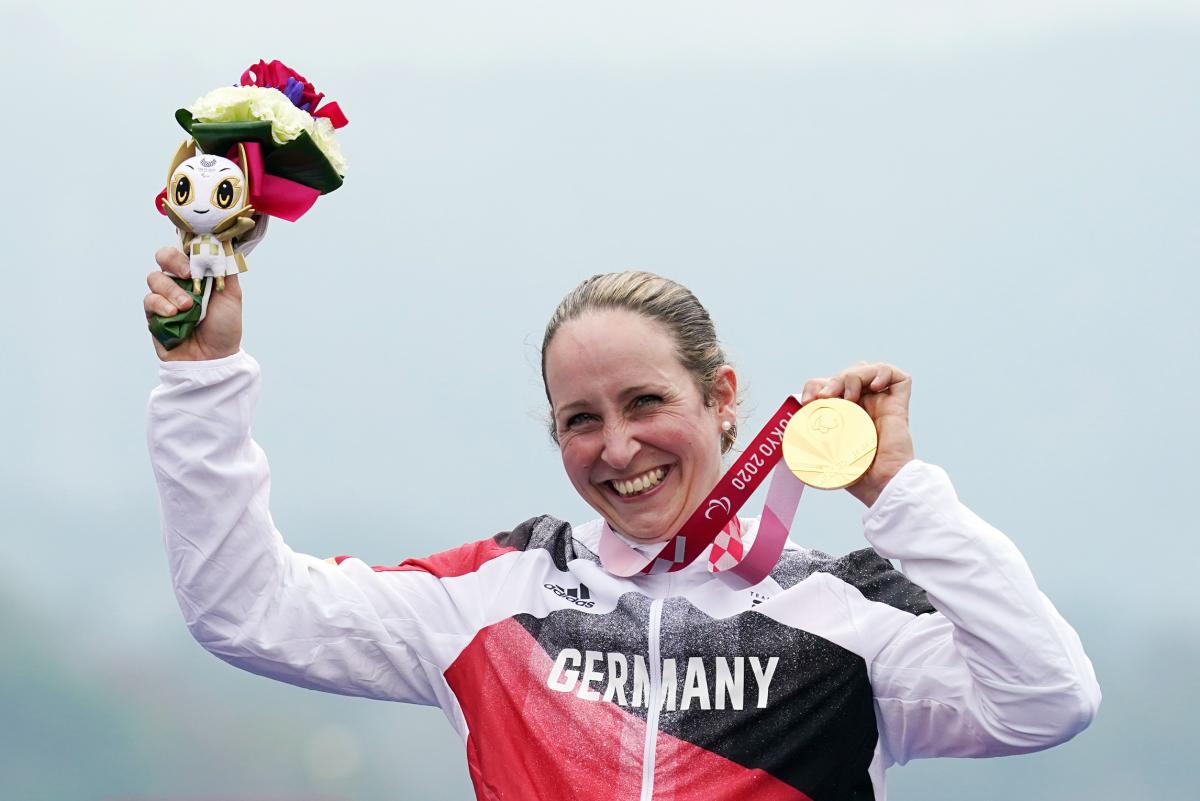 ⒸGetty Images
By Ros Dumlao | For the IPC
Back when Annika Zeyen won her first World Championship gold in Para cycling two years ago, her fiancé raced to the finish line to celebrate with her.
This time, for her first Paralympic gold in the sport on Tuesday (31 August), he was on a video call. The sound and lighting on the phone were poor. Despite the technical difficulties, that joyful feeling was still there. 
"I love you too," Zeyen said, before hanging up.
The 36-year-old German surprised herself when she won the women's H1-3 time trial on Day 7 of the Tokyo 2020 Paralympic Games. A back-to-back world champion in the road race, Zeyen had never topped the podium in the time trial at a major Championships – until Tuesday morning at the Fuji International Speedway. 
"It feels amazing, there are now words to describe it," said Zeyen. "I've won one Paralympic gold so far with the wheelchair basketball team. So now winning a gold in an individual sport is amazing. I can't believe it."
Annika Zeyen was followed on the podium by Italy's Francesca Porcellato and Poland's Renata Kaluza Ⓒ Getty Images
 
It is her second Paralympic gold (fourth medal total), her first coming from London 2012 as part of the German wheelchair basketball team. She returned to the Paralympics in 2016, going for back-to-back titles in wheelchair basketball but was heartbroken in the final against the USA. 
While she decided to hang up her jersey, she did not hang up being an elite athlete, and what seemed like casual bike rides on weekends turned into competitive riding.
The idea of going for a her fifth Paralympics, in a new sport, was possible.
"I was an athlete before," she said. "I know what it means to be an elite athlete for so many years. So I know what it takes to train several sessions and two sessions a day, every single day, and I'm a very ambitious person. I trained a lot. And I'm also very thankful for the amazing team I have around me because even if it's an individual sport, you still need a really good team around you. You need the good physios, good technicians, good coach, so I'm very thankful that I have all of that."
In the time trial, cyclists must ride as fast as they can over three laps, totalling 24km. Zeyen completed the course in 32:46.97, making her biggest push in the final lap to just beat Italy's Francesca Porcellato (33:30.52) and Poland's Renata Kaluza (33:50.32).
"You basically go down and up, and when you go downhill there are some parts that are quite tricky," Zeyen described. "I knew that after the first lap I was quite behind the American girl. I was behind the Italian girl, and it was unbelievable that in the second lap, I made up so much time, so it's amazing.
"I knew that I had to give it all, and I didn't expect that I could make up the time," she continued. "But I still gave it my all and it was enough at the end."