Heinrich Popow: Mind games with Scott Reardon
Germany's star sprinter reacts to comments made about who has the most pressure in the men's T42 sprint class for the IPC Athletics World Championships.
02 Jul 2013
Imagen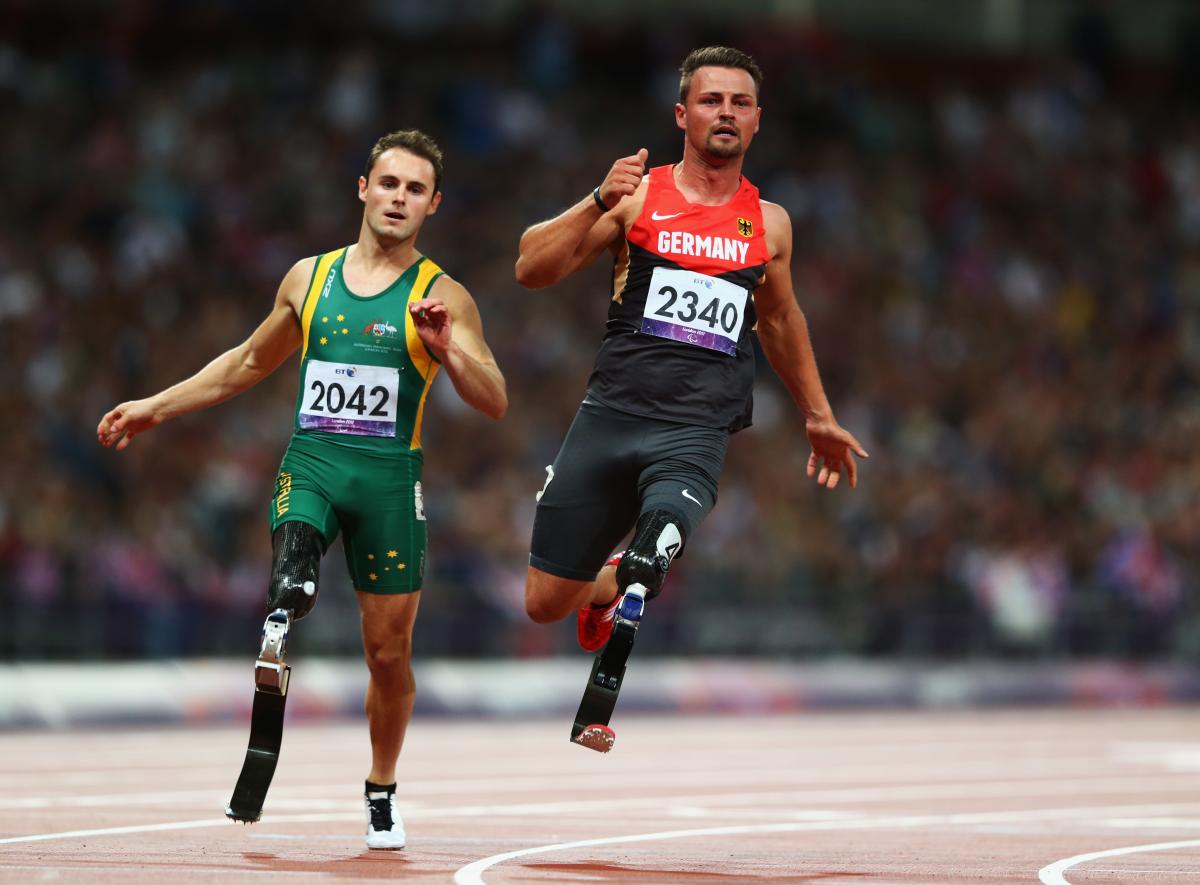 ⒸGetty Images
By IPC
"Scott's coach said the pressure is on me – the pressure is not on me, because I won the World Championships, I won the Europeans, and I won the Paralympics."
Germany's star Paralympic sprinter Heinrich Popow has played down claims that he is under pressure going into the 2013 IPC Athletics World Championships this month.
In a recent interview with Paralympic.org, the reigning world and European 100m T42 champion spoke highly of his rival Scott Reardon.
The 23-year-old Australian took silver in his Paralympic debut last year, finishing just three hundredths of a second behind Popow in a closely contested race, which he had led until the closing stages.
Popow praised Reardon's style and talent, and was quick to talk up his abilities on the track.
But Reardon's coach Iryna Dvoskina believes Popow was simply playing mind games with his opponent and told Athletics Australia that the German "wanted to put pressure on Scotty by saying how good he is."
"I think it's because Henrich was under pressure by himself and he wanted to throw the pressure towards Scotty," Dvoskina said. "But I'm telling Scotty you just need to compete with yourself."
However, speaking after his 200m T42 win at the IPC Athletics Grand Prix Final in Birmingham, Great Britain on Saturday (29 June), Popow denied he felt any pressure – or indeed that he was playing "mind games" with his competitors.
"I don't have any pressure," he said. "Scott's coach said the pressure is on me – the pressure is not on me, because I won the World Championships, I won the Europeans, and I won the Paralympics."
"Everything that is coming now is on top – the pressure is not on me. I am older than him and he is the guy for the next years. Mind games – no. I think they need mind games. I am older.
"I helped Scott in 2011 in Christchurch, I gave him my knee and we talked a lot, and I knew that he is the man for the next years."
Popow recently ran a scintillating 100m in front of his home crowd in Berlin, clocking 12.12 seconds with a tail wind. But while he may be in winning form, he still believes Reardon has the technical ability to take on – and conquer –the world.
"When you look at Scott and his running style, you can't see on his upper body that he's amputated – he's running really smoothly. That's why I said for the next seasons he's really good. I don't know what he's doing this season, but I try to give him a good race – but no pressure, just with fun.
"He will come in the next years, that is for sure. If he will not come, then the coach did something wrong."
But pressure or not, Popow is adamant that his determination to win remains as strong as ever. With age comes experience, and the 30-year-old believes that can only help him in his quest for another world title.
"Normally I was thinking about retiring after London but now I am in such good shape and enjoying the sport," he said. "And this means I don't have pressure – enjoying is without pressure.
"I am going through more races and tough situations, and the story in London with the last five metres against Scott makes me really, really strong.
"I try to be on top, and it is easier when you are enjoying the sport, than with having pressure, and that is the reason why Iryna tries to take the pressure away from the athlete. He doesn't have any pressure – he is young, and I don't have any pressure because I am old."
Related Images