Helsingborg 2019: Gilles de la Bourdonnaye ready for table tennis return
France's multi-Paralympic, World and European champion hopes to qualify for Tokyo 2020
16 Sep 2019
Imagen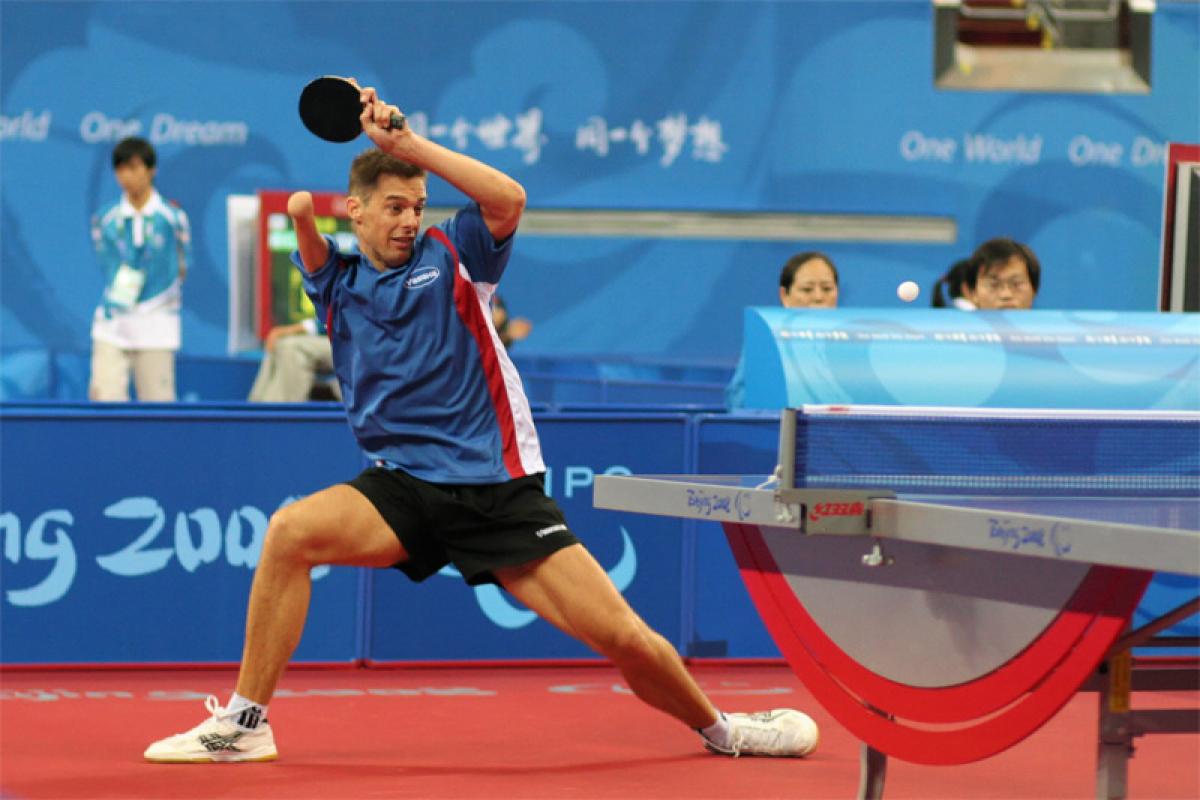 ⒸGaël Marziou | ITTF
By Becki Ellsmore | For the IPC
Former Paralympic champion Gilles de la Bourdonnaye of France after calling it quits from the sport a decade ago, has decided to come out of retirement for the Para Table Tennis European Championship. The event would serve in his comeback bid for the Tokyo 2020 Paralympics.
The competition schedule is underway in Helsingborg, Sweden, until 21 September and is the final qualifying opportunity for athletes for Tokyo 2020. 
The 46-year-old, class 10 player, had made his first international debut in 1990 and after an illustrious career spanning 18 years had decided to put down his paddle in 2008. During that stint, he had also won the World Championships in 1990, 1998 and 2002. Bourdonnaye's accolades include European Championship victories in 1991, 1995, 1997, 1999, 2001, 2003 and 2005 – this also includes individual and team titles. 
"To return as an international player was a pretty sudden decision I made in January this year," said Bourdonnaye. "There are many things that made me decide to come back: I am still fit – I think – still enjoying training and playing, both my kids wanted to see me on TV - they were too small or not even born yet in 2008," he added.
The nine-time Paralympic medallist competed at five Paralympic Games between 1992 and 2008, and said the possibility of potentially competing at a sixth Games is another reason for his return.
"The Paralympic Games are something that is hard to describe, a mixed feeling of joy, honour, pride, fun and responsibility."
During his lengthy sabbatical, Bourdonnaye remained involved with table tennis, playing and training, as well as becoming the president of one of the top clubs in France for six years. With his many years of experience, he was also invited to attend the London 2012 and Rio 2016 Paralympic Games as a lecturer. Across his 30 years as a player, he has seen significant changes in Para sports.
"I can say that everything is more like able-bodied [sport] now: commitment of the players, the staff, the organisation... since London 2012 we can say that Paralympians have become significantly more 'famous' than they ever were before. So now you have players that have sponsors and money enough to be only table tennis players."
With over 15 previous European and world titles to his name, across singles and team events, as well as three Paralympic golds, he enjoys playing for France.
"[Competing for your country] is great of course because you feel that you are supported by lots of people, you are not alone in your preparation, in your competition, whether you win or lose," Bourdonnaye said.
For his European Championships return, Bourdonnaye has been following a tailored training schedule.
"It will be my first major competition since Beijing 2008, so I am aiming at playing the best table tennis I can. This indeed would be a really good achievement," he said. 
"In the early 90's, when I started to enter the ranks of the world's top players, the level of competition was not as high as it started to be 10 years after. So it was not so difficult to study or work and train at the same time," he continued. "Then after Atlanta 1996 everything changed. Since then, you do not have any alternative, you must train hard and be focused on your table tennis - in other words, be a professional."
Also helping his return is his strong support system.
"My wife Michala (Zakova-de la Bourdonnaye, a former Para table tennis player for the Czech Republic ) is supporting me a lot," he said. "I wanted to give a hand to [my teammate] Mateo Boheas. He is a very talented player, a nice person and we live in the same city (Nantes) so that makes things easier to train and for me to keep an eye on him, as he is only 23."
Over 300 athletes from 32 countries are at the Helsingborg 2019 Para Table Tennis European Championships, and more information is available on the ITTF's website.