Lima 2019: Gabriel Copola not done yet
Argentinian table tennis legend still has medal hopes
22 Aug 2019
Imagen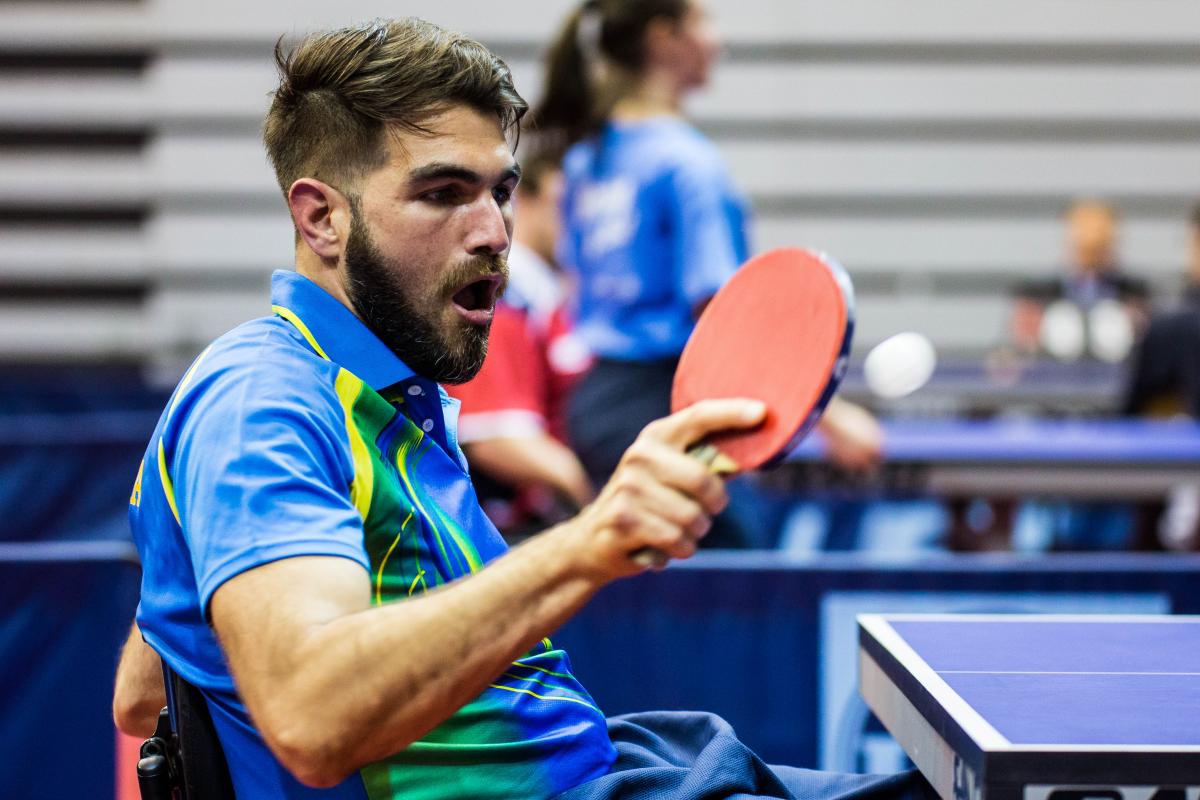 ⒸGrega Valancic/Sportida
By Becki Ellsmore | For the IPC
Argentinian table tennis star Gabriel Copola has been competing internationally for two decades, winning numerous medals. Yet he feels he still has more to prove, beginning at the Lima 2019 Parapan American Games from Friday in Peru. 
The multi-sport competition couples as table tennis' regional Championships, and all 127 athletes from 19 countries will battle for Tokyo 2020 Paralympic qualifying spots. 
Copola is a heavy favourite in his class. He made his debut at 15 years old at the first Parapan American Games, in Mexico City in 1999. 
Now at the sixth edition of the Parapan Ams, he looks to retain his class 3 title and secure a spot in Tokyo. 
"My intention is to be champion of America again," he said. "I want the glory once more."
As well as winning gold in singles and team bronze at the last regional Championships in 2017, the 35-year-old has medalled at every Parapan Am Championships or Games for the last 10 years. 
But he has longed to win a Paralympic medal.
The Argentinian competed at the London 2012 Paralympic Games, just missing out on a place in the quarter finals. At Rio 2016, he qualified for the last 16, but then lost to Brazil's Welder Knaf.
But with a new generation of Para athletes rising, Copola knows he has to work harder.
"[Extra] preparation was very important since I am not a young player," Copola continued. "We work a lot with my psychologist, we work a lot of physical training and I respected the breaks to be in very good shape. I also prepared very strongly in my technique."
He is mindful of the pressure and potential intensity at Lima 2019, with his opponents also aiming for Tokyo.
"I think all my rivals will be very difficult since we all hope to be champions and go to Tokyo 2020," he said. "I have a very good relationship with my rivals both on and off the table."
Beating Brazil
At the Rio 2016 Paralympic Games, Brazil was the only Latin American nation to medal, winning one silver and one bronze in the singles tournaments, and two bronze medals in the team events.
Among those top names are Paulo Sergio Salmin Filho, who could add to his tally of six continental gold medals when he competes in the men's class 7. The 25-year-old has medalled in both the single and team events at every one of the last four Parapan Americans.
His compatriot Claudio Massad could add to his tally of three Parapan American gold medals. The 34-year-old is the title holder in the class 10 event, having improved his 2015 silver medal by winning at the 2017 Championships. He also has two gold medals from the team class 9-10 event.
Class 7-9 title holder Jennyfer Marques Parinos also holds the World Team Championships class 9-10 title. She qualified for her home Games at Rio 2016 but went out in the group stages. 
Her fellow class 9 teammate and close rival, 21-year-old Danielle Rauen, lost in the bronze medal match in their class in Rio but has a good history of winning medals, including beating Parinos to the gold at the 2015 Parapan Ams. 
Americas battle
At the 2017 Parapan Am Championships, the honours in the 14 singles events were split evenly between Brazil, Argentina, Chile and Mexico, with each country winning three gold medals each, and Costa Rica claiming the final gold medal.
Costa Rica's Steven Roman Chinchilla returns as reigning champion in the men's singles class 8. The teenager won as a 15-year-old at the previous championships in 2017 against 41-year-old Chilean Jaime Jara Hernandez.
Mexican class 3 athlete Edith Sigala Lopez is the current holder of the class 1-3 title and could claim her eighth Parapan American medal at the upcoming Championships. She has won her class in the singles event at four out of five of the previous Parapan American tournaments, as well as claiming two team golds.
More information on Lima 2019 is available on the IPC website.