Lima 2019: The Pied Piper of the Parapan
Peru's captain Bruno Quiros is on a mission
26 Jul 2019
Imagen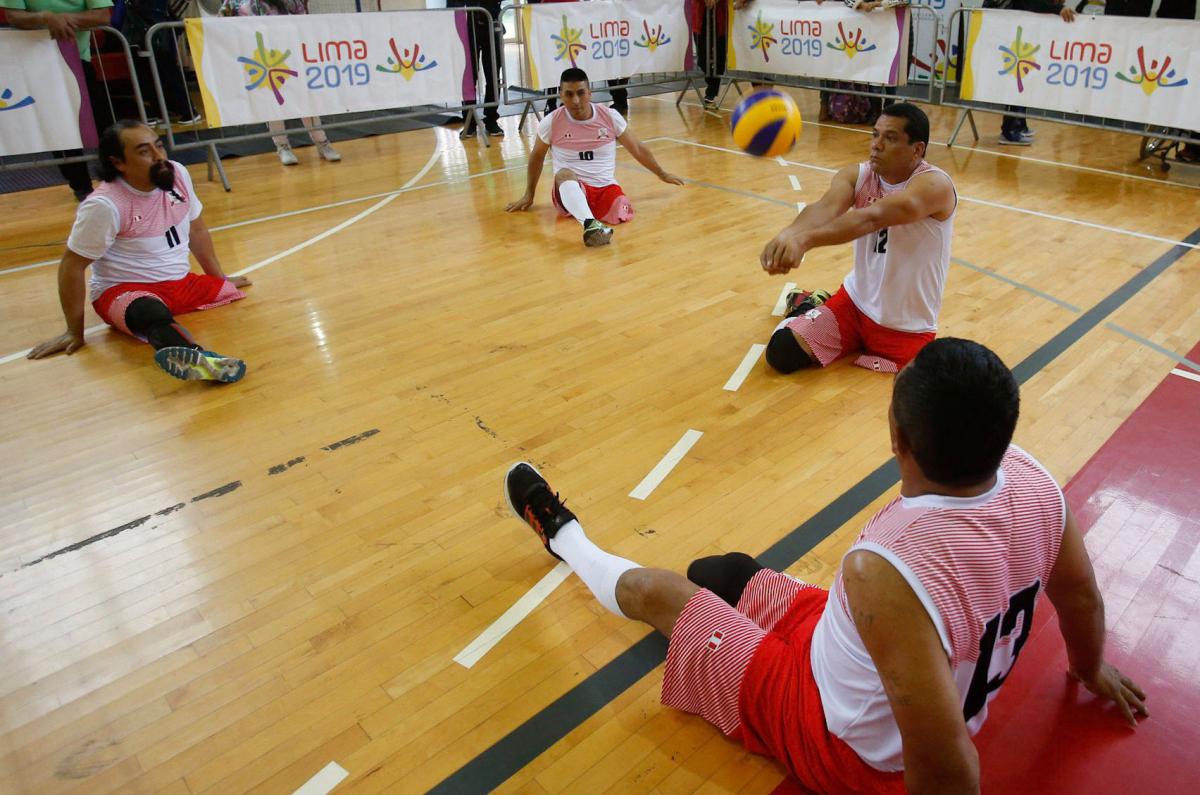 ⒸLima 2019
By Teddy Katz | For the APC
The captain of Peru's sitting volleyball team Bruno Jose Quiros Davalos says it is almost as if people with impairments are coming out of the shadows in his country as a result of the Lima 2019 Parapan American Games.
"Here it's always been a taboo to talk about people with physical disabilities," he said. But he added: "Lima is finally changing."
Quiros is playing a central role in that change.
Peru's pioneers
"Until now there hasn't been any real development in Para sport. Now with Lima 2019, we are the pioneers here. We are seeing more and more people doing Para sport," said Quiros, who was recently chosen as torchbearer for the Pan American Relay. 
"There are people with physical disabilities who were almost hiding, people didn't see them. Now many are joining the Paralympic movement. It's beautiful to see."
The 48-year-old counts himself lucky to be among them.
He grew up actively playing sports especially his true love football and was always one of the leaders on those teams.
But 21 years ago, he was involved in a car accident and lost his leg. While he still played the odd game of football, it was nothing like before.
That was until a couple of years ago. With Lima looking ahead to hosting the continent at the Parapan American Games, Quiros met Denis Cotrina, the person putting together the new national sitting volleyball team and recruiting players.
Finding Para sport
"I have been disabled for 21 years and it was only two and a half years ago that I found out about Para sport," he said. 
Although he had never heard about sitting volleyball, Cotrina saw his potential. Quiros picked up the sport quickly and started training seriously.
"I am very grateful to Cotrina because he changed my life completely with the sport. I started to feel that I was playing an important role in sport like I had before," Quiros said.
Team Captain
Quiros has played eight tournaments since the Peruvian team began in 2017 and has become one of the stars and its captain.
Off the court, he's leading the way too. He's the captain of an organization called 'Sin Límites' (Without Limitations) promoting sport for people with disabilities.
That's led to some interesting encounters while he's driving to work in his car or taking his daughter to school.
Finding recruits on the street
"When I'm on the streets, when I see someone with a physical disability who is young, athletic looking, I park. I get out with my crutches and I go up to them and introduce myself."
Quiros tells them he's on the siting volleyball team and asks them if they play sports. Most answer no, so he shows them photos of the team on his phone.
Sometimes, he'll drive them down to where the team trains.
"When I take them, they are surprised because they don't see just me missing a leg -- on our team, we have another athlete who is missing both legs who is a really good player. 
"We have players who were born without hands, but they play sitting volleyball and they spike the ball and set it. It's not impossible. When they see that, their desire to participate goes way up."
From the streets to the Games
A handful of people he's recruited are set to play in the Parapan on the women's sitting volleyball team and a couple in badminton.
"I think this is my mission," Quiros said. "If this is what happened to me, why can't I find others and give them the opportunity to change their lives. I am proud because I see them, and I think I spotted them on the streets and look where they are now."
Jorge Beltran is with the National Sport Federation for People with Physical Disabilities in Peru and helps oversee sitting volleyball there. He said Quiros has an energy that's contagious. 
"Bruno is one of our best players and one the best people that I know that can actually deliver this message," he said.
Parapan's legacy
Beltran says this is the first time in history Peru has hosted a multi-sport event. He assured it's leaving a legacy with more athletes and new venues built with accessibility in mind that didn't exist before.
So how will the Peruvian sitting volleyball team do at the Games? They'll be up against powerhouse squads from Brazil, Canada and USA.
Quiros said they can't worry who the team is on the other side of the net.
"We think we can get on the podium and qualify for Tokyo 2020. We have the desire. Nothing is impossible," he added.
Beltran isn't as focused on medals. "For us [in Peru] this is the start of the Paralympic Movement."
Lima 2019 will feature over 1,800 athletes competing across 17 sports, overtaking Toronto 2015 as the biggest Parapan American Games in history.
Tickets can be purchased online.