Lima 2019: Tennis legend impressed by wheelchair tennis star
Gustavo Fernandez gaining respect on and off the court
23 Jul 2019
Imagen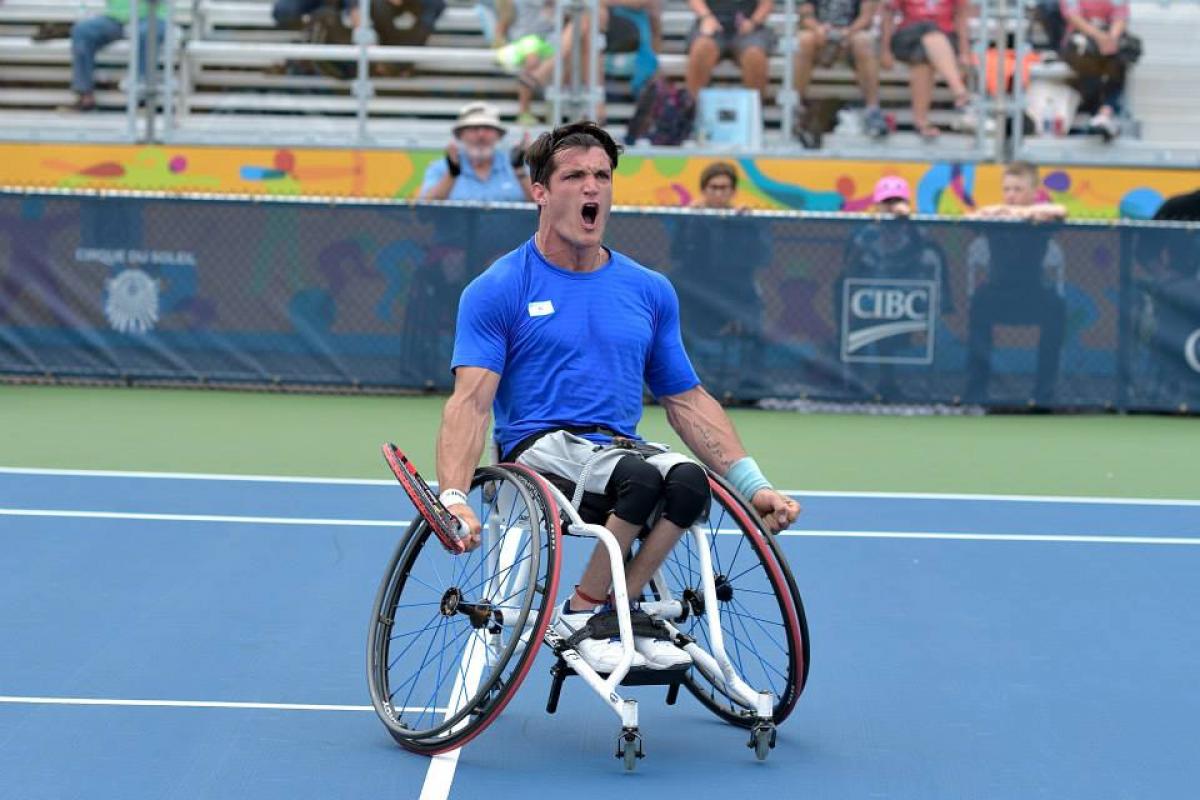 ⒸLaura Godenzi
By Teddy Katz | For the APC
Gustavo Fernandez is enjoying the moment as one of the top wheelchair tennis players in the world. He knows how fleeting this time on the top can be.
That's why the 25-year-old Argentine star is not getting too far ahead of himself.
After winning Wimbledon and before targeting a calendar year Grand Slam at the US Open, Fernandez wants to try to defend his title as the singles and doubles champion at the Lima 2019 Parapan American Games this August.
Two-time defending Parapan Am champion
"The Parapan Am Games is huge for the country and for me. I'll try to do my best to repeat that," he said. He's been the Parapan champion since he won the singles title in Guadalajara, Mexico, in 2011.
World No. 1 Fernandez is excited about Lima because leading into the Games he has been playing some of the best tennis of his life.
In June, he won the French Open singles championship, something he did for the first time in 2016. It was his fourth Grand Slam singles title. He also won the Australian Open for the second time.
Able-bodied tennis stars reach out
After that French Open win, many of the biggest names in able-bodied tennis from Argentina past and present, including a legend in the sport, reached out to congratulate him.
"A lot of them are showing respect to me -- all of them actually – and I think that's awesome. I've been looking for that kind of acknowledgement from the ATP colleagues and it feels really good because we are looking to break that difference that everyone makes with tennis and wheelchair tennis – trying to make everyone see that it is still tennis," Fernandez said.
One message in particular that he received stood out.
"Maybe the one that impacted me the most this time was <Guillermo> Vilas because he told me 'winning four slams is something incredible' and a guy like that saying that, it shocks you because he knows what it means to be there," he says. Vilas is among the most successful tennis players in history, having won 62 titles including four Grand Slam.
Fighting for world No. 1
Fernandez has been see-sawing back and forth for the world No. 1 this year with Shingo Kuneida. Just like many of their matches, it's close.
The Japanese star has been one of the top players in the world since 2007 and, at 35, is playing some of his best tennis too.
That makes for a great spectacle when the two are on the court together.
"We are trying to do each other better and for a long time he was much better than me," said Fernandez, who most recently defeated Kunieda in the 2019 Wimbledon final.
"It's a great rivalry - a healthy rivalry and I think that's great for the sport to know that the other guy can be better than you and it's ok. Shingo is a great competitor, the best of wheelchair tennis without a doubt and it's great to share the court and be fighting with him."
When asked what it will be like to do that next year at the Tokyo 2020 Paralympics, Kunieda's hometown, Fernandez laughed. "Oh, it's a long way to Tokyo. We have a really big fight during this year."
Enjoying the moment
Fernandez moved into the No. 1 ranking briefly after the French Open but didn't celebrate the way he did when he made history in 2017 becoming the first Latin American wheelchair tennis player to be world No. 1.
"It's a lot different. Every time you do something for the first time that's very special. I was very emotional about that. It meant a lot. It was really something I was looking for and once you achieve it you start to think all the way back."
Fernandez says being No. 1 in 2017 was the biggest break of his life. He received a lot of media attention but now admits, he really struggled with it initially.
"I couldn't enjoy the six months I was in the No. 1. I was always thinking too much where I was and not what I have to do."
Now more mature, he's taking a more philosophical approach.
While he's doing the odd media interview, he's more focused on his training.
He has surrounded himself with what he calls a great team that demands the most of him every day including his tennis coach, a mental coach and fitness trainer.
"I have really enjoyed this moment. I am really happy with the life I have, family I have, the team that I have."
Lima 2019 will feature over 1,800 athletes competing across 17 sports, overtaking Toronto 2015 as the biggest Parapan American Games in history.
Tickets can be purchased online.