Lima 2019: A trailblazer for sport and inclusion
Alejandra Aybar making history for the Dominican Republic
03 Jul 2019
Imagen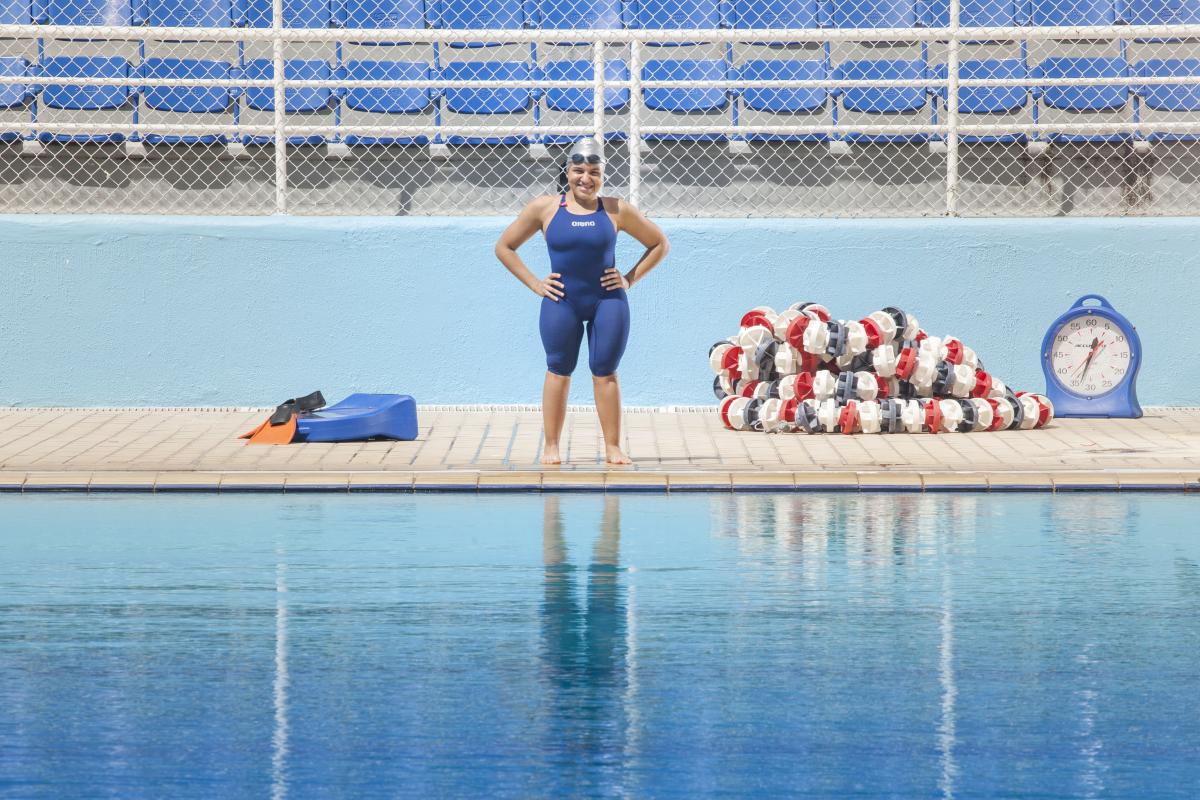 ⒸRicardo Piantini
By Teddy Katz | For the APC
"I'm not sure if people have changed [how they view me] but what really has changed is me. I don't care anymore if people look at me. I feel empowered."
Competing at the Lima 2019 Parapan American Games is not something 30-year-old Alejandra Aybar would have considered possible in her wildest dreams as a child.
She was born with a genetic or brittle bone disease called Osteogenesis Imperfecta that affects her balance. She's broken her femur and hips so many times she's lost count.
Aybar endured terrible pain and countless surgeries so for most of her life sport seemed out of the question.
In 2015, she had a bad fall once again that caused irreparable damage to her right knee.
Doctor prescribes swimming
As she lay motionless in her hospital bed, her doctor advised her to start swimming to help her bones grow stronger.
But the area where she's from in the Dominican Republic didn't have a pool so she had never learned how to swim.
Living in the capital Santo Domingo in 2015, she went to the Olympic Centre to learn there. But at first, they wouldn't allow her in the pool. After she protested, she was offered one hour on Fridays.
"It was hard for me to learn because they treated me like a baby," Aybar said.
Refuses to take no for an answer
She went back to the people running the Centre after one month and asked again. They allowed her to practice two hours a week.
That's when she started progressing and within a year, she was training with the able bodied team every day.
Sport gave her new confidence and a purpose she says she didn't have before then.
Swimming is 'freedom'
"When I feel the water, I feel freedom. I can go faster and faster without a cane or without somebody helping me." She added, "It's like my personal heaven."
She proved to be a quick study and within two years, Aybar competed in her first International competition at the World Series in Indianapolis.
That proved to be an important turning point.
Agitos Foundation support
Aybar received an invitation from the Agitos Foundation to compete at the 2017 World Para Swimming Championships in Mexico City as the lone female team member from the Dominican Republic.
That event was memorable for another reason. She became the first Para swimmer from her country to compete in finals at a world championship.
"I was not aware of that until the announcer said, 'this is the first time that we have someone from the Dominican Republic appearing in the final'. I didn't know I was making history."
She continued making waves this past April becoming the first swimmer from her country to ever make the qualifying times for the Parapan Am Games.
"I feel really happy not only because I'm the first but because I am writing a new chapter for Para sport in my country."
She has done all this in just four years, working nine hours a day as an industrial engineer to pay the bills while she trains.
Helping others
"I think what I'm doing – even if I never win a medal, what I'm doing will help others. And that is the best satisfaction that any person can have."
Aybar receives messages daily from people who she inspires. Many have started exercising after seeing what she's been able to do. A few young Para swimmers have started in the sport.
Her big goal is to raise awareness about inclusivity in her country at different levels: sports, employment, social equality and rights.
There is a lot of work to be done she says in a country where drivers won't slow down to let her cross the road and often people look at her funny.
"When people see me, most of time people look at me like they are looking at something different like an alien."
Female empowerment
A major bank in the Dominican Republic has asked Aybar to be the model for a new advertising campaign around accessibility. At only 1.3m, she can't see the teller at eye level, so the bank is renovating to be accessible for all.
She has supported a global inclusion campaign called Show Us with Dove and Getty Images plus Girlgaze which promotes female empowerment.
Aybar says sport has taught her how to love and embrace her differences.
"Now I love the way I look. I love my few muscles and I know God has a purpose for me."
"I'm not sure if people have changed [how they view me] but what really has changed is me. I don't care anymore if people look at me. I feel empowered," she added.
Aybar is hoping to use that new power to make the final in Lima to demonstrate she is among the best swimmers on the continent.