'Empowered' headlines first 2019 magazine edition
The Paralympian features female Para athletes who have risen up to challenges
03 Jun 2019
Imagen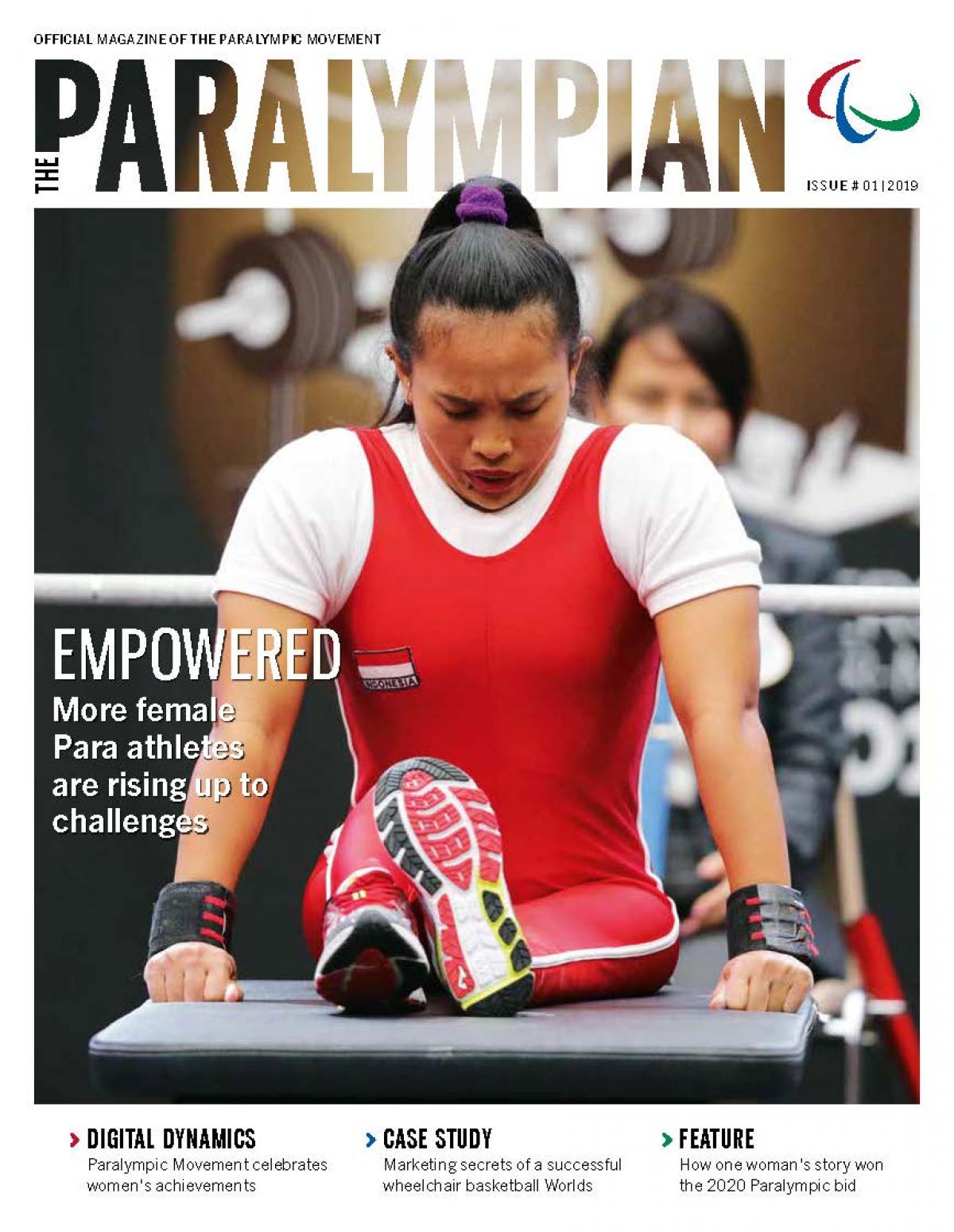 By IPC
The International Paralympic Committee (IPC) has released the first 2019 edition of its magazine The Paralympian, filled with stories of female athletes and leaders in the Movement making an impact around the world.
The cover photo features Indonesian powerlifter Ni Nengah Widiasih symbolising the magazine's headline "Empowered," in which amazing feats have been accomplished through Para sports.
One such feat is in the feature story. It tells the journey of Japanese Para athlete Mami Tani bringing the Tokyo 2020 Games to her home country. Nervous at first to speak in front of International Olympic Committee (IOC) members, Tani found the courage to persuade the voters why the Games should come to Japan.
Her courage not only helped Tokyo win the bid, but also has her striving to make another dream come through – compete at her home Paralympics.
"Digital Dynamics" looks at how female Para athletes and the IPC staff joined the campaign #BetterforBalance to raise awareness of gender balance.
A case study reveals how the Agitos Foundation brought the Paralympic Movement into schools around the world. Through their I'mPOSSIBLE education programme, the IPC's development arm has gone global in implementing the toolkit in schools, and the engagement with kids has been inspiring and encouraging.
Another case study looks at how the Local Organising Committee of the 2018 Wheelchair Basketball World Championships successfully marketed the event in Germany's second largest city Hamburg. Anthony Kahlfeldt shares how he packed venues and dressed the city in the World Championships' branding.
For organisations or athletes wondering how to maximise social media, flip to the magazine's "How to…" section. The Brazilian National Paralympic Committee and wheelchair tennis player Gustavo Fernandez share some of their top tips that has helped them engage with their fans.
Check out astonishing images from World Championships that happened so far this year, with all winter Para sports wrapping up another season following the PyeongChang 2018 Paralympic Winter Games. But with their seasons complete, it is time to get ready for a packed year of summer sports, with Tokyo 2020 qualification slots on the line at upcoming Worlds.
Peruvian badminton player Pedro Pablo de Vinatea has been a busy man with the Lima 2019 Parapan American Games coming to his home this summer. Find out just how busy he is in "A Week in the Life of…"
In "The Big Debate," the representatives from the National Paralympic Committees (NPC) of Iran and the USA, and one from the Oceania Paralympic Committee, each share their opinions on how their regions have or could benefit from partnering with their respective national Olympic bodies.
Finally, Zimbabwe's Nyasha Mharakurwa has experienced both being a high-performance athlete and working. He writes why diversity is important in a workplace based on his experience.