'The Paralympian' celebrates PyeongChang 2018
First edition of IPC magazine in 2018 looks back at record-breaking Winter Games
19 Jun 2018
Imagen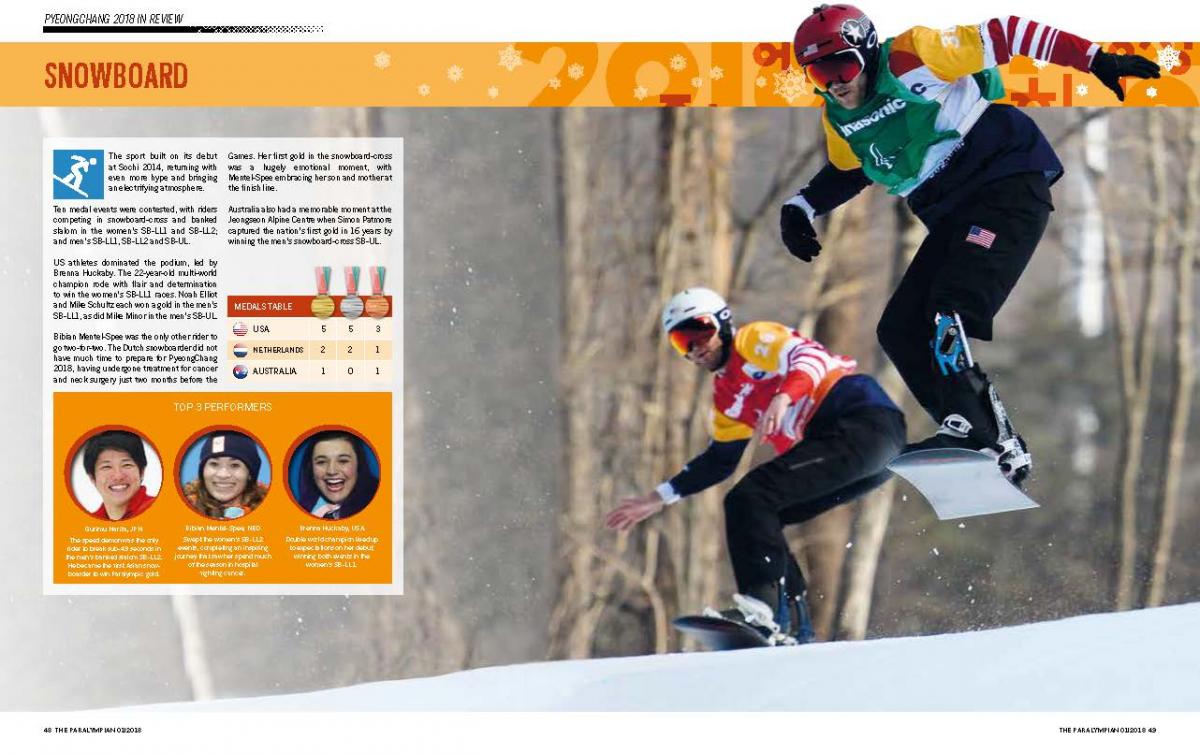 By IPC
The International Paralympic Committee (IPC) has released the first edition of its magazine "The Paralympian" for 2018, which celebrates a record-breaking Winter Games in PyeongChang.
Download an online copy here.
An iconic photo of cross-country skier Eui Hyun Sin graces the magazine's cover, a fitting portrayal of an unforgettable Games for hosts South Korea. With a record number of athletes, nations, spectators and TV audiences, readers can find out in detail how PyeongChang 2018 raised the bar for Beijing 2022.
The Winter Paralympics will also be remembered for some spectacular athletic performances. From South Korea's historic bronze medal win in a packed Para ice hockey arena, to Dutch snowboarder Bibian Mentel-Spee's inspiring double-gold performance, the magazine highlights the top moments from each of the six winter sports. Stunning images from PyeongChang 2018 throughout the magazine showcase the incredible abilities of the athletes.
Away from the sporting action itself, PyeongChang 2018 is also reflected in a case study looking at how the IPC's six worldwide partners maximised their impact during the Games. Atos, Ottobock, Panasonic, Samsung, Toyota and Visa found creative ways to enhance both the IPC and their own brands.
The magazine's "How to…" section is a platform for organisations to share ideas and methods across the Paralympic Movement. In this edition, Para sport Denmark and the Brazilian Cycling Confederation reveal how they successfully organised major Para sport competitions in their countries.
There are also in-depth interviews with some of the biggest names in Para sport.
Enjoy a 'Week in the Life' of Argentinian swimmer Daniela Gimenez as the world champion prepared for the 2018 season. Find out what makes wheelchair tennis star Yui Kamiji tick, as one of Japan's biggest names starts the journey towards her home Paralympics at Tokyo 2020. And go back in time with Israel's Baruch Hagai as he relives his golden moments from 50 years ago in Tel Aviv 1968 in "My Games Experience."
"The Big Debate" section takes an in-depth look at one of the hottest topics in the Paralympic Movement. With so many summer athletes also excelling in winter events at PyeongChang 2018, we ask whether those achievements can actually hurt the image of Para sport. Athletes from both summer and winter disciplines argue the case.
As the attention turns away from the winter season, the magazine serves as a guide to a summer of World Championships in "Upcoming Events."
The Paralympian then wraps up with wheelchair tennis legend Esther Vergeer's column, as she has The Last Word on what it means to be a leader in the Paralympic Movement.