Lima 2019: Failure makes Maciel Santos mature
Brazilian dreams about top of the podium at Parapan Am Games
23 Jul 2019
Imagen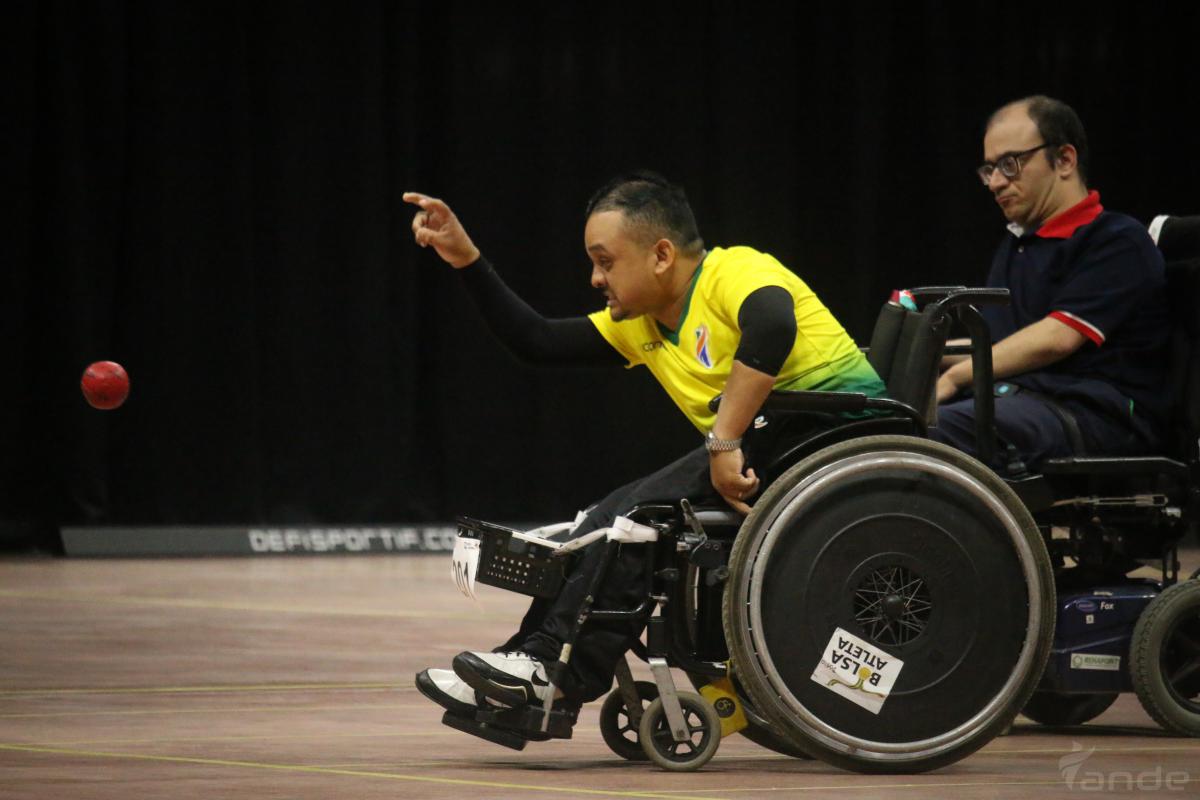 ⒸANDE
By EJ Monica Kim | For the IPC
"I really wished to become a champion again even more at Rio 2016 on my home ground, because it would be the once-in-a-lifetime opportunity in my professional career"
Brazil's Maciel Santos is eager to bounce back in the 2019 season through his mature mentality following disappointing results at the Rio 2016 Paralympic Games and last year's World Championships.
"Failures are a stepping stone to make bigger jumps in my professional race," Santos said.
His ultimate aim is the Tokyo 2020 Paralympics, but the Brazilian is currently focusing on the upcoming Parapan American Games in Lima, Peru, from 23 August-1 September.
He believes that Lima 2019 will be more competitive than Toronto 2015 where he swept golds in the both individual BC2 and the team BC1-2 events in Canada.
"Lima 2019 will be like a rehearsal ahead of the 2019 America Regional Championships in Sao Paulo, where athletes can ultimately secure their quota places for the 2020 Paralympics," he said.
"But I'm getting ready to defend [my] gold medals."
The Brazilian star is devoting to training for six to eight hours a day alongside his dream team, consisting of a technical coach, a physical trainer, a psychologist, a physiotherapist and a nutritionist.
In 2019, he made a satisfactory start by winning one gold and one silver in the individual and team BC1-2 events, respectively at the 2019 Montreal Open in Canada.
"These medals meant that I'm on the right track, so I feel like I'm getting closer to earn my spot in both individual and team events at Tokyo 2020."
Motivation after bitter experiences
He confessed that the success from his Paralympic debut brought him pressure.
"I really wished to become a champion again even more at Rio 2016 on my home ground, because it would be the once-in-a-lifetime opportunity in my professional career."
However, Santos could not deal with not only high expectations surrounding him but also his stress in the end.
He wrapped up his second Paralympic Games by finishing 11th in the individual BC2 event.
The 2018 season was also not the best memory for him, as the 2014 World Championships bronze medallist returned his home empty-handed from Liverpool 2018.
"I felt frustration at that time, because I had prepared as well as I did in 2014," he added.
"But I realised how much the level of the Worlds had increased, after analysing it more calmly. I should train more and more in order not to be left behind in my category."
Moreover, he learned how to overcome a sense of frustration.
"Each competition is different, so I should never think as if previous success must be repeated."
The-33-year-old says he has become bolder and calmer.
"No matter how hard you work, you won't be always able to reach your final goals," Santos said.
"But you should keep holding your head up high and start all over again, because we, athletes don't have time to lament for each failure."
Gearing up for Tokyo 2020
The London 2012 champion hopes to repeat the feat at his third Paralympic Games in 2020.
"I'm much more experienced than before. I know that every single game is important, so I'll play each one as if it were my last."
Part of the plan for Tokyo is to train more in Asia, where his main rivals come from.
"Nothing is better than playing against opponents to study them."
The power of family love
Santos would not be able to continue to chase his dreams without his family's great support.
"When I began boccia in 1996, I didn't have any club teams that I could borrow a wheelchair from," he explained.
"However, now I have overcome all those difficulties thanks to my parents and wife who gave me strength. That's why, my dream is to become a great Paralympian to guarantee the future of my children."