Daniel Michel's boccia best unfolding
Australian ready to shine at Asia-Oceania Champs
01 Jul 2019
Imagen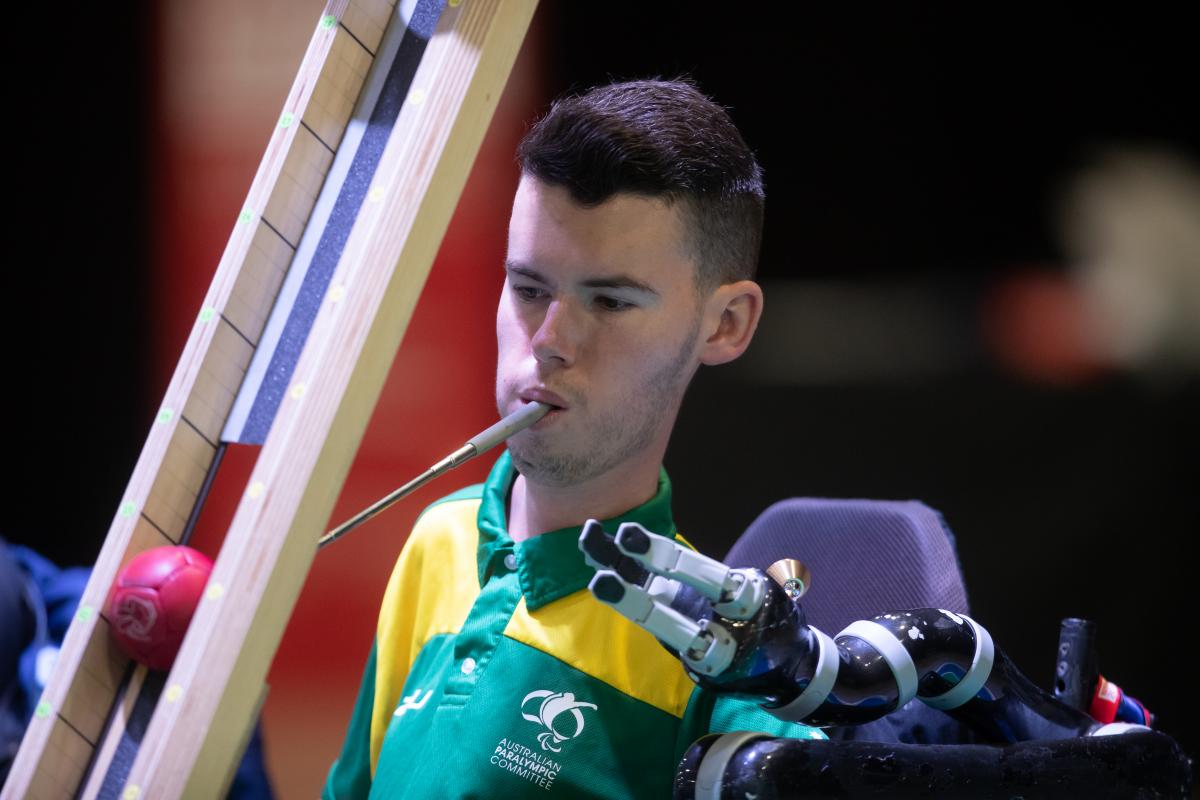 ⒸSportingwales
By EJ Monica Kim | For the IPC
Daniel Michel's technical and mental skills appear to have aligned at the right time with qualification for the Tokyo 2020 Paralympics picking up.
The Boccia Asia-Oceania Regional Championships begin Tuesday in Seoul, South Korea, where the top-ranked athlete from each event obtain a slot for their nation toward Tokyo 2020.
So far, the momentum appears in the Australian's favour.
"I'm playing the best boccia I have ever played and want to take the next stop in becoming a dominant all-time athlete," the 2018 World Championships bronze medallist said.
Confidence boost
Michel won the first gold medal this season at 2019 Hong Kong Boccia World Open in May, putting him at No. 2 in the world in the BC3 category. He is behind Greece's reigning world champion Greg Polychronidis but leads the Asia-Oceania region.
"It is probably the medal I am most proud of," Michel said. "That event was absolutely loaded with talented BC3 players, and I felt I was able to put together a really dominant performance over the three days of competition."
The 23-year-old also helped his teammates Spencer Cotie and Jamieson Leeson to a bronze in the pairs BC3.
"At this stage in my career, it's more about fine tuning and adjusting some detailed aspects of the technical and tactical sides of the game to ensure I am sharp and ready for the multitude of situations that can arise during a competition," Michel said.
At the Asia-Oceania Championships, he will face big names like South Korean favourite and 2018 Worlds silver medallist Howon Jeong.
"Jeong is the greatest of all time, and Hong Kong's Yuenkei Ho has been also a very strong competitor for the past few years," he explained. "At the end of the day, every athlete is capable, and it will take a strong campaign to win a gold."
However, he is not simply aiming for the top of the podium.
"My main objective is to put on some good performances I can be proud of, regardless of the result."
Gradual improvement
The Aussie gained his mental strength through two memorable medals, one bronze and one silver in individual and pairs BC3 events, respectively at the 2018 Worlds in Liverpool, Great Britain.
"I was happy with the way I was able to perform in 2018 coming off a breakthrough season in 2017," Michel said. "Obviously the two Worlds medals were the highlight and were a great reward for the amount of work my team and I had put in."
It was an opportunity for him to learn about what attitude a top player needs.
"Being able to play good boccia in the pressure cooker of a major event is something every athlete looks for," he said.
"Picking up the bronze at Worlds felt like a pretty just outcome for where I am at with my game, and I think it's a great platform to build off heading towards Tokyo 2020."
Now he is devoting himself to a Paralympic title.
"It really does mean everything. It is my ultimate goal."
History at home
Michel was the first Australian boccia athlete to compete at the Paralympic Games since Sydney 2000, when he made his Paralympic debut at Rio 2016.
"In Rio de Janeiro, I was still very much a developing athlete with low expectations about my ability to win," said Michel, who began competing in 2011.
He sees himself standing on a different position in 2020.
"Now I am the world No. 2, and I feel so excited to be in a position to better compete for one of those coveted medals," he continued. "I'm going to prepare as diligently as I can to ensure I put myself in the best position to have that success."
The 2019 Boccia Asia-Oceania Regional Championships run until 10 July and can be followed on BISFed's website http://www.bisfed.com/.