Lima 2019: Vinicius Rodrigues aims for first big title
Brazilian world record holder looks for gold at Parapans
25 Jul 2019
Imagen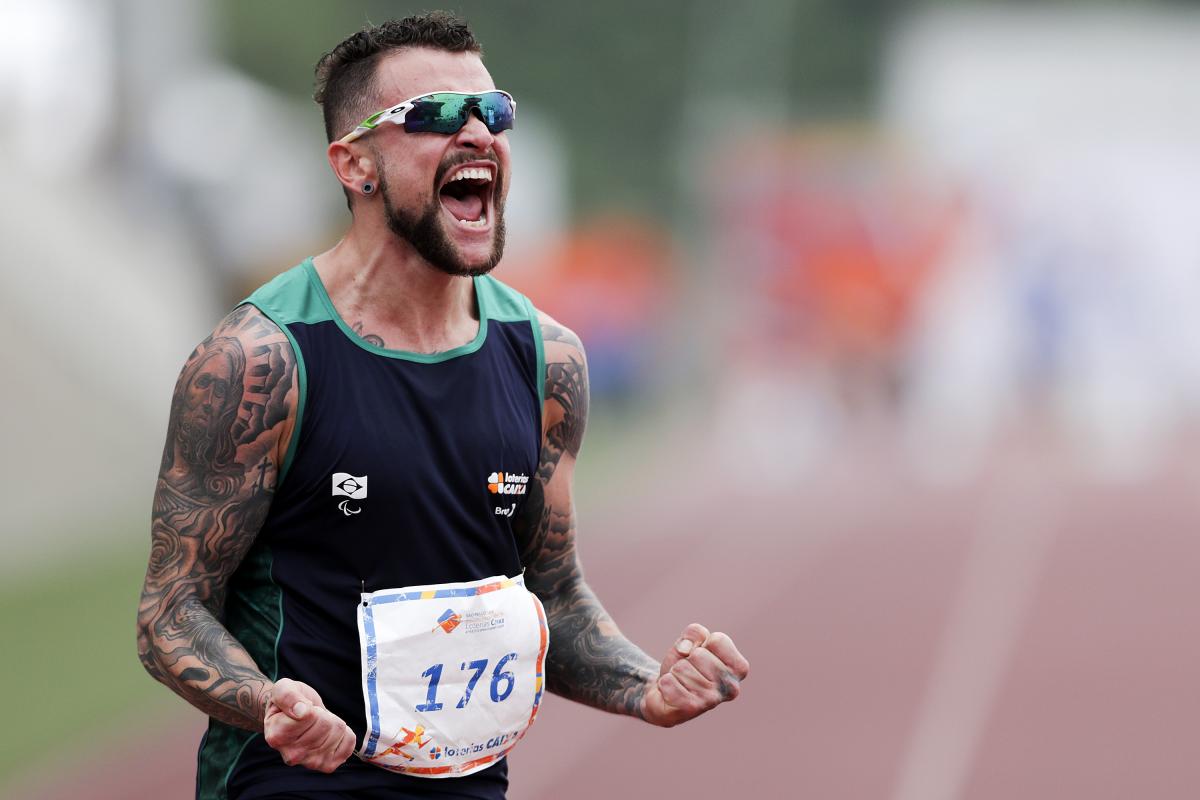 ⒸWagner Carmo/Exemplus/CPB
By Teddy Katz | For the APC
As good as 2018 was for Brazilian sprinter Vinicius Rodrigues, the next few months are when he's really hoping to showcase his talent starting at the Lima 2019 Parapan American Games in August.
At the Sao Paulo Grand Prix event in April, the 24-year-old set a new world record in the men's 100m T63, finishing in a lightning fast time of 11.95 seconds. He's the only person in his class to break the 12 seconds mark, something he did for the first time last year.
Rodrigues thinks he can go even faster and doesn't plan to stop there. His goal is to come away from his first Parapan Am Games with a gold medal around his neck.
First big title
"I'm a world record holder. But I do not have a major title. For me, I think of the Parapan Am and the World Championships as the big competitions and the Paralympics as the biggest of them all. I want to be champion at as many of these as possible and leave my mark on the Paralympic world," Rodrigues said.
He added that having those titles on his resume will help him as he tries to introduce Paralympic sport to more children around the globe along with his friend Heinrich Popow of Germany, a double Paralympic champion in the same class, who recently retired.
"We try to take sports to kids [with impairments] who have never had contact with someone with a prosthetic leg so they can see they have an opportunity to run again like I did," Rodrigues said.
"There's no better teacher than a world record holder. It's a project of mine that I hope can be taken not only to Brazil but to many countries."
Motorcycle accident
Rodrigues has seen first-hand how Paralympic athletes can inspire others. In 2014 when he was 19, he was on his way to becoming a military police officer. He was about to enter the academy when he was involved in a terrible motorcycle accident. He had to have his left leg amputated above the knee.
While recovering in his hospital bed, he received a visit from three-time Paralympic sprint champion Terezhina Guilhermina, who was from his hometown and shared mutual friends.
Guilhermina introduced him to Paralympic sport by showing him a video of star sprinter Heinrich Popow running with a prosthetic blade. She even gave him her team uniform from the Beijing 2008 Paralympics.
"She gave me this new dream. She brought me light. I didn't have time to get depressed. I started with rehab hoping to walk and run again. And I was able to reach my goal five months after the accident," Rodrigues said.
Godparents are Paralympic champions
Looking back, Rodrigues can't thank Guilhermina enough.
"She was like a godmother to me. She helped me with therapy, paid my travel expenses, financially supported me and encouraged me every step along the way," he said.
When Rodrigues reached out via Facebook to Popow, the athlete in the video, Popow was just as helpful. He taught Rodrigues how to run with blades.
"They are like my godparents and they are world record holders and Paralympic champions. If I get to be half of what they are and make my mark in Paralympic history like they did, I'd be very content."
Disappointment at the Rio 2016 Paralympics
Success in the sport didn't come overnight. Two years into his rehab, he was ranked eighth in the world. But he missed qualifying for the Brazilian team and competing on home soil at the Rio 2016 Paralympics. It was a major disappointment.
"It was like people came to my country and had a party in my home. Now it's my turn to show my talent and to prove I'm the guy who will be the first Brazilian in my category to get those international titles," Rodrigues said.
2018 his best year yet
Rodrigues chalks up his breakthrough to being part of the Brazilian team and working with top coaches, physiologists, massage therapists, nutritionists and psychologists.
But he said he also had to work on his technique as running with the blade as an above knee amputee is quite challenging.
Before his accident, Rodrigues was always speedy playing sports like football. But he had to adapt to the new technology.
"I ran better after I started dancing with the blade and the more that I mastered different movements in my daily life," Rodrigues said.
As good as things went in 2018, Rodrigues feels there is still room for a lot of improvement technically.
He's hoping to show that first in Lima and then at the Dubai 2019 World Para Athletics Championships in November.
Lima 2019 will feature over 1,800 athletes competing across 17 sports, overtaking Toronto 2015 as the biggest Parapan American Games in history.
Tickets can be purchased online.