Lima 2019: Ezra Frech never alone
Fourteen-year-old US athlete to make his senior international debut in Peru representing his country and the community he supports
14 Aug 2019
Imagen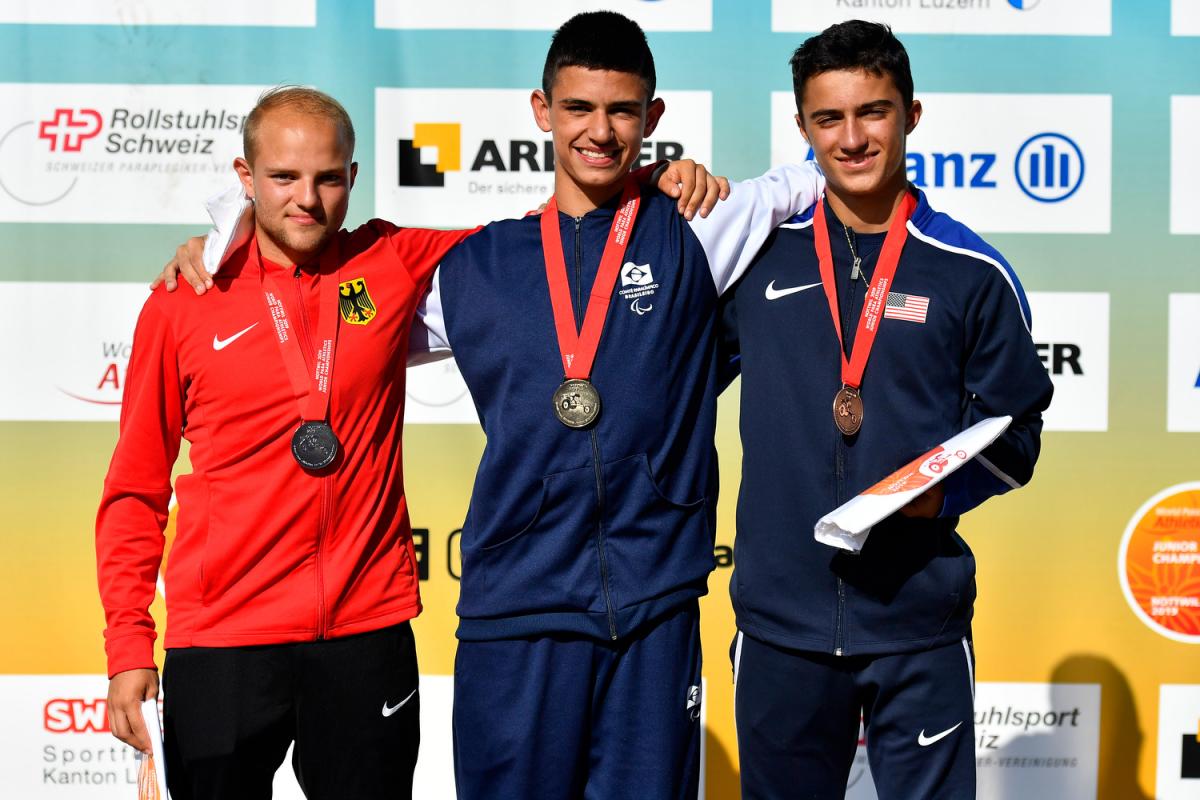 ⒸLuc Percival
By Amp Media | For World Para Athletics
Athlete. Disability rights advocate. Motivational speaker. Co-founder of Angel City Sports and ready for the Lima 2019 Parapan American Games. Ezra Frech has packed a lot into his 14 years.
Ezra was born in May 2005 in Los Angeles with congenital limb differences, missing his left knee and left fibula as well as fingers on his left hand.
He got his first prosthetic leg at 11 months and after surgery, Ezra received his first leg with a knee. He was only four when he used a running leg for the first time.
Ezra would address up to 20 schoolchildren, sharing his story and encouraging them to be comfortable in themselves, that "being different is OK".
Tornado effect
Ezra was sports-mad from a very young age playing basketball, baseball, soccer, flag football and karate and in 2013 he began competing in athletics.
It was while he and his father Clayton were at a meet in Oklahoma that they were inspired to set up Angel City Sports, a programme for children, adults and veterans with physical disabilities and visual impairments.
"So it's Tornado Alley, tornado season and my mum [Bahar] almost didn't even let us go because it was so dangerous because a tornado had literally just rolled through," he recalled.
"My dad posed the question – why are we coming halfway across the country to run, jump and stuff? Why isn't this happening in LA? We have the resources, the facilities, the people, the weather."
Two years later the first annual Angel City Games were staged with kinship and inclusivity as important as competition.
"For us it's not just about sport: it's about providing them with community," Frech said. "Not many people have that behind them, not many people feel like they are supported.
"It definitely boosts their confidence and makes them feel like they belong somewhere. I think that's what is so cool about Angel City Sports: it's using sport to help people accomplish their dreams."
That sense of community also instructs Team Ezra – all those around the young athlete who have raised hundreds of thousands of dollars for organisations that support those with physical disabilities.
"It reminds me that I have a village right behind me all the time," he said.
"It's not just me competing: I am competing on behalf of my family who have sacrificed time, my friends who have been there at the highs and the lows and all my friends and family who have been there for me since day one."
Fast track to success
Ezra was just seven when he watched the Paralympics in London, looking on as his friends Rudy Garcia Tolson and Blake Leeper won medals in the pool and on the track.
It was the Rio 2016 Paralympic Games that really inspired him though.
"Right after the Rio Games I was like you know what, I'm training for the Paralympics and literally since then I've really been training and trying to get to Tokyo in 2020," he said.
Fast forward to the World Para Athletics Junior Championships in Nottwil where Ezra claimed three medals – gold in the high jump (T45-64) and bronze in the 100m and long jump – on his international debut.
Next up are the Parapan Am Games in Lima, Peru, where he will face senior competition for the first time and in the long-term he has a hometown Paralympics in his sights.
"I am really excited to go to Lima," he said. "I'm sure the competition is going to be a lot harder at the adult level especially because it's a bigger event, a bigger meet, there's tons of people not just under 20 or under 17s.
"Guys who have trained years and years and years and are 30, 20 and I am 14 competing with them so it scares me a bit but I'm excited.
Paralympic dream
Then comes the Dubai 2019 World Championships and Tokyo 2020 Paralympic Games.
"I want to compete in Dubai and get a feel for the World Championships and from there hopefully take it to Tokyo in 2020, that's the main goal. And from there just keep going on to Paris and then to LA in 2028 which would be so sick."
The success he has enjoyed so far is a result of his hard work and commitment and also living by his motto of "You can dream it. You can hope for it. Or you can make it happen".
They are words he hopes can inspire others.
"That's what really helps me sometimes when I'm lying in bed thinking about how I have to train the next morning or I have something to do that I don't want to do.
"I have the choice. I can either think about my goals, I can dream about my goals or I can get out and make it happen."
Lima 2019 kicks off on 23 August featuring 1,850 athletes from 33 countries competing in 17 sports.