Nottwil 2019: Mabote sets new world record inspired by teammate
South African teenager motivated by Ntando Mahlangu
02 Aug 2019
Imagen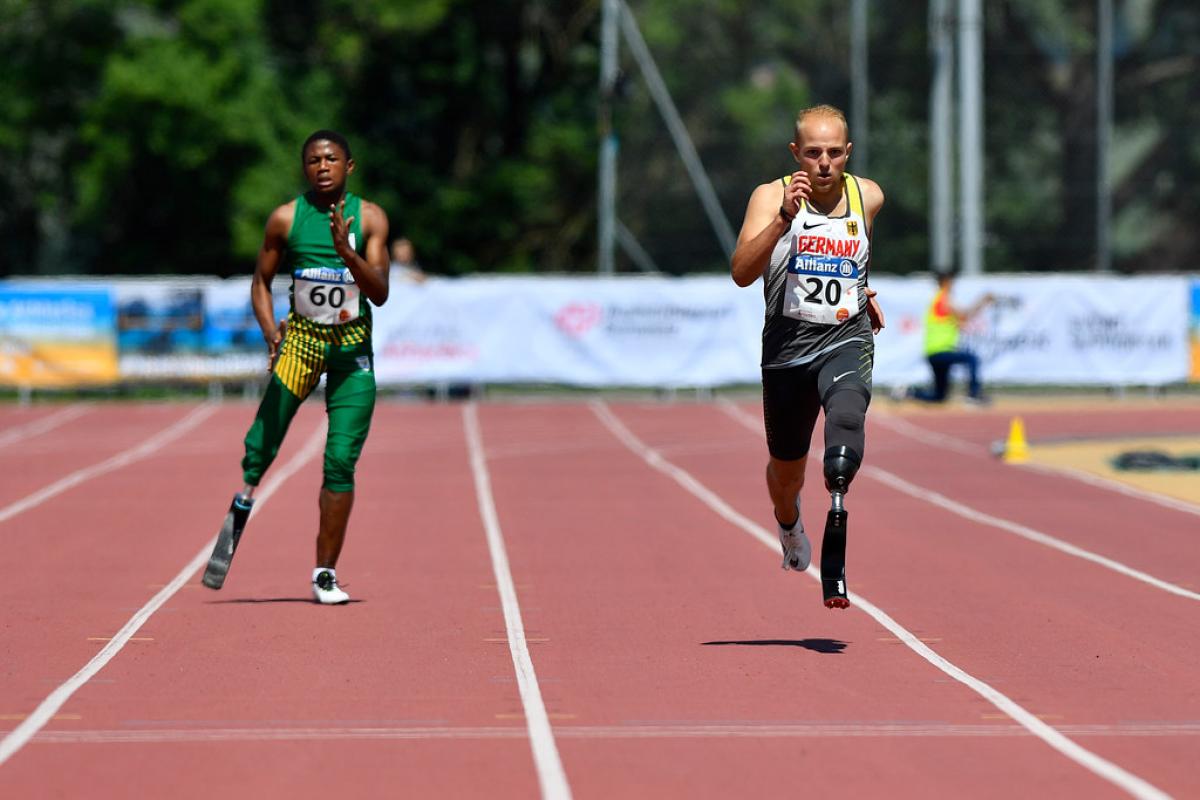 ⒸLuc Percival
By Amp Media | For World Para Athletics
The first day of the World Para Athletics Junior Championships got off to an exhilarating start in Nottwil, Switzerland, on Thursday with a world record for 14-year-old South African Puseletso Mabote amid a string of fine performances.
Mabote set the new record in the men's 200m T45-64, clocking 26.36 to slice 0.08 off the previous T63 mark set in June by Atsushi Yamamoto, the Japanese triple Paralympic silver medallist, and pointed to teammate Ntando Mahlangu as his inspiration.
The second edition of the event, held at the Sport Arena of the Swiss Paraplegic Centre, features Under-17 and Under-20 categories involving more than 300 athletes from 42 countries.
The USA's Hannah Dederick claimed three titles at the first edition in 2017, and she continued that fine form with victory in the women's 400m T54 in 59.37.
Mahlangu, who became a global star after winning silver at the Rio 2016 Paralympic Games, ranked first in the 200m T61 in 23.03, surging through the field in the latter stages.
The Under-17 category highlighted some young stars of the future with 13-year-old Alenezi Abdulrahman, of Kuwait, the youngest in action.
Mabote makes history
But it was Mabote who produced a stand-out performance, and he shocked himself in the process.
"Wow! That is a real honour for me to call myself a world record-holder. I never thought I would be a world record holder. Now I am. I knew I was on good form but not that much," he said.
"The race at the beginning it was very, very scary – I was very nervous at the time. The first few metres were not as great as I thought but the rest of the race went good," the South African added.
Mabote was just 5 years old when he was run over by a truck on the way to school which resulted in him having his right leg amputated above the knee.
"The first two years were very tough but I adapted," he said. "I started to learn how to use my disability to the max."
He used crutches before being given a prosthetic when he was 8, and two years later he was introduced to sport by Johan Snyders, South Africa's team manager and the man behind Jumping Kids, an organisation that provides prosthetic limb technology to children.
But it was Rio 2016 that made a real impact upon the teenager who had little knowledge of Paralympic sport before then.
"I was introduced into sport after the 2016 Paralympics so I watched it then I was inspired and then I went into it," he said.
Citing Mahlangu as his inspiration, Mabote also acknowledged Snyders and the South Africa coaching team.
"They motivated me from the beginning especially our manager Johan and our coach. They were behind me 100 per cent."
"It's a real honour," he said about being in Nottwil. "Especially for my school because they are going to call the newspaper people and stuff like that so they are going to put me out there.
"So I am doing this for my country and for everybody."
Next up on Friday is the 100m – his best event – in which he is looking to get a gold medal and another world record.
Mahlangu embraces inspirational role
Despite being only 17, Mahlangu has become a role model thanks to his medal-winning exploits in Rio which came only four years after he had stepped out of his wheelchair for the first time.
"I can say that to be a role model to other people it's nice," he said.
"Last time, I came here with my coach and one other guy Daniel. For me it is a really a good thing. Now we came with a team.
"So we are definitely inspiring more people out there in South Africa, the team is growing and I am wishing to see what is going to happen in the future. It's going to be nice."
Mahlangu has spent time at home doing school sports, racing able-bodied athletes over 400m and 800m, and again blazing a trail.
"They've been nice to me, they have been giving me a chance to show people out there what I can do," he said.
"I've been running the 400 and 800 with them and running some great times.
"I am just trying to show people out there that if I can do it that means other kids can do it too. I am trying to inspire the new generation to come in and do what they do best. If it's running then they must come out here and run."
The World Junior Championships takes place until Sunday and can be watched live on World Para Athletics website and Facebook page.
More information, including start lists, results and visitor information, can be found on the event website.