How I'mPOSSIBLE helped change a student's perception on disability
A Georgian pupil felt compelled to take part in the Agitos Foundation's education programme
07 Apr 2020
Imagen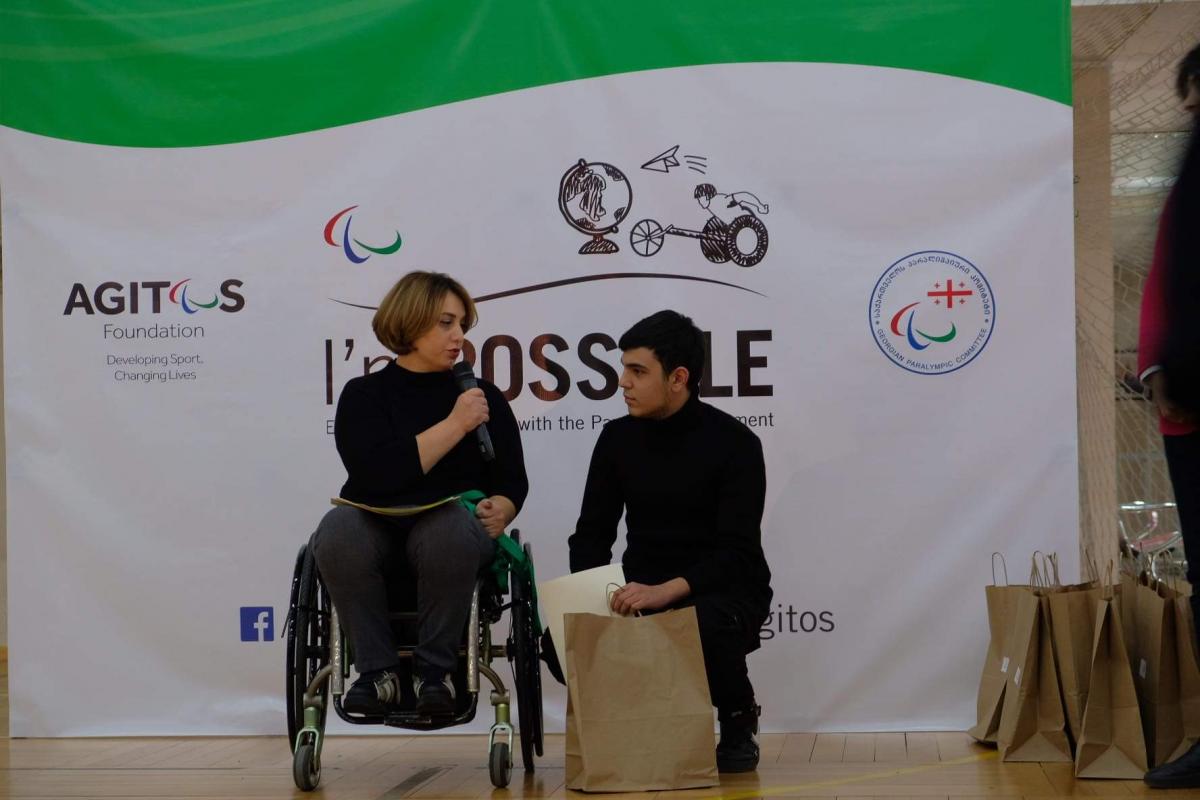 ⒸNPC Georgia
By Ros Dumlao | For Agitos Foundation
Renat Binatov was only supposed to set up chairs, computers and a projector for his school's I'mPOSSIBLE training. But the event's themes on sport, inclusion and people with disabilities fascinated Binatov — so much that he wanted to get more involved. 
He did, and it changed his life. 
"I had to pay attention to the discipline of other students during the training," Binatov recalled. "At the same time, I was listening to the training and found its topic interesting. Another interesting fact was that the training was related to sports and how persons with disabilities are engaged in sports."
Binatov's school in Georgia is implementing I'mPOSSIBLE, the education programme developed by the Agitos Foundation to teach school children about the Paralympic values and the Paralympic Movement.
Last year, students were challenged to a contest, where they had to draw or paint their favourite Paralympic sport. The finalists would be invited to an awards ceremony that coincided with I'mPOSSIBLE's anniversary, and the top three would receive a gold, silver and bronze medal. 
For Binatov, he had a hidden passion for painting, and when he learned about the contest, he found it a perfect calling to artistically express how he felt sport has helped people with disabilities overcome barriers. But since he was not initially a participant of the programme, he needed to check if he could enter the contest.
"I felt like I wanted to draw something as well. Before I used to paint at home, and I like painting. I asked my school director about it, and the director gladly agreed to take a look at my painting."
Dreaming of winning
Without much time, Binatov spent three hours painting and imagined himself winning in the process.
"I seriously wished for my painting to win," Binatov said. "The following morning, I continued painting and completed my work. In the morning, I took my painting to school."
His artwork displayed three sporting moments – one of a weightlifter, the second of a footballer being interviewed and the third – and focal point– of a wheelchair basketball player shooting the ball. 
"The painting shows that, the person with disability is higher than the shield. So, I wrote the following: 'Height is not measured in centimetres, nor it is measured in metres, it is measured in efforts.'"
Binatov learned that his painting made it on the top-10 of his school, and he was excited. But when he saw the other nine artworks, he began to doubt his chances. So when his name was announced as the winner, he could not fathom what was happening. His teachers hugged him, and his parents and brother were filled with joy, knowing that painting was an old hobby of his. 
"The ongoing (I'mPOSSIBLE) event had a very positive influence on raising awareness of our schoolteachers and students," said the school's director Shorena Khukhua. "Most importantly, the winner of the competition (Binatov) has become an example for others and interest to this subject has dramatically increased. People started to have interest, they are willing to do something, they have identified the need."
Life-changing experience
Little had Binatov known he would go from arranging chairs and setting up technical equipment, to having his perception on disability completely changed.
"I started looking at people in different way," he explained. "I have a different view now not only toward people with disabilities, but also all other humans. There is a possibility that one day one of us won't be able to walk anymore. Or maybe one of us won't be able to see anymore."
He became more aware of disability but through I'mPOSSIBLE, he also realised disability is not limiting. 
Through the contest, Binatov also rediscovered his passion for art. 
"My entire childhood I used to play football and played it well. I dreamed to travel abroad and play football there," Binatov said. "But I could never imagine I would have any achievements with painting and that it could be useful for me. Therefore, now I pay more attention to painting. 
"When I start painting, I relax," he said.
Onto three years
Since 2017 I'mPOSSIBLE has celebrated the launch of its new learning units on 3 December annually. Georgia, along with Cameroon, Grenada, Iran, Kazakhstan, Malawi, Mexico, Sierra Leone and Singapore were invited to implement a drawing/painting and writing contest on a national level to engage schools and spread awareness of the programme. In December 2019, each National Paralympic Committee hosted a celebration announcing the contest winners. 
Binatov received his award last December, and it helped kick off the country's implementation of I'mPOSSIBLE. His submission was one of 31 in Georgia.