How a special relationship with judo helped Azerbaijan make history at Tokyo 2020 
'We believed in our triumph, it began from spirit and soul' - Sevda Valiyeva, Paralympic champion in the women's up to 57kg class
31 Jan 2023
Imagen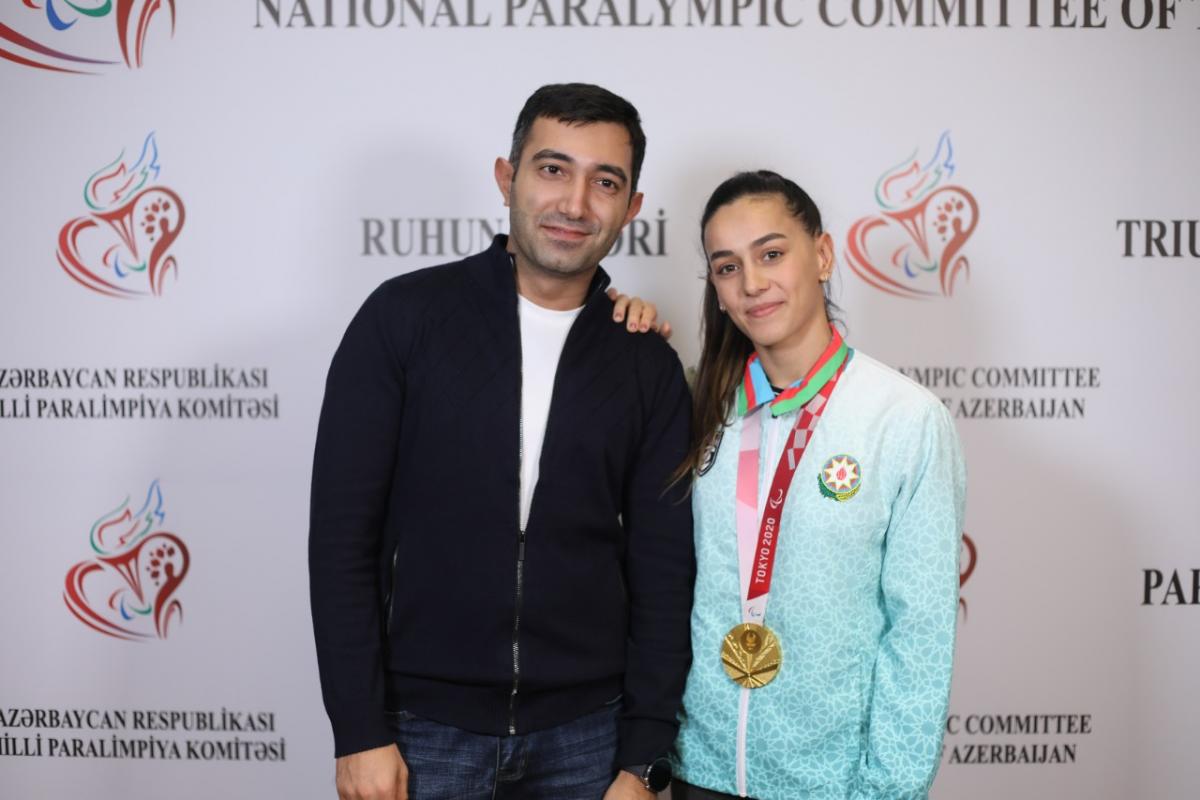 ⒸNPC Azerbaijan
By AMP Media I For The IPC
Fourteen gold medals, one silver, four bronze – Azerbaijan "went off like an emotional volcano" during the Tokyo 2020 Paralympic Games.
The Azeri success story led the team to finish 10th in the overall medals table – the best Paralympic haul in their history. Para athletics and Para swimming brought four gold medals each while Para judo was the star of the show with six.
From podium to motherhood
Since then it has been a particularly auspicious time for judoka Sevda Valiyeva, gold medallist in the women's up to 57kg category, who has married and given birth to daughter Emilia.
Her husband is Rufat Hajili, head of the International Communication and Marketing Department of NPC Azerbaijan, and vice president of the Azerbaijan Abilympic Federation. 
Hajili admits he struggled to keep calm when watching Valiyeva in action on what was an amazing second day of judo competition which netted three gold medals for Azerbaijan.
"I was so nervous and I guess more nervous than her," Hajili said. "If you check her videos from Tokyo 2020 you will see the person who is screaming and jumping there. That's me. I was so proud and exhausted when she won.
"It was like an emotional volcano going off in Azerbaijan, all our citizens, all partners, with all our friends watching online the medal-winning performances of our athletes in spite of Azerbaijan having a five-hour difference with Japan."
Valiyeva describes that day in Tokyo as the best moment of her life, until motherhood. 
"I feel like it was yesterday. We were separated from the normal training hall [close contacts] and did not feel the competition atmosphere," she said. 
"We were just back and forth from the tatami [mats] and the training room. We were like gladiators. We had support from each other, getting advice and motivation. 
"We believed in our triumph, it began from spirit and soul. I tried to maintain my motivation by remaining calm and cool. But I couldn't help but watch the performance of my teammates. Their victory inspired me even more. Our unity brought us victory.
"It's not a coincidence that our first Olympic and Paralympic champions were in judo. Judo means to Azeri people 'the right way'. That is why most people in Azerbaijan love this sport.
"There is always so much attention and care paid to all judokas. We have very professional Azeri trainers and good sport complexes."
Hero's homecoming
The president of Azerbaijan, Ilham Aliyev, and first vice president Mehriban Aliyeva sent messages of congratulations, but the welcome home party had to be delayed because of a missed flight.
"Huseyn Rahimli, Dursadaf Karimova, Khanim Huseynova, Hamid Heydari and I started our way back to Baku," Valiyeva said. "Everyone in Azerbaijan waited for us in the airport with enthusiasm but we missed our flight from Istanbul to Baku.
"We stayed one more day in an airport hotel. We joined our other athletes the next day. I hadn't imagined such a magnificent welcoming. Everyone was there – music, hundreds of people, media."
Valiyeva then took some time off to prepare for her wedding and Emilia's arrival.
"It was the best medal of all. Now I want to share Paris 2024 with my daughter," the champion said. 
Keys to success
Hajili, who has spent the last six years working for the Paralympic Committee of Azerbaijan, says he has seen a massive transformation in the Paralympic Movement in his country. 
"We are not only a sports organisation. We are the organisation where all people with disabilities feel at home. We are also trying to help them with employment and getting professional skills," Hajili said. 
"Our committee has experts who provide accessibility plans for building design and development or modification, so the lives of disabled people are going to be easier and they will integrate into society."
The plan for Paris 2024 is to better the Tokyo tally with the help and support of the Azeri government. Hajili puts that success down to "professional specialists and trainers". 
"We also did strong psychological work with the athletes. During the pandemic none of them stopped training," he explained. "All of our national team members are full-time athletes. They are getting a salary from their sport clubs. 
"Also, our Paralympic champions get a scholarship from the president of the republic for all their lives."
Looking longer term, Azerbaijan will be hoping to add to the number of Para sports its athletes compete in. That number currently stands at 14.
"We are working on new sports such as wheelchair basketball, Para badminton, football," Hajili said.
"First of all, we are promoting and trying to make our existing sports strong."