French stalwart Sandrine Martinet goes down fighting to Shahana Hajiyeva
'It's so great to have this kind of medal in my life. I love it. I'm very proud'
27 Aug 2021
Imagen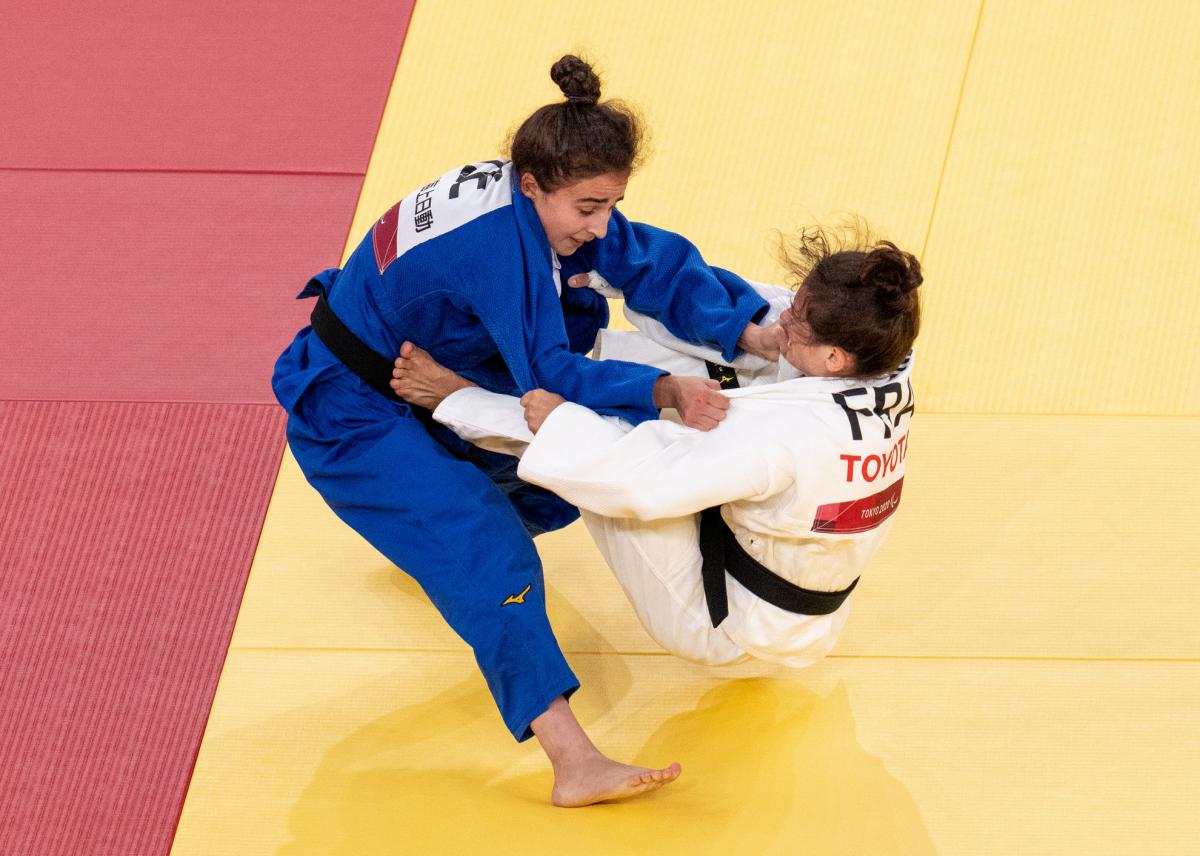 ⒸOIS
By Rosalind Dumlao | For the IPC
When she learned the Tokyo 2020 Paralympics were postponed, French judoka Sandrine Martinet thought about quitting.
Fast forward almost 18 months later, she found herself on the Paralympic mat of the women's up to 48kg on Day 3 (27 August).
There, down a point with only four seconds left, Martinet was thinking about anything but quitting. She brought her experience into play and forced the encounter into an intense golden-score period.
The 38-year-old Frenchwoman eventually succumbed to the younger Shahana Hajiyeva from Azerbaijan.
"I've met her (Hajiyeva) before only once," Martinet said. "With hard work, I was able to come back in the end. I tried to level up, but I fell down. Normally I should have done it, but this time no, I couldn't."
As much as she would have liked to repeat her gold from Rio 2016, where she competed in a higher weight category, the five-time Paralympian was happy she kept fighting.
"It's so great to have this kind of medal in my life. I love it. I'm very proud. I was competing in a different (weight) category. It's a difficult challenge, it's a great day. Even though my children were not waiting for this one, it will be so beautiful for them."
Though leaving the mat, disappointed in letting the gold slip away, she turned towards a corner with loud cheers ringing in French – her team staff made her silver medal feel special. The sacrifice of pausing her work as a physiotherapist and making arrangements to support being a mom and athlete, was worth it.
Thinking of returning for her home Paralympics at Paris 2024 felt too early.
"When I decided to change the (weight) category, I knew I had to do something more. I wanted to participate in the Tokyo Games, I wanted to win. It's so great to get a medal at my fifth Games. Over five Games, I saw the level go up so it's so great that the level is going up more and more."
It was also time to handover to rising star and 21-year-old Hajiyeva, whose eyes filled with tears upon her victory.
Taking up the sport at the tender age of eight, thanks to her brother's encouragement, Hajiyeva has been laser-focused on Tokyo 2020. After finishing second at the 2018 World Championships, her full potential shined in Tokyo.
"I dedicated my entire life to sports from the very beginning and now it's the same," Hajiyeva said. "I started when I was eight. My brother first started to do judo and then I looked at him and I really liked it and that's why I decided to start."
Azerbaijan completed a grand double for the day with Vugar Shirinli clinching gold in the men's up to 60kg category. Turkey's Recep Citfci settled for the bronze beating Venezuela's Marcos Dennis Blanco.
"I'm very proud to be here. I did everything I could do. My opponents were also not weak, they were very strong, but thank God, I became the champion because I put my all into that.
"This was one of my biggest dreams and this is a really good motivation for me to plan to participate in the next Paralympics. I have a big desire to be there and to be a champion there as well," said a jubilant Shirinli.
Algeria's Cherine Abdellaoui won gold in the women's up to 52kg category, beating Canada's world No.2 and World Championships bronze medallist Priscilla Gagne by ippon.