Iran's Sareh Javanmardi highlights anxiety and stress are not to be ignored
Pistol queen understands pressure of having to perform and importance on handling it properly
30 Jun 2021
Imagen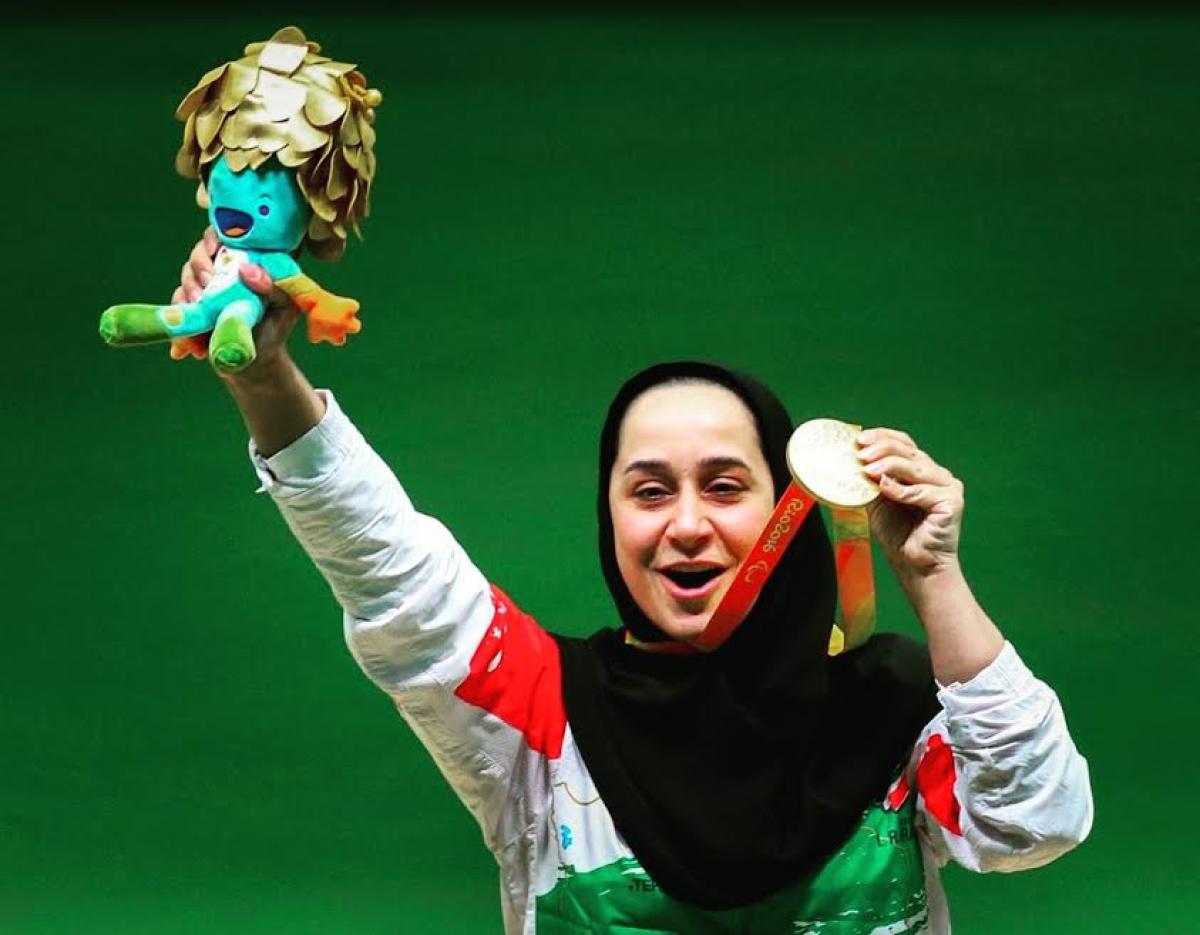 ⒸIPC
By Priyanka Sharma / Asian Paralympic Committee | For the IPC
Iran's Sareh Javanmardi is honest about what could hinder her performance. With the Tokyo 2020 Paralympics nearing, the pressure is rising and so is the anxiety and stress. 
Rather than hide, the multi-Paralympic and world champion brings her achilles heel to light. Especially in shooting Para sport, where one mental lapse can cost an athlete everything, knowing how to handle such anxieties and stress is important for the Iranian.
"These factors (anxiety and stress) may have a negative impact on my performance," said the two-time gold medallist from Rio 2016.
"So I am afraid of these internal elements rather than my competitors. I do believe that hard work ensures good results. And I am doing all the hard work and have trust in Almighty to secure the best result in Tokyo."
Javanmardi became the first female shooting athlete from her country to win gold at the Paralympics after capturing the P2 (women's 10m air pistol SH1) and P4 (mixed 50m pistol SH1) events in Rio. Though she reinforced her dominance in the pistol discipline at the 2018 World Championships with P2 and P4 victories, the 36-year-old from Shiraz also has experienced disappointment.
At the 2019 Worlds, she missed the podium in the P4 and succumbed to pressure in the final shot series of the P2 to lose out to Ukraine's Iryna Liakhu.
Recently, Javanmardi won both events at the 2021 Al Ain World Cup, and knows she does not have to go through disappointment alone.
"I believe that physical factors - equipment, support staff to name a few - are important," she said. "But the main factor will be athlete's goal. 
"In addition, a qualified coach has a significant role in observing the performance of the athlete remotely and correcting mistakes to help them stay on the right track."
©Sydney 2019 LOC

She also knows she was not alone in the struggle during the COVID-19 pandemic, which takes off pressure to retain her crowns at Tokyo 2020.
"Like any other athlete, improving performance, repeating the previous medals and achieving the best results are definitely my target in Tokyo," Javanmardi said. "I will do my best to obtain the best result. I assume the situation around the globe is the same to all athletes participating in the upcoming Games. So I am not worried about defending my title."   
Javanmardi, who had polio that led to her lower limb impairment, has become a beacon of inspiration for women with impairments in Iran. She won bronze at London 2012 and her historic display at the 2016 Paralympics shed light on the empowerment Para sports can bring to women with a disability. Lately, more Iranian women have been competing in pistol. 
"In P2, Iranian women have attained success and fame, and I am very happy to see so many women showing interest in the sport," Javanmardi said. "On the other side, the responsibility that I have is undeniable. A champion must try, with all his or her hard work and dedication, to reach this stage. I endeavoured to be a good role model in every aspect, namely sportsperson, behaviour, social relations, family relations. I do not know how successful I am, but I did my best to be a good role model."
©Sydney 2019 LOC

Javanmardi's first exposure to Para sports goes back to 2002. She tried several Para sports - sitting volleyball, chess and table tennis. But she had a personal connection to shooting Para sport; her grandfather was an excellent shooting athlete, and others also encouraged her.
"I was influenced by my friends; they motivated me to start practicing shooting and fortunately I am successful in it. The most interesting things that shooting taught me are calmness, concentration, and patience that really helps me in my personal life now."
She also has a message for all upcoming female Para athletes in her country who aspire to become a Paralympic champion. 
"I recommend them not to just focus on the aspects of Championships, particularly obtaining medals. Instead, I would advise them to focus on other aspects of the sport such as calmness and patience that exists in philosophy of this sport. If they wish to obtain a medal, they need to spend a lot of time practicing and should be patient to reach their goal," she advised.