Jawad to return for Powerlifting Euros following Chron's relapse
Great Britain's Ali Jawad will return to competition for the first time since London 2012 after health problems, and he will also be in a new weight class.
12 Apr 2013
Imagen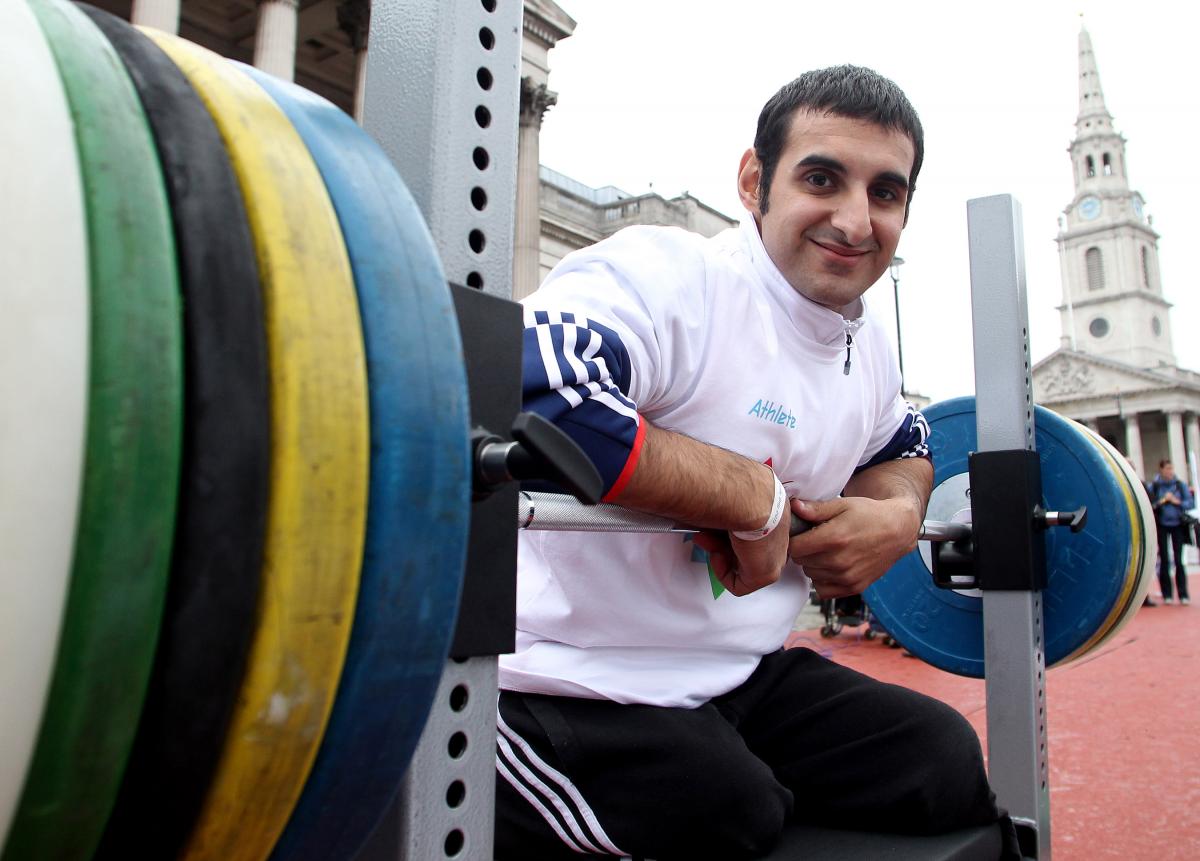 ⒸGetty Images
By Luke Jackson l For the IPC
"I am determined more than ever now because I feel that a podium place in Russia can be a springboard for next year's World Championships, and of course, Rio 2016."
The London 2012 Paralympic Games were a huge success for Great Britain's athletes, as they enjoyed many memorable performances that helped them finish third in the medal count.
Unfortunately, one big-name British Paralympian who missed out on a medal was powerlifter Ali Jawad.
Jawad left the Games empty handed, as he finished a disappointing fourth in the -56kg category after having two lifts dismissed that could have landed him a silver medal.
Shortly after the competition, Jawad suffered from another relapse of Crohn's disease, a condition he has had since the Beijing 2008 Games.
Despite the physical and emotional blows that Jawad received during the summer of 2012, he is adamant he can bounce back at next month's 2013 IPC Powerlifting European Championships in Alexin, Russia.
"Obviously, it was a very disappointing missing out on a medal in such circumstances. I may never get over the disappointment of that day, but it was a privilege to be involved in such drama," he said.
"I am determined more than ever now because I feel that a podium place in Russia can be a springboard for next year's World Championships, and of course, Rio 2016.
"No one with Crohn's disease has ever won a Paralympic or Olympic medal, so to have a chance to make history will be something that will motivate me as well as help erase the memories of London."
A switch in weight categories
As for his current training schedule, Jawad, who was born without legs, believes he is slowly regaining his strength.
"My preparations for the Europeans are steadily coming together," he said. "After suffering a relapse of my Crohn's disease after the Paralympics I was out for about three months, and then I started getting back into full time training in January.
"Luckily, I'm slowly getting back to full fitness and things are hopefully under control and going in the right direction."
Next month's European Championships take place from 22-28 May, and at the event Jawad will compete in the -59kg weight class for the first time after a reorganisation of weight categories was implemented within the sport at the beginning of 2013.
This is something that intrigues him, Jawad said.
"Unfortunately, my bodyweight category will be the most competitive at the European Championships," he noted. "It is very strong at European level, not just at world level.
"My main rivals are truly world-class lifters in Russia's Ayrat Zakiev, who unluckily missed out on a medal at London, and Turkey's Izzettin Kanet, who on his best day can lift 185-190kg, which was also enough to win a medal last year in London.
Uncertain where he'll finish
If the London native can finish atop of the podium in Russia, he will have achieved a remarkable feat by becoming a European champion at both junior and senior level.
Nevertheless, with the roller-coaster ride that Jawad has been on in the last 12 months, he is simply just excited to compete again.
But a lot has changed since Jawad last lifted the bar on the international stage.
"I also have to be realistic," Jawad explained. "I've moved up a bodyweight class where the lifters are lifting more, and I'm still not fully fit due to my relapse of crohn's.
"A podium place would be very much a realistic target, and I'm looking forward to competing again since this will be my first competition since London."
Related Images