Lauren Parker lives by her 'never say I can't' attitude
'Parker has set a new precedent for all the Para athletes in terms of training and hard work'
15 Jun 2020
Imagen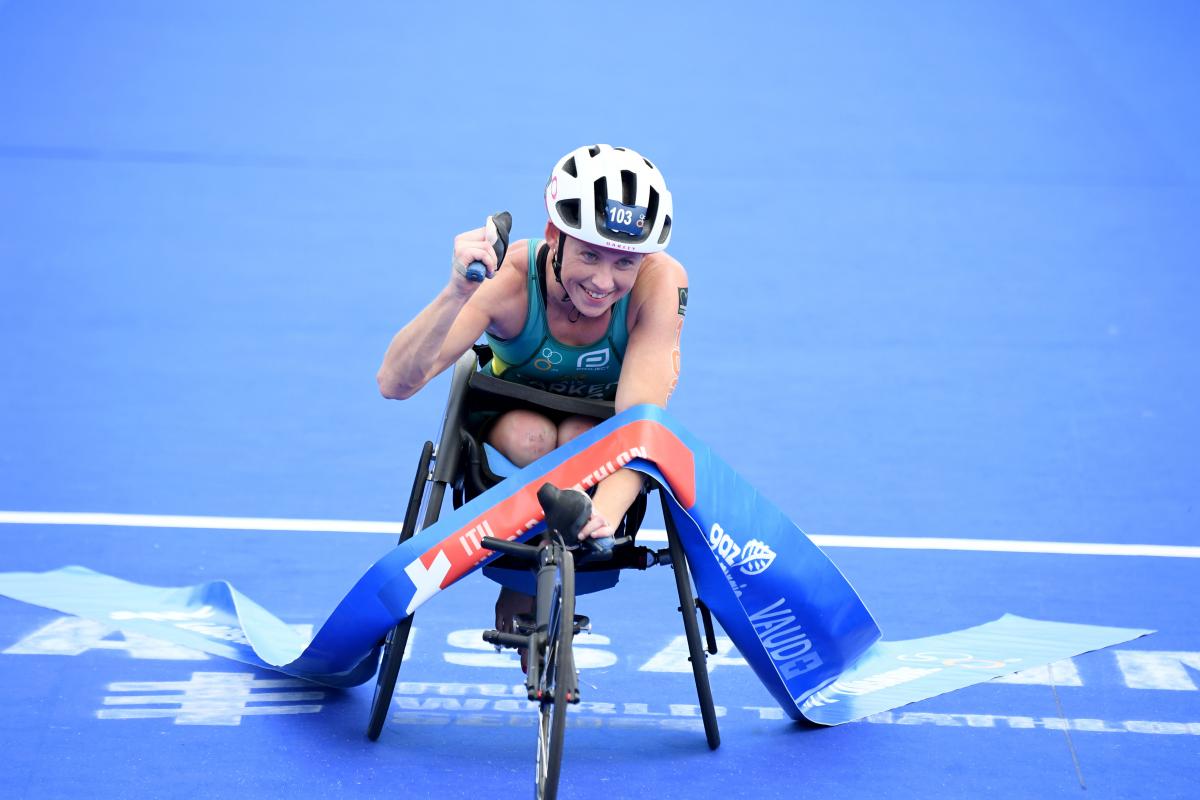 ⒸDelly Carr | ITU Media
By Gaurav Joshi | For the IPC
Lauren Parker will never forget that dreadful day at the Royal North Shore Hospital. It was in April 2017 that, the surgeon who had operated on her back walked in and broke the demoralysing news.
"He told me I was a 0 to 1 per cent chance of walking again." Parker's reply was blunt - "I said 'Get lost'."
Parker was 29; a professional triathlete, touring the world and competing in various races. Then on a bright sunny April morning while she was preparing for the local Ironman competition, tragedy struck. 
Riding her bike at 45km/h, both the tires burst causing her to crash into the guard railing. The accident left Parker with a punctured lung, broken ribs, shoulder blade and pelvis, and a damaged spinal cord. But it was those horror words from the surgeon that would change her life.
"I just couldn't accept it then and even now, I still fail to accept it," she said. Parker spent the next three months in the hospital and another three in rehab.
"It was frustrating, not just physically but emotionally too, it was draining." 
As a kid growing up Parker had always been fond of the water. So when she was allowed to enter a hydro pool as part of her rehabilitation, it was a defining moment. "I used to swim 16km a day at times and competed in plenty of junior races. It was enlivening to enter the pool again."
One man who had stuck by Parker's side during those tumultuous months was Brad Fernley.
The 58-year-old trainer, was poolside recording Parker being lowered into the pool and trying to swim for the first time after the accident. It would be another pivotal moment in the latter's life.
A few motivational talks from Fernley had convinced Parker that there was still a sporting career ahead of her.  A few weeks later, Parker checked out of rehabilitation and flew to San Diego where she had been invited to attend the challenged athlete triathlon while appearing on a radio show from her hospital bed.
"Going to San Diego was a real eye-opener. There were people far worse than I was and still competing in the triathlon. There were kids with no arms and legs, just running around on their thumbs and that is where I decided that I could also get back to the sport I loved."
Parker returned home and along with Fernley worked out a training plan. Such was Parker's drive that she qualified for the 2018 Commonwealth Games from her first race. To top it off, she won bronze at the Games. As Fernley says, "Parker has set a new precedent for all the Para athletes in terms of training and hard work."
Parker has no qualms in admitting she is obsessed with training or as she says, "It is my escape from reality." She rarely sits on the couch at home and watches television. She loves playing the guitar and feels a tinge of independence after learning to drive last year.  But ask her how she unwinds, and you get a true reflection of her life. 
"I'm just in so much pain 24x7 it is very hard for me to relax. It is not like I'm on the couch watching TV and I'm pain-free because I'm not. Close to 90 per cent of my body I feel like I'm being stabbed with needles and it is horrific, so I always need to have my mind occupied and that is why I love training so much."
Last year, Parker claimed the World Championship Title in Lausanne, Switzerland. It almightily stepped towards claiming the gold medal in Tokyo, but there is still plenty of work to be done.
"The course in Tokyo will be different from the World Champs last year. There are more corners while Lausanne was hilly which played into my hands. I suppose in Tokyo it is going to be harder for me to break away from the pack, but I'm working on how to improve."
The tattoo 'Kia Kaha' translating to 'forever strong' on her forearm resemble Parker's attitude. Then there is a pack agreement between Parker and Fernley.
"We have decided never to say the words 'I can't'. That is not just with training but anything in life," says Fernley.
With such dedication, perseverance and hard work, Parker is not going to be at Tokyo 2020 just to make the numbers. Ask Fernley about her chances and the reply is blunt, "Lauren Parker will win gold in Tokyo."