Darkness shines light on Erik Horrie's inner strength
'It's very easy to hide how broken you are inside as an athlete, because society focuses on our physical strength, but I want people to see through my story that it is not a weakness to ask for help'
01 Jun 2020
Imagen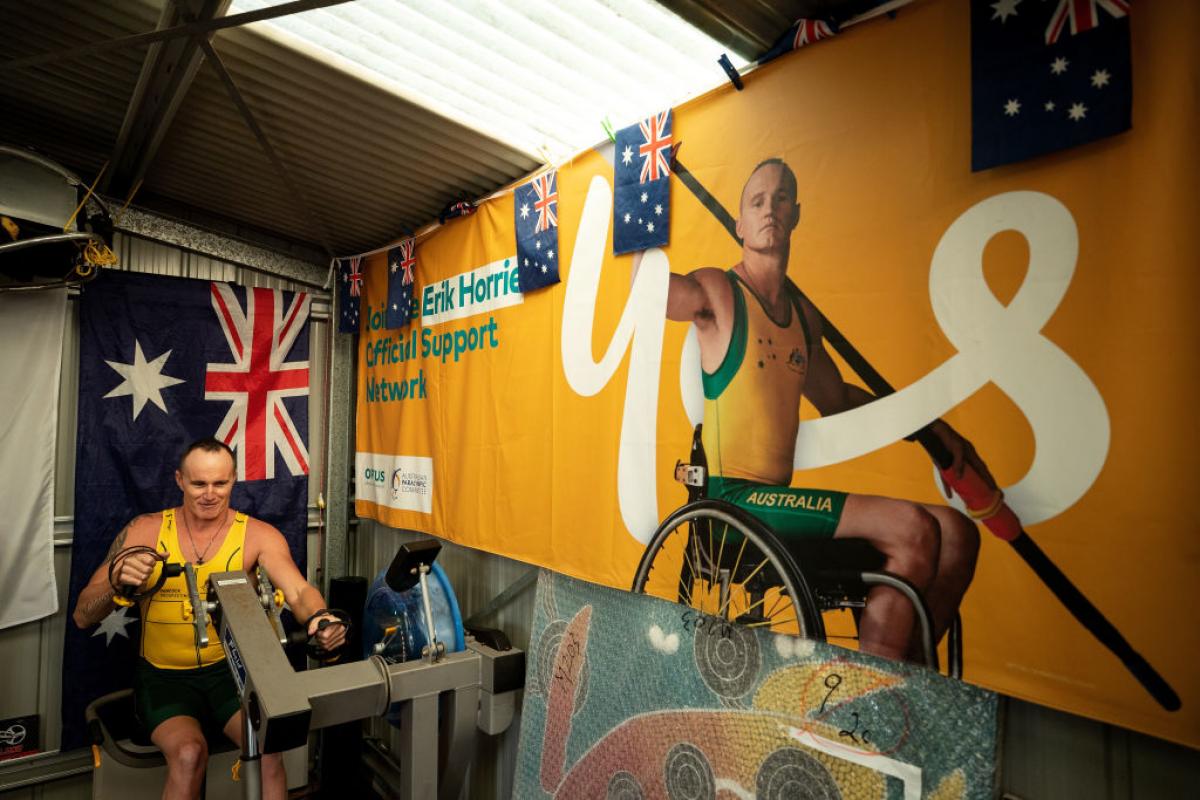 By Sascha Ryner | For the IPC
It was a moment that two-time Paralympic rower Erik Horrie believes was one of the darkest moments of his life.
"Leading up to Rio, I hit rock bottom. I had separated from my partner, was away from my kids, and I was so focussed on winning that gold medal, that I didn't realise my whole attitude was just so negative."
Despite being a three-time world champion at the time, with multiple world records and accolades under his belt, Horrie found himself calling Australian mental health hotline, Lifeline, just to find someone to talk to.
The first responder quickly recognised his plea for help, called an ambulance and placed Horrie under suicide watch for 48 hours.
 "Even then, it took a long time for me to turn things around. Being in hospital was a reality check but I still couldn't see how negative I was and that my anger was affecting the people around me.
"Even 15 months later at Rio, when I missed out on gold, one of the first things that someone said to me was, 'What happened? You were supposed to win.'
"It sent me to a dark place. It was expectations. Not just everyone else's but my own. I made one mistake, 210m from the line, which cost me that gold medal and everyone kept focussing in on that, but no one had seen what was going on 15 months prior to that. Getting to the podium was a big deal for me. Twelve months before, I thought I was done and felt I had nothing."
Having managed his mental health and maintained his podium position at every World Championships since Rio, Horrie is proud he is been able to turn his life around.
And today, he is giving back. On top of his training, Horrie is working as a Lifeline Community Custodian, helping promote mental health and suicide prevention across communities in Australia.
"It's very easy to hide how broken you are inside as an athlete, because society focuses on our physical strength, but I want people to see through my story that it is not a weakness to ask for help."
Through the programme, and even amid the global pandemic, the Paralympic silver medallist is continuing to vanquish his inner demons to be the best person he can be, and in turn become an athlete worthy of gold in Tokyo next year.
"I've always told my story about growing up in foster care or becoming a paraplegic, but had never given much thought to how much my own mental health story could make a difference," he said.
"Talking to people about my story has been cathartic and a way for me to continue healing. Even in this pandemic, I'm spending my time well doing this, training and spending time with my family."
As a wheelchair athlete, Horrie has had to find creative ways to fuel his chase of the elusive Paralympic gold medal.
"Without anyone to help carry my boat while still maintaining social distancing, I've only been able to hit the water a couple of times. It's all land training for me right now."
That means modified weight training sessions in his back shed with borrowed equipment from the Rowing Australia National Training Centre, and hours upon hours of indoor training on his handcycle and rowing ergometer.
In fact, his efforts on the ergo have seen him break five indoor world records, in just a matter of weeks.
"Right now, I'm just focussing on the training that I can do and making sure the training that I'm doing is right. I know it will make me 200 per cent clearer when I am able to race again."
Although Horrie will be using Tokyo 2020 as an opportunity to seek redemption for the gold medal lost in Rio, he is working hard on focussing and trusting the training process.
"I'm not visualising what it will be like to win a gold medal. Although it's everything I want from my career, sport is also not about winning. It's all about the pursuit.
"Rio was a prime example. I put out into the media that I was going to win and I got lost in the expectation, but I have to remember that at a Paralympic Games, there are 11 other athletes in my class, just as hungry.
"For me, it's about having fun. It's great winning medals and breaking world records but it's the first time in years, I've focussed on loving what I do, and that's the message I want to put out there."