Macedonian on 5,700km Wheelchair Journey to London
Mile Stojkoski believes in the power of sport and is making his point by travelling across Europe to the British capital in time for the Games.
24 Apr 2012
Imagen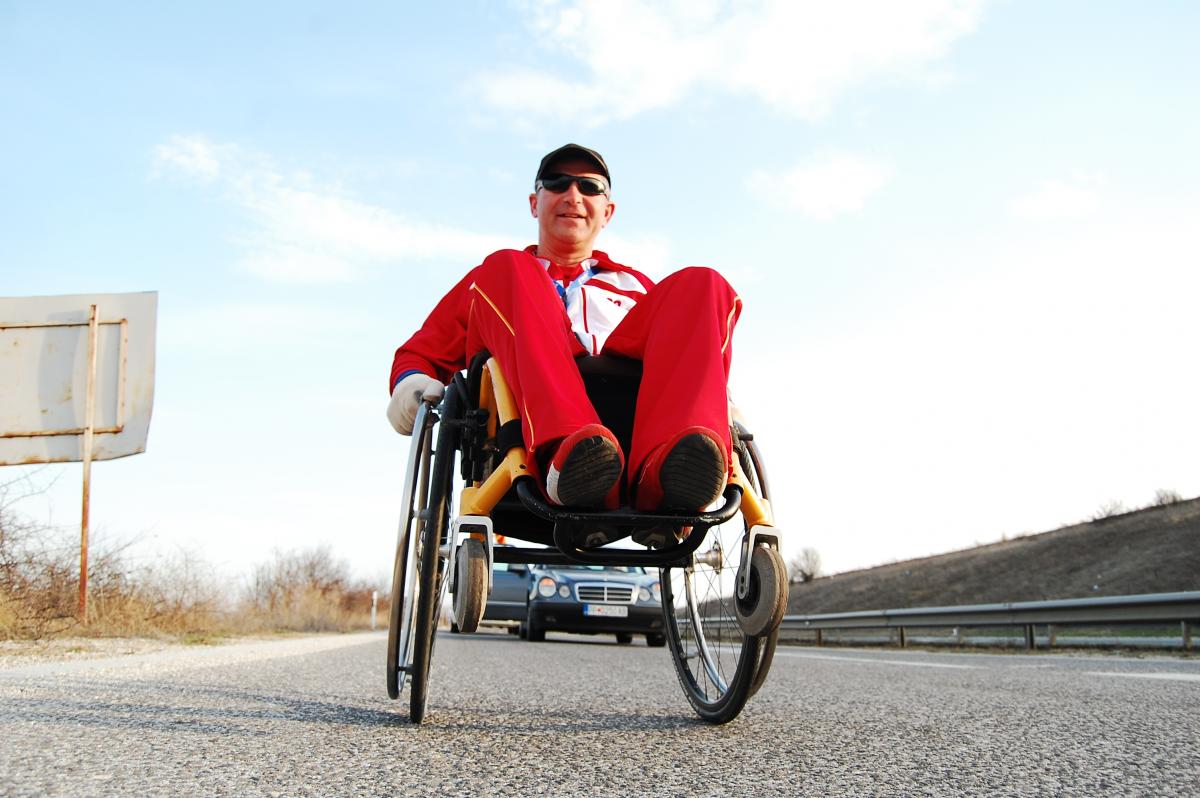 ⒸMile Stojkoski
"I feel I am in excellent physical condition, and so far I've exceeded over 850km of the journey by marathon in my wheelchair."
Mile Stojkoski is no ordinary guy.
The Macedonian is over 1,400km into a 133-day 5,700km journey to London by wheelchair.
He set off on 15 March from Krushevo, the Former Yugoslav Republic of Macedonia and hopes to make it to the British capital on 27 July in time for the London 2012 Olympic and Paralympic Games.
It is not the first time he has made the journey from his home country to the Games. He tried to get to Beijing in 2008, but only made it as far as Damascus, Syria due to visa problems.
So far this time, everything is going to plan, and the 46-year-old has travelled through Macedonia, Serbia, Hungary, Slovakia and Austria, where he often met with members of the respective National Paralympic Committees.
"We are all very pleased with our progress and the immense support we are getting from organizations in support of people with disabilities and the media," said Stojkoski.
"I feel I am in excellent physical condition, and so far I've exceeded over 850km of the journey by marathon in my wheelchair. Despite organizational bumps, our team has had meetings, press conferences, joined campaigns and shared valuable know-how with different organizations through Macedonia, Serbia, Hungary and Austria."
Incredibly, Stojkoski, whose motto is "Strength is Within," has chosen to make the journey in a regular wheelchair, rather than a racing one. He hopes that by making the journey, he can inspire other people with a disability to reach their full potential.
"I want people to come out of their enclosures and depression and out on the streets and socialize, live equal and normal lives without exclusion and discrimination," he said.
In 1996, Stojkoski had a car accident, after which he required a wheelchair, but if anything the injury propelled him forward, with an unquenchable thirst to improve his life and the lives of others with a disability.
"For some, an obstacle is a stopping point. I decided mine would be a take-off ramp for a second flight and a second life," he said.
He turned to sport as a form of rehabilitation, something he says had an "immense positive impact" on him, not just in terms of his physical health.
"Sport builds your character and clears your mind," he said.
Though his experience was a positive one, he hopes his journey will raise awareness about the plight of many people with a disability in Macedonia who he says lack basic healthcare, rehabilitation facilities, job opportunities and equal human rights.
"I think advanced sport facilities with adequate adaptation for disabilities will give the best results in psychophysical rehabilitation and re-socialization for many people with disabilities," he said.
In Austria, Stojkoski visited the AUVA Centre for Physical Rehabilitation in Tobelbad (near Graz), which left a deep impression on him. The goal of the centre is to help persons with a disability regain as much physical, mental, occupational and social ability as possible to enable them to reintegrate into public life.
Stojkoski wants to use rehabilitation centres like Toblebad as a model to build similar centres in south-east Europe. This will be his next project after he finishes his journey to London.
"To everyone who tells me it cannot be done, now I can tell them I have seen several successful models, including this one in Austria. Yes, it can be done."
Stojkoski is excited about making it to the London Games, not least because they are being held so close to the spiritual birthplace of the Paralympics, which began in Stoke Mandeville in 1948.
"Because of this innovation and tradition, I think the UK will give equal value in organizing the Olympic and Paralympic Games. In other words, this could be the biggest Paralympic event organized so far."
Every Friday Mile Stojkoski will blog for www.paralympic.org, providing updates on his epic journey to London.
Related Images