From Maui to Sochi
USA's Evan Strong hails from tropical Hawaii but is contesting to compete in snowboarding in the sport's Paralympic Games debut at Sochi 2014.
11 Oct 2012
Imagen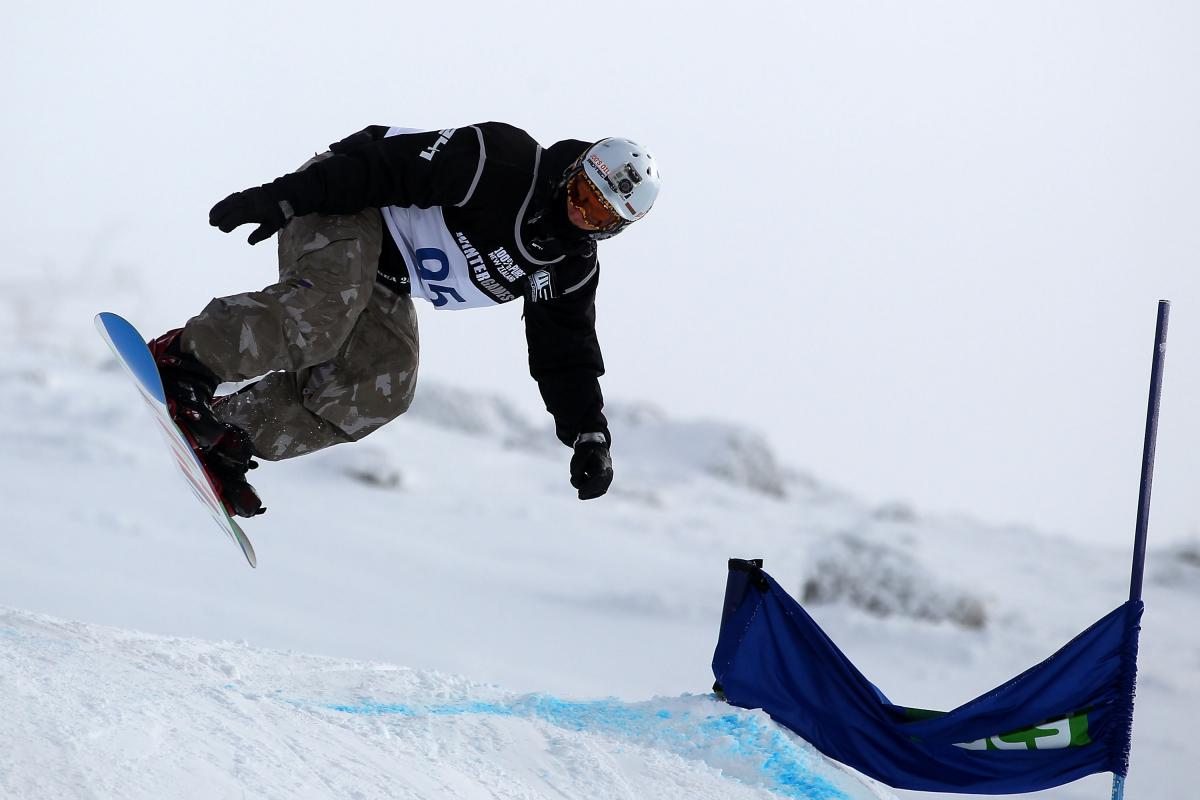 ⒸGetty Images
"A lot of my friends haven't even seen snow, but they're all really stoked. … They don't even know what I'm doing here or what it means, they just know it's good."
Editor's Note: This story is courtesy of USParalympics.org, written by freelance contributor Doug Williams.
Evan Strong grew up on Maui, where the only ice is shaved and served in cones or pina coladas, and winter sports are surfing, skateboarding and swimming.
Today, he's still a bit surprised that the former Hawaiian kid is now a snowboarding demon, a guy who's getting impatient for winter storms to start dumping fresh powder all over the Sierra Nevada and Rockies.
"When I go back home (to Maui) and see all my friends, it's kind of hard for them to wrap their minds around it, because they really don't know anything about it," Strong said of his snowboarding career. "A lot of my friends haven't even seen snow, but they're all really stoked. … They don't even know what I'm doing here or what it means, they just know it's good."
In Strong's case, it's all good.
The former kid skateboarding wiz in Hawaii, now 25, is a leading candidate for USA's Paralympic men's snowboarding team at the 2014 Paralympic Winter Games in Sochi, where the sport will make its Games debut.
Until then, he's enjoying mountain life in the little town of Nevada City, California, about an hour's drive west of Lake Tahoe.
It's there that he and his wife, Mariah, are building their own home, operate their organic vegetarian restaurant, The Fix for Foodies, with their family, and Evan can feed his passion for snowboarding, skateboarding, mountain biking, rock climbing and any other outdoor activities that happen to catch his attention.
It's a long way from Maui's sand and surf, but for Strong his new locale is as much a piece of paradise as Hawaii — but with the snow-covered slopes near Lake Tahoe just up the road.
"At this point, I'm champing at the bit," he said. "I can't believe it's only fall now. I'm like ready for the snow to fall."
So how did a former sun-loving Maui kid come to start praying for winter storms and dreaming of winning a Paralympic snowboarding medal?
It all began on Maui in 2004, when he was riding a motorcycle and was hit by a drunk driver. The injuries he suffered resulted in the amputation of his left leg below his knee.
But Strong — already an accomplished skateboarder — was determined to continue living the active life he'd always enjoyed. After going through recovery and rehab and getting his prosthesis, he not only resumed skateboarding but also started challenging himself in other ways.
Because he had an uncle with a vacation home in Sun Valley, Idaho, he used that as a path to take the plunge into snowboarding.
"Basically after my accident, I wanted to do anything and everything, and I'd never snowboarded before, so I said, 'I've got to do this,' " he recalled.
He took to it immediately.
"It's kind of the same feelings as riding a snowboard as a skateboard," Strong said. "If you can ride a board without bindings, you can definitely ride a board with bindings."
Soon after, he moved to the Lake Tahoe area and got a job at the Northstar ski resort and rode "about 100 days" for two winters, before hooking up with Adaptive Action Sports. Soon, he was competing in national snowboard events and took up snowboard cross (also known as boardercross).
Since then, Strong has been one of the top para-snowboard athletes in the world.
He's won boardercross in the Winter X Games twice, won seven World Cup events and last February in France won the men's standing title at the World Snowboard Federation Para-Snowboard World Championship.
His World Championship victory came before snowboarding officially was added to the program for the upcoming Sochi 2014 Paralympic Winter Games. Now that it is, Strong is excited about the opportunity to compete for a Paralympic medal — something he never had really considered.
Now, he's excited about the coming year, and has stepped-up his training and preparation and with an intense competition schedule to qualify for USA's team.
He will be working under the guidance of Kevin Jardine, the United States Olympic Committee's high performance director of Paralympic alpine skiing, and competing in International Paralympic Committee-sanctioned events, including one in Sochi in 2013.
"Evan is an incredible snowboarder and fierce competitor," Jardine said via email. "With his experience in the World Snowboard Federation's competitions last year and his X Games win last season, he is our gold-medal hope in Sochi.
"I am sure when we select a national team in spring of 2013, Evan will be at the top of our list."
Strong, too, is confident of his chances to make the team. Plus, he said he's never felt better.
"I'm in the best shape I've ever been in," he said.
Aside from snowboarding, he's been cross training in the summers with cycling and skateboarding. He's also committed to physical therapy and Rolfing, an intense form of massage and body manipulation.
"When it comes to show time, I've been getting in the zone way quicker and feeling super efficient and doing things that are even surprising me," he said of his athletic achievements of the past year, which include mountain biking and skateboard events. "So I'm feeling really, really confident for this qualifying year."
Plus, Strong loves his event, boardercross.
For those watching, it looks like a mad dash down the mountain between a group of riders hell-bent on bumping off their opponents as they fly down a course of twists, jumps and straightaways.
He admitted that it looks a bit like a "free-for-all, gladiator event," but said there's tremendous preparation and strategy that goes into each race, things spectators don't see.
"Oh, man, it's so much fun," he said. "It's definitely the most intense adrenaline rush ever. Sometimes you get really scared because the course can be really intense or racing elbow to elbow can be really scary because sometimes, like in the able-bodied events for like open men's, it's like racing against linebackers. When you're fighting for lines, it definitely can scare you a little bit."
There's such a thrill vs. danger element to the event he said he has "a love-hate relationship" with it.
Seeking out that living-life-to-its-fullest aspect is what stokes Strong's fires and fulfills the vow he made to himself to do "anything and everything" after losing his leg. His personal website, strongevan.com, carries the motto: "Snow. Skate. Cycle. Climb."
It's why he loves working in his restaurant, having fun with his bride of almost two years and even digging a trench at their new home ("Man, that's definitely the hardest thing I've ever done before," he said, laughing.)
"Yeah, I'm still working on the 'everything' part, but 'anything' that comes my way I'm pretty much into it," he said. "Earlier this spring when the rivers were still high here, I actually did some whitewater rafting with my friends. I went down my first Class 5 (rapid), which definitely was one of the funnest things I've ever done.
"It's basically saying yes to life, and going with what's new that's presented to you."