McKillop looking to break more world records in Lyon
23-year old Irishman Micheal McKillop is looking to follow up his record-breaking form with more success at the World Championships in July.
26 Jun 2013
Imagen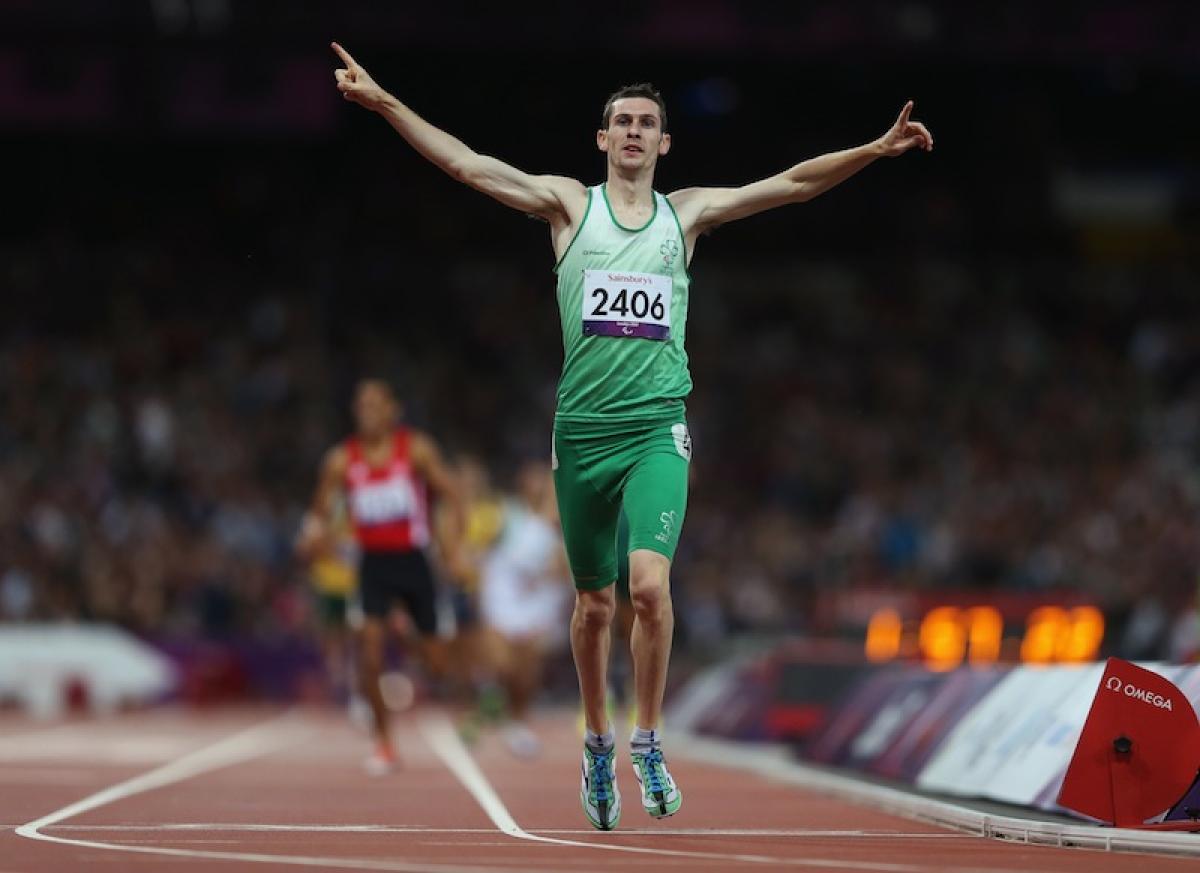 ⒸGetty
By Lewis Wood-Thompson | For the IPC
"Hopefully I can go sub 1.57 and into the 1.56's - then that would be another stepping stone because there are plenty of talented athletes getting close to the two-minute barrier."
With the unbridled glory of success comes the perilous burden of expectation, but Michael McKillop, Ireland's two-time Paralympic and World 800m T37 Champion, and the world's best Paralympic middle-distance runner – insists that he won't crumble under the pressure at July's International Paralympic Committee Athletics World Championships in Lyon, and instead has his eyes on yet another world record.
McKillop and his compatriot Jason Smyth, the Paralympic 100m and 200m T13 champion, have been labelled the golden boys of Irish Paralympic sport ever since their dazzling displays in Beijing back in 2008. The pair returned home with three gold medals between them, with McKillop scooping the 800m title in a world-record breaking time.
The London Games followed a similar script, with McKillop retaining his title with a new world record, whilst also eclipsing the Paralympic record in the 1,500m - six seconds ahead of his rivals.
This success has set the standard and established the 23-year-old as the man to beat come Lyon. But the Ballymena-born para-athlete isn't feeling the pressure of being the world's best.
"Obviously, being the Champion the pressure is there, as everyone wants to beat you," he said. "But I just enjoy my athletics, I just go out there to be the best, and all I can do is be the best I can be, which will hopefully be good enough on the day.
"Yes I am the best on paper and I am going to have to live up to that expectation, but the way I look at it is that I just go out to have fun and enjoy it. The pressure is always going to be there, but as long as I don't let it get to me then nothing will change.
"It is just who can get over the line first and hopefully, on the day I can put all my hard work and training into three and three-quarter laps, or two laps of the track, and it will pay off. I have trained really hard and ran way quicker times than I did last year, so hopefully I can put on a show for the spectators too."
London 2012 saw the young middle-distance star knock more time off his own 800m world record, striding home in 1.57.22 minutes.
The Irishman has form in breaking records at major competitions, and it is a sequence he is looking to continue this year.
"At the World Championships, it's not really about the time but more about the gold medal and coming across the finish line first," he stated.
"But on another note, I think I have broken world records in every World Championships at the 800m, so I want to keep that going as well.
"Hopefully I can go sub 1.57 and into the 1.56's - then that would be another stepping stone because there are plenty of talented athletes getting close to the two-minute barrier. I have just got to keep training so I can break more world records," he added.
Despite not feeling the weight of expectation upon his own performance, he does feel the pressure to match the performance of his best friend and fellow Irishman, the sprinter Jason Smyth – deemed the fastest Paralympian on earth.
The duo have enjoyed dominating their events over recent years, and McKillop feels that matching Smyth's success is paramount.
He said: "I feel pressure because Jason is my best friend and he has got a flawless record at World Championships as well. So if he wins, I kind of have to win.
"We just have to keep living up to expectations and after London, it was kind of a relief for me and Jason because if we didn't come back with two gold medals each it would have been deemed as a failure.
"Going into Lyon, I think it will be the exact same. If me and Jason don't come back with the bacon per say, then people ask questions."
The 2013 IPC Athletics World Championships will take place in Lyon, France, from 19-28 July. Featuring 1,300 athletes from 90 countries, it will be the biggest gathering of international competitors since London 2012.
Related Videos