Lyon team named by Great Britain and Northern Ireland
Household names including Hannah Cockroft and Jonnie Peacock selected alongside other Paralympic Champions.
19 Jun 2013
Imagen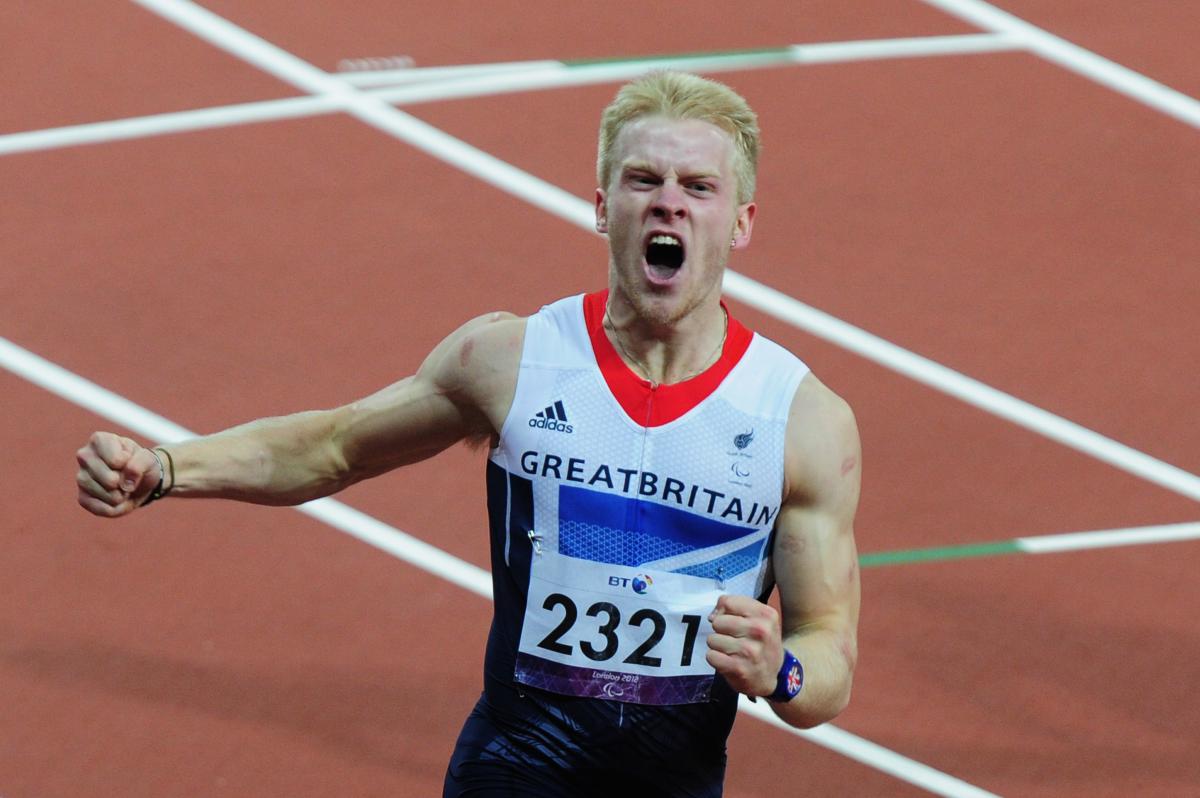 ⒸGetty Images
By UK Athletics
"We had a really strong team spirit last year at the London Games, so I'm looking forward to competing with some of the team from London again and seeing how everyone's progressed."
British Athletics have named 28 London 2012 medallists in the 48-strong team for the IPC Athletics World Championships, which take place in Lyon, France from 19-28 July.
Those selected from last summer's Paralympic Games include gold medallists Mickey Bushell (coach: Fred Periac), Hannah Cockroft (Jenni Banks), Aled Davies (Anthony Hughes), Jonnie Peacock (Steve Fudge), Josie Pearson (Anthony Hughes) and Richard Whitehead (Keith Antoine).
100m, 200m, 400m and 800m T34 world record holder Cockroft heads to Lyon as a double Paralympic and World Champion over 100m and 200m, and the 20 year old from Halifax has her sights firmly set on retaining those titles.
Also doubling up in the sprints is reigning 100m T12 world champion Libby Clegg (Keith Antoine), who is looking to defend her crown, as well as bettering the 200m bronze she picked up two years ago in Christchurch, New Zealand.
Stef Reid (Rana Reider), a silver medallist in the long jump F44 last summer, will be looking to improve on her bronze medal placing two years ago, as the 28 year-old aims to continue her impressive major championship record.
Dan Greaves (Jim Edwards), a medallist at the last four Paralympic Games, heads to France as the defending champion in the discus F44, while Nathan Stephens (Hughes) will be looking to repeat his 2011 gold-medal winning feat in the javelin F57, as the 25 year-old also lines up in the discus.
The London 2012 bronze medal-winning 4x100m T35-38 team of Olivia Breen (Leroy Elliott), Beth Woodward (Jared Deacon), Jenny McLoughlin (Darrell Maynard) and Katrina Hart (Rob Ellchuk) will reunite in Lyon for the relay, as well as competing over their individual events.
Sophie Kamlish (Ellchuk), who was the youngest member of the GB & NI athletics team at London 2012 at the age of 16, will line up in the 100m and 200m T44, while Sophia Warner (Stephen King), a double medallist in 2011, will compete in the 100m and 200m T35.
In combining youth and experience British Athletics Paralympic Head Coach Paula Dunn will give senior GB & NI debuts to nine athletes, including Jonathan Broom-Edwards (Fuzz Ahmed), Sophie Hahn (Joseph McDonnell) (100m, 200m and 4x100m relay T38), Scott Jones (Carolyn Franks) (shot put F34), Andy Kaar (David Sunderland) (1,500m T20), Erin McBride (Robert Roberts) (400m T12), Holly Neill (Andrew Roda) ( discus F41), Georgina Oliver (Paul Moseley) (100m and 200m T54), Laura Sugar (Hayley Ginn) (100m and 200m T44) and Lee Whiteley (Keith Hunter) (100m and 200m T38).
Dunn said:
"There's an exciting blend of young talent and experienced athletes in the team and hopefully this is the building block for 2016. London 2012 was a great year for the Paralympic movement with more stars emerging onto the world stage, I'm confident that we will see some more come through in Lyon at the IPC World Athletics Championships.
"We've seen some great performances already this year, with some of the guys posting some quick times and big throws. Our last competition before the Worlds is next week in Birmingham, at the Sainsbury's IPC Athletics Grand Prix Final, and it will be a great way for our athletes to take stock of the competition before heading out to Lyon."
Double Paralympic and World champion Hannah Cockroft said:
"It's obviously a massive honour to be named on the GB & NI team for Lyon and representing my country in my first major championships since Games. We had a really strong team spirit last year at the London Games, so I'm looking forward to competing with some of the team from London again and seeing how everyone's progressed.
"My personal target is to stay double World Champion after winning the 100m and 200m in 2011 and hopefully post some quick times out there. Thanks to the support from my coaching team and the National Lottery, I have been able to continue on from where I left off last year posting world record times, which will stand me in good stet for the summer ahead."
MEN:
Ola Abidogun – 100m and 200m T46
Graeme Ballard – 100m & 200m T36
Paul Blake – 400m, 800m, 1500m T36
Jonathan Broom-Edwards – high jump F44
Mickey Bushell – 100m, 200m & 400m T53
Jamie Carter – 200m, 400m & 800m T34
Aled Davies – discus and shot put F42
Derek Derenalagi – discus F57
Kyron Duke – javelin & shot put F41
Dan Greaves – discus F44
Rhys Jones – 100m & 200m T37
Scott Jones – shot put F34
Andy Kaar – 1,500m T20
Dean Miller – 1,500m T37
Stephen Miller – club throw F32
Scott Moorhouse – javelin F42
Steve Morris – 1,500m T20
Stephen Osbourne – 100m, 200m T51
Jonnie Peacock – 100m T44
Sam Ruddock – 100m, 200m T35
Ben Rushgrove – 100m & 200m T36
Nathan Stephens – discus & javelin F57
Kieran Tscherniawsky – discus & shot put F33
Richard Whitehead – 200m T42
Lee Whiteley – 100m & 200m T38
Rob Womack – shot put F55/56
WOMEN:
Hollie Arnold – javelin F46
Olivia Breen - 100m, 200m & relay T38
Libby Clegg – 100m & 200m T12
Hannah Cockroft – 100m and 200m T34
Sophie Hahn – 100m, 200m & relay T38
Katrina Hart – 100m, 200m & relay T37
Beverley Jones – discus, shot put F37
Jade Jones – 400m, 1,500m, 5000m T54
Sophie Kamlish – 100m & 200m T44
Erin McBride – 400m T13
Jenny McLoughlin – 200m & relay T37
Holly Neill – discus F41
Melissa Nicholls - 100m & 200m T34
Georgina Oliver – 100m & 200m T54
Josie Pearson –club throw & discus F51/52/53
Gemma Prescott – club throw F32
Stefanie Reid – long jump F44
Laura Sugar – 100m & 200m T44
Sophia Warner – 100m, 200m T35
Claire Williams – discus F11/12
Shelly Woods - 1,500m, 5,000m & marathon T54
Bethany Woodward – 200m & 100m & relay T37