Mollie Jepsen — The great Canadian comeback
The Para Alpine skier is back and better than ever on the slopes
16 Feb 2022
Imagen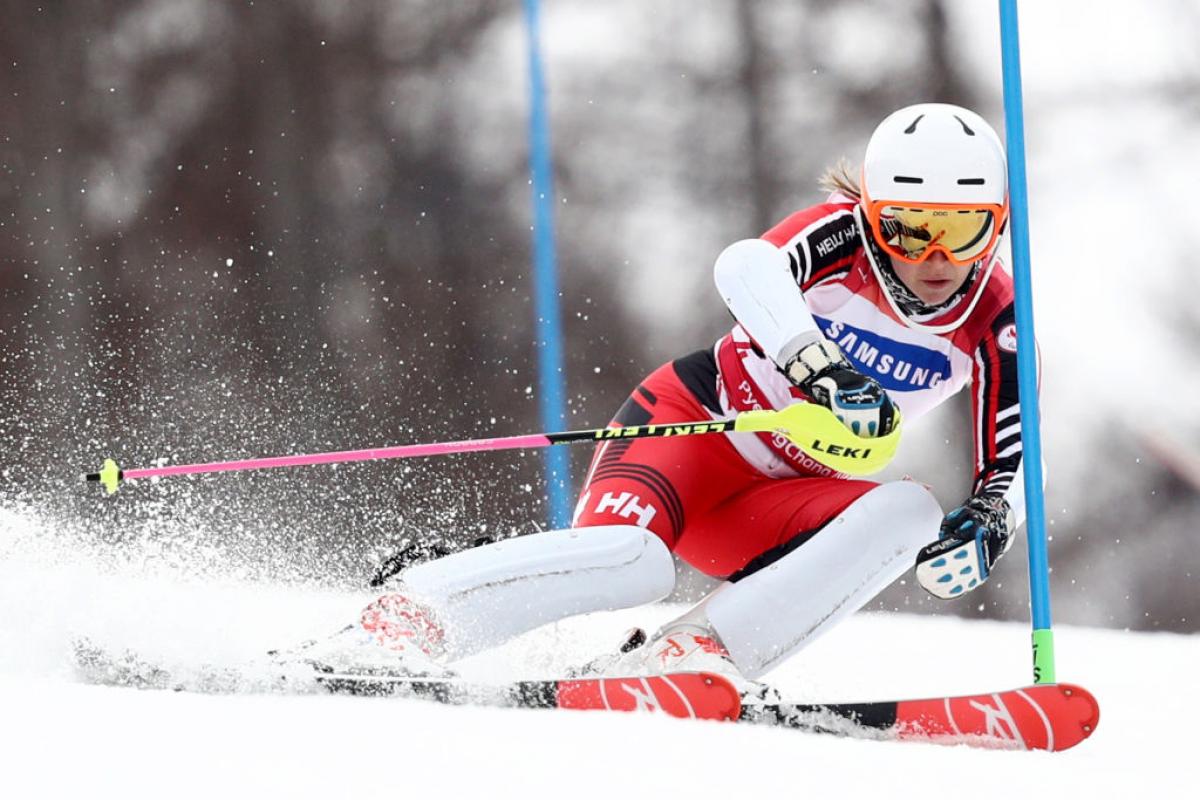 Ⓒ Maddie Meyer/Getty Images
By Teddy Katz | For the IPC
For star skier Mollie Jepsen, the past four years has seen more twists and turns than some of the courses she skis on around the world.
At the 2018 PyeongChang Paralympic Winter Games, the 18-year-old at the time led the Canadian team, winning four medals including, a gold in the super combined event.
"Mollie was known by the people on our team but not so much maybe to the outside world.  Those Games put her on the map," says Matt Hallat, who is the High Performance Director for Canada's Para Alpine Team.
But Jepsen's celebrations didn't last long. A few months after the Games, she found her body screaming out in pain at a training camp in Chile. She thought it might have been from something she ate.
IN HOSPITAL POST GAMES
When she returned home to Vancouver, the pain got so bad, she ended up in the hospital emergency for 48 hours.
After a slew of tests, Jepsen was diagnosed with Crohn's, an inflammatory bowel disease that is chronic and requires long-term care.
"It was the hardest thing I've had to push through in my entire life," she said in early 2020. At that time, she had spent a year off the slopes trying to recover. She lost a lot of weight and muscle mass and had to learn a way to balance her training to be more in tune with her body. 
COMEBACK HITS PAUSE
Finally, in early 2020, Jepsen made a comeback to the World Cup circuit getting back on the podium again immediately.
That's when Hallat says her entire world turned upside down once again.
"We were starting to feel good again about Mollie. And then of course, the world shutdown a month and a half later. She's rode the wave with all of us through COVID," Hallat says.
MARCH 2020:  "IT WAS REALLY ALARMING"
In March 2020, the coronavirus started to wreak havoc in Europe. The Canadian team had just arrived in Norway for World Cup races. That's when the World Health Organization (WHO) declared the pandemic, and everything started to shut down.
"It was really important to me that I raced there. Then within 48 hours, they were like, get the heck out. So, it was really alarming," Jepsen recalls.
She adds, "It was a weird time. I'm sure everyone can relate to the feelings of anxiety and stress and just everything they felt during the first few months of the pandemic."
Nobody had any idea at the time how long COVID-19 would continue to have an impact around the globe. It forced the cancellation of the World Cup season last year. Jepsen and the team spent most of her time on the slopes in Canada. She says, it wasn't all bad.
FINDING THE POSITIVE IN THE PANDEMIC
"It gave me more time to focus on my training and to work on my physical and mental health," adding, "I definitely don't take anything for granted. The pandemic has reminded me that I love what I do. And that's pretty cool."
There was one other positive for the Canadian team and Jepsen, in particular.
"One thing that's come from the pandemic is we've spent so much time together as a team. That's helped us become a family."  She adds, "You see everyone's little struggles and stuff that I never even knew about before."
That closeness has helped Jepsen deal with one of the things she now has to monitor closely. Stress can help cause a flare up of her Crohn's.  While she has symptoms from time to time, she's been able to keep it under check.
"I now have quite a family with the team. That brings the stress levels down."
JEPSEN NEVER DOUBTED SHE'D BE BACK
When she was in her hospital bed after PyeongChang, the Paralympics might have seemed a long way away. But Jepsen says, she always knew she'd be back.
Born missing some of her fingers, Jepsen has dealt with her fair share of injuries. She dealt with repeated torn ligaments in her knees, a broken foot and is no stranger to adversity.
"I learned that through my knee injuries, too. It's like the first thing that comes to my mind is redemption and getting back out there again. I didn't know what it would look like when I came back. But there wasn't a doubt in my mind I was coming back because I just really love ski racing."
THERE'S MORE IN THE TANK
Jepsen was finally able to get back to racing in January of this year at the World Para Snow Sports Championships in Norway. In that event and several World Cup races in early 2022, she was on the podium in every race she entered. 
That left Hallat and the team believing she's now stronger than she was four years ago. But Jepsen wasn't convinced.
"I definitely put down performances that were to the best of my ability at that time. But there's more in the tank."
Over the past four years since PyeongChang, Jepsen has only managed to get in a couple of months of racing because of Crohn's and COVID. But surprisingly, she's feeling good heading into Beijing.
"In those races in January, I was kind of angry at myself and angry at the results, knowing that I could bring some more heat into the Games and kind of have that fire lit underneath me."
It was also a good test run for Beijing as the event in Norway was taking place as the Omicron variant was spreading around the world.
GOOD TEST RUN FOR BEIJING
"At the Games, we're going to be testing every single day. And yeah, it was a good run through. I'm happy with how it all happened and how we handled everything. And so yeah, it was really good to have that experience."
Given the roller coaster people have gone through with COVID, Jepsen says, Beijing couldn't come at a better time.
"The Games bring people all over the world together. And I think that in a world that's so broken up right now with the pandemic, it's an amazing thing that this is happening right now. And I'm really proud to be a part of it."
Jepsen can't wait for her first race.
"I'm so excited to go there and see everyone who has just worked their asses off for months and months with so little recognition and with no racing." She adds, "Everybody's been just kind of down in the dumps for a really long time. I'm just really excited to be there with my family (the team)."