Morocco target first football 5-a-side Paralympic podium finish
Defender Imad Berka prepared to 'work continually harder' to help his team win its maiden Paralympic medal
04 Jul 2021
Imagen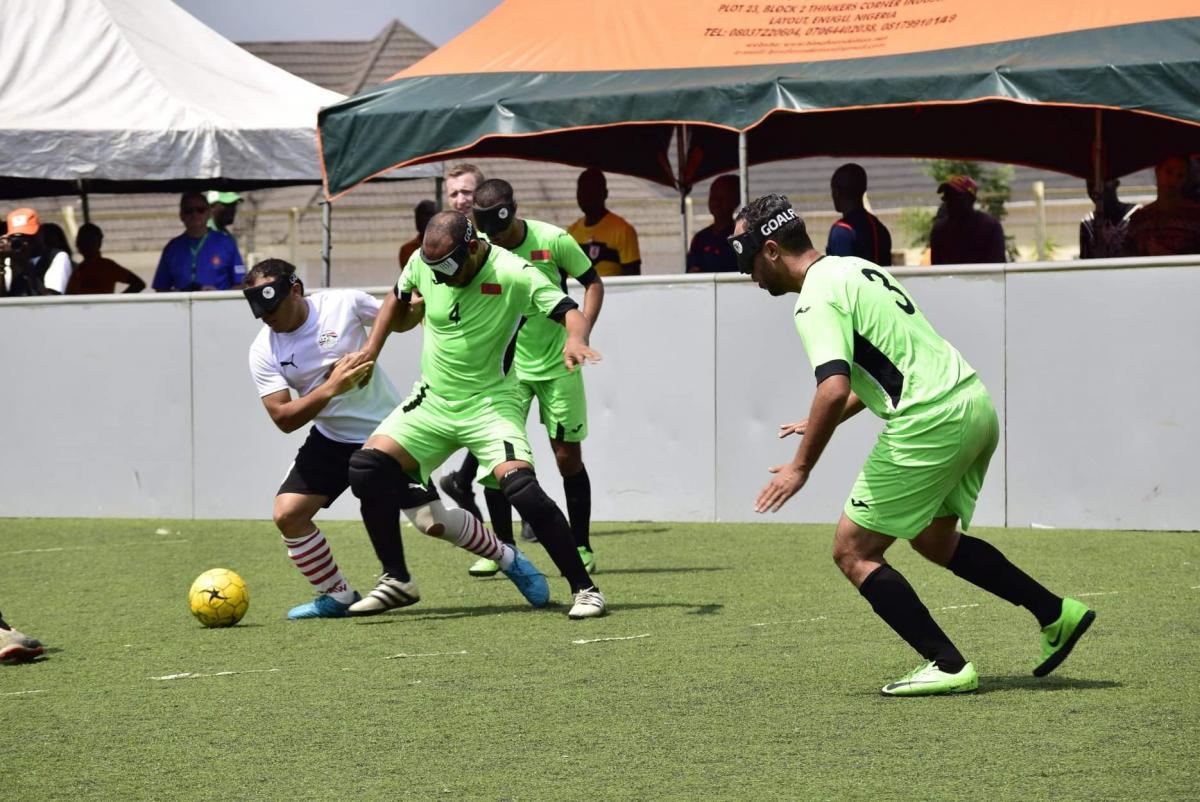 ⒸBina Foundation
By Keon Richardson | For the IPC
With eight years' playing experience for the Moroccan national football 5-a-side team, Imad Berka is confident that his country will claim their first medal in the sport at Tokyo 2020.
The veteran defender started playing football in 2000 at a school for the blind with his friends where they put gravel inside a football for it to produce an audible sound.  
"I felt it was a joke at the beginning. I could not imagine that a blind person could play football. When I tried, I discovered that I can really do it. It was exciting!" he said.
Since making his national team debut in 2013, he has represented his country at two World Championships (Tokyo 2014 and Madrid 2018) and one Paralympic Games (Rio 2016) and has won all four editions of the African Championships (Lambersart, 2014, Douala 2015, Praia 2017 and Enugu 2019). 
Ⓒ IBSA

Lions de l'Atlas – the Atlas Lions – as Morocco are nicknamed, claimed the last Tokyo 2020 football 5-a-side qualification spot after defeating Mali 5-1 in the final of the continental competition. Morocco are the only football 5-a-side nation from Africa to compete at the Paralympics and it is an achievement that Berka personally takes very seriously: 
"Being the only representative of Africa is a call of pride but at the same time a big responsibility. Africa deserves more spots at the Paralympic Games. Mali, Ivory Coast and Cameroon all deserve to be there as our close contenders."
Tokyo 2020 will be Berka's and Morocco's second Paralympics following their debut in Rio 2016, drawing one match and losing two. Although Morocco did not advance past the group stages, they were close to ending Brazil's undefeated streak after scoring their first Paralympic goal in 13 minutes. They kept the lead up until the second half, where the reigning champions scored three goals to win 3-1.
"Rio 2016 was my first Paralympic participation. I learned that we should always work continually harder. Nothing is impossible. We can always prove that being blind is not an obstacle to reach our goals," Berka said. 
Morocco have had a taste of a few of their Tokyo 2020 Paralympic contenders at the 2018 World Championships, including Spain and Thailand. The African champions finished eighth in the competition, four positions above Thailand and seven past France. They also defeated Tokyo 2020 hosts Japan 5-1 in the Blind Soccer Challenge Cup in December 2019, a month after defending their African title.
However, Morocco's momentum for Tokyo 2020 was halted by the global outbreak of COVID-19. Along with several other nations, COVID-19 has had a significant impact on Morocco's preparation for Tokyo 2020.
"COVID-19 has impacted severely. There was a total lockdown in Morocco and we had nowhere outside of our home to practice. I had been preparing individually, but now I am preparing with the national team."
Morocco has completed two training camps in the capital city of Rabat this year and Berka is still optimistic that his country will return home from Tokyo 2020 with their first football 5-a-side medal.
"So many countries are likely to be on the podium in the Paralympic Games. Apart from Brazil and Argentina, we have China, Spain, France and ourselves. We have to honour the continent. It is our strong aim and ambition to be on the podium."