Sport Week: 10 things to know about football 5-a-side
A relatively new addition to the Paralympics, the Para sport has grown into one of the most popular
10 Jun 2021
Imagen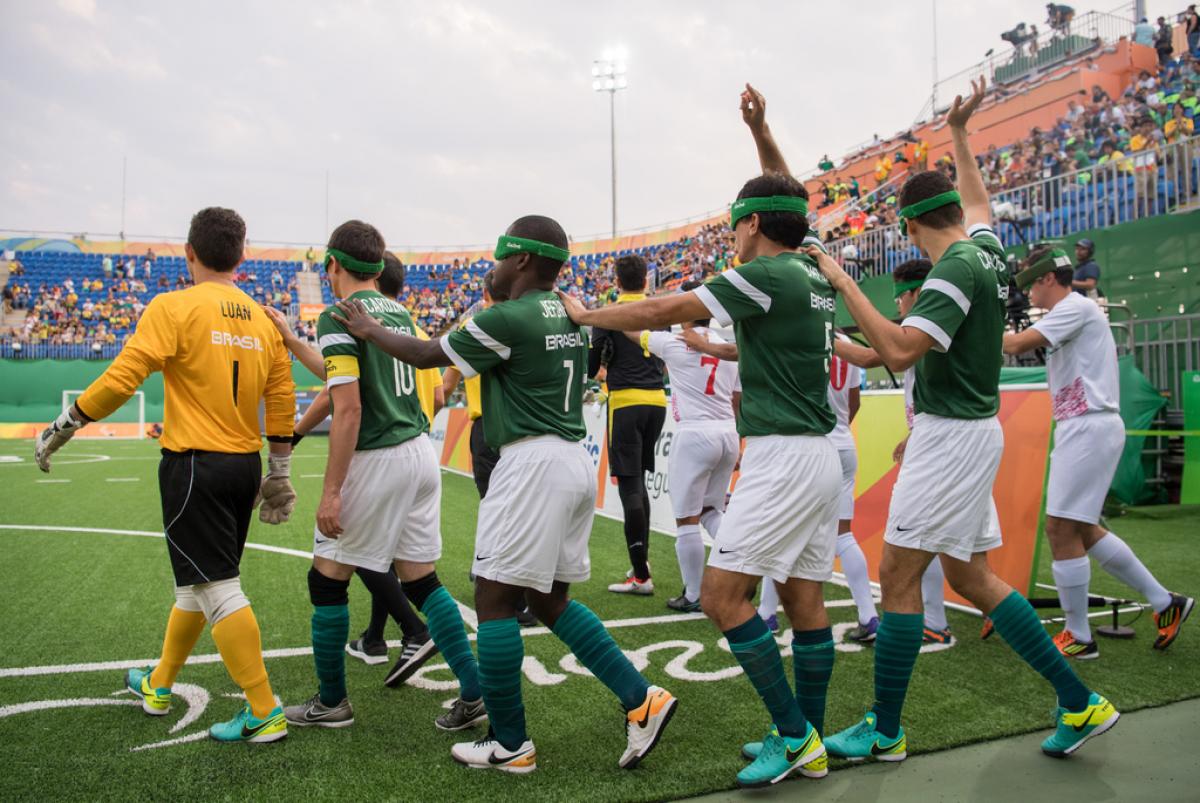 ⒸOIS
By Lucy Dominy | For the IPC
Football 5-a-side is one of three sports on the Paralympic programme exclusively for athletes with vision impairments, and is one of the most popular overall. There is however much more to this particular version of the 'Beautiful Game.'
1.    Football 5-a-side is relatively new to the Paralympics, having debuted at Athens 2004. Six countries competed in the inaugural tournament: Argentina, Brazil, France, Greece, South Korea and Spain.
©Getty

2.    Brazil have been the dominant force in the sport at the Paralympic Games, claiming gold at every edition. The first Paralympic final against Argentina in 2004 was decided with a penalty shoot-out. Brazil won 3-2.
©Getty

3.    Despite the Brazilian dominance, Spain are considered to be the pioneers of the sport having originally started playing a version of the game at schools for people with vision impairments in the 1920s.
©Getty

4.    The Para sport did not have a single governing body or set of rules until 1996 when it was taken under the wing of the International Blind Sports Federation (IBSA). The following year, the first Americas and European Championships were held—naturally Spain and Brazil took the respective titles!
©IBSA

5.    The game is held under 5-a-side rules with some adaptations. For example, there is no off-side rule, but players can enter the penalty area with the ball and take a shot. The goalkeeper also has a smaller, rectangular area which they must stay inside.
©OIS

6.    In the following decades, fuelled by the exposure gained from the Paralympic Games, football 5-a-side exploded into a truly global sport. Asian Championships were held in 2005 and the first African Championships in 2015. Today many national and international competitions are held every year.
©Japan Blind Football Association
 
7.    There must be complete silence during games to allow the players to hear the ball (which has a bell inside), other players and instructions from guides. This means that fans, coaches and teammates are not allowed to cheer or make sounds…until a goal is scored!
©Getty

8.    Classification ensures all Para athletes can compete on a level playing field. Football 5 players must be eligible for a single class: B1. This means they have severe levels of vision impairment such as low visual acuity and/or no light perception. Athletes must also wear eyeshades during games but the goalkeeper, who cannot leave the area, can be sighted or partially sighted.
©Getty

9.    The ball must make a jingling or rattling sound and players must say "voy" when they have possession of the ball to alert other players about their position. A guide, who often stands behind the opponent's goal, can also provide instructions. This can be in the form of words or by using an implement to bang on the goalposts during penalties. The boundaries of the 40m x 20m pitch are marked out by solid barriers known as 'kick-boards.'
©Getty

10.    Until recently, football 5 has mainly focused on the men's game. However in recent years huge progress has been made to bring more women into the sport. The first World Championships for women will be held in Enugu, Nigeria, in November 2021.
©Bina Foundation