Sport Week: 10 things to know about Para canoe
Get to know the sport making its second Paralympic Games appearance
31 May 2021
Imagen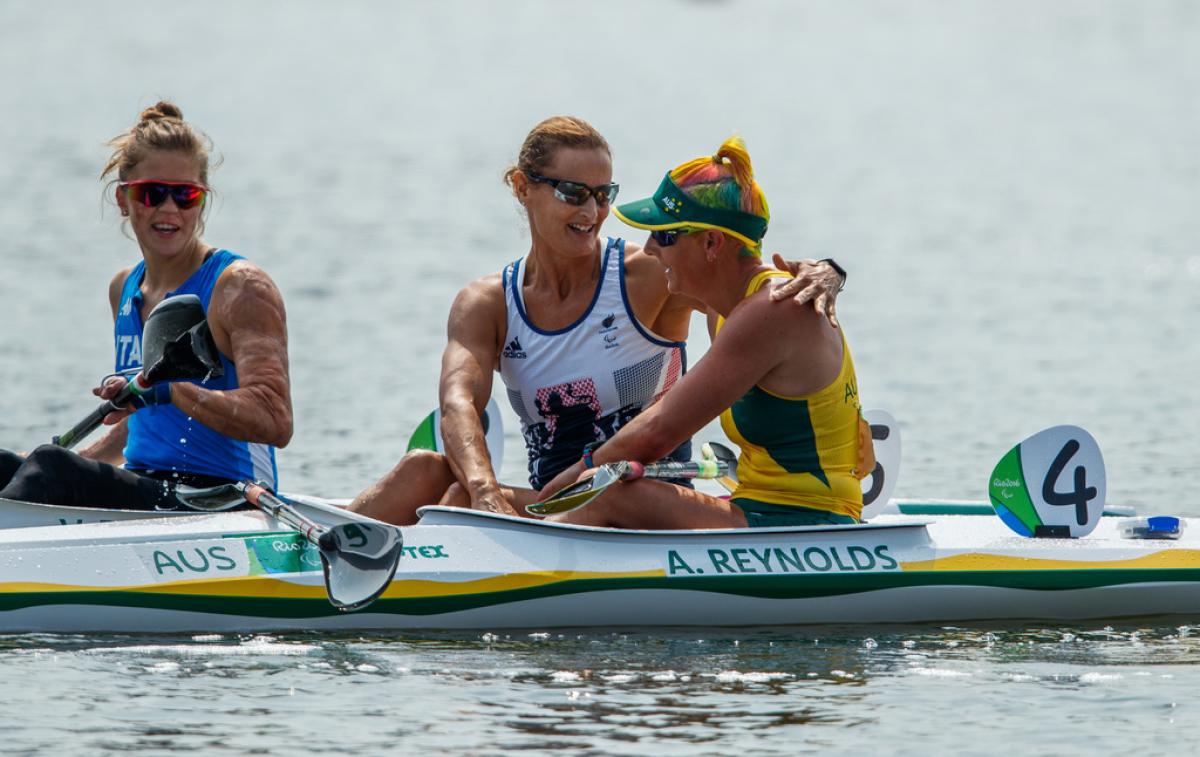 ⒸOIS
By IPC
Para canoe athletes race over 200m towards a finish line. But the sport requires more than strength. It also includes sharp techniques in paddling and balance, and of course stamina. 
1. Canoe, along with triathlon, made its Paralympic debut at Rio 2016 with 60 athletes competing over six events. Great Britain topped the medals table with five total, three golds coming from Emma Wiggs, Jeanette Chippington and Anne Dickins. 
©OIS
2. Athletes race over 200m in two types of boats, kayak (K) and va'a (V). The kayak is propelled by a double-blade paddle, while the va'a is an outrigger canoe which has a second pontoon as a support float and uses a single-blade paddle. 
©Mike Trauner
3. Athletes who compete in Para canoe have an impairment in their lower body or trunk. They are categorised into three groups according to the impact of their impairment on their performance, and is specific to the boat they are competing in.
©ICF
4. In kayak events, KL1 athletes have no leg function and limited trunk function, severe impairments in their lower bodies and sometimes need a special seat with and backrest in the boat. KL2 athletes are partially able to use their legs and trunk, and can sit upright in a kayak but might need a special backrest. KL3 have trunk function and are able to sit in a forward, flexed position, but have partial leg function. 

A slightly different method is applied in classifying athletes in va'a events. Athletes in VL1 have no trunk or leg function. VL2 and VL3 athletes have trunk function, and further evaluations are conducted to determine specifically which class they should be in.
©Getty
5. The boats used in canoe are known as 'closed deck,' with an opening only where the athlete sits. Closed deck boats originated from the North Pole and Greenland, with the hole made as small as possible to prevent cold water from entering and to ensure a quick recovery in case of capsizing.
©OIS
6. During the 2000s, the International Canoeing Federation (ICF) pushed their efforts of including people with impairments in their programme "Sports For All." In 2009, the ICF together with the International Va'a Federation (IVF) inaugurated a development programme to make Para canoe, which was called PaddleAbility previously, popular to paddlers and people with impairments interested in sports on a global scale.
©ICF
7. The first Para canoe exhibition event was held in 2009 in Dartmouth, Nova Scotia, Canada, within the Canoe Sprint World Championships. Eleven nations participated in the showcase.
8. Only kayak events were contested at Rio 2016. But Tokyo 2020 will welcome the va'a boats for the first time, with athletes competing in three medal events - two for men, one for women. In total, there will be nine medal events at the 2020 Paralympics: 

•    KL1 200m (Men/Women)
•    KL2 200m (Men/Women)
•    KL3 200m (Men/Women)
•    VL2 200m (Men/Women)
•    VL3 200m (Men)
©ICF
9. Athletes must keep the whole of their boat within the 5m wide central area of their lane from start to finish. The boat has finished the race when its bow crosses the finish line with the athlete in it. 
©OIS
10. In Para canoe, athletes can have certain adaptations to sit in their boats. But no part of the athletes body can be attached to the boat in any way. This is especially important if the boat were to capsize.
©OIS