Nigeria's Ikpeoyi targets Paris 2024 as she leads new Para table tennis generation
From a handmade paddle to medals at international competitions, Ifechukwude Christiana Ikpeoyi has big aspirations for her future
09 Jan 2023
Imagen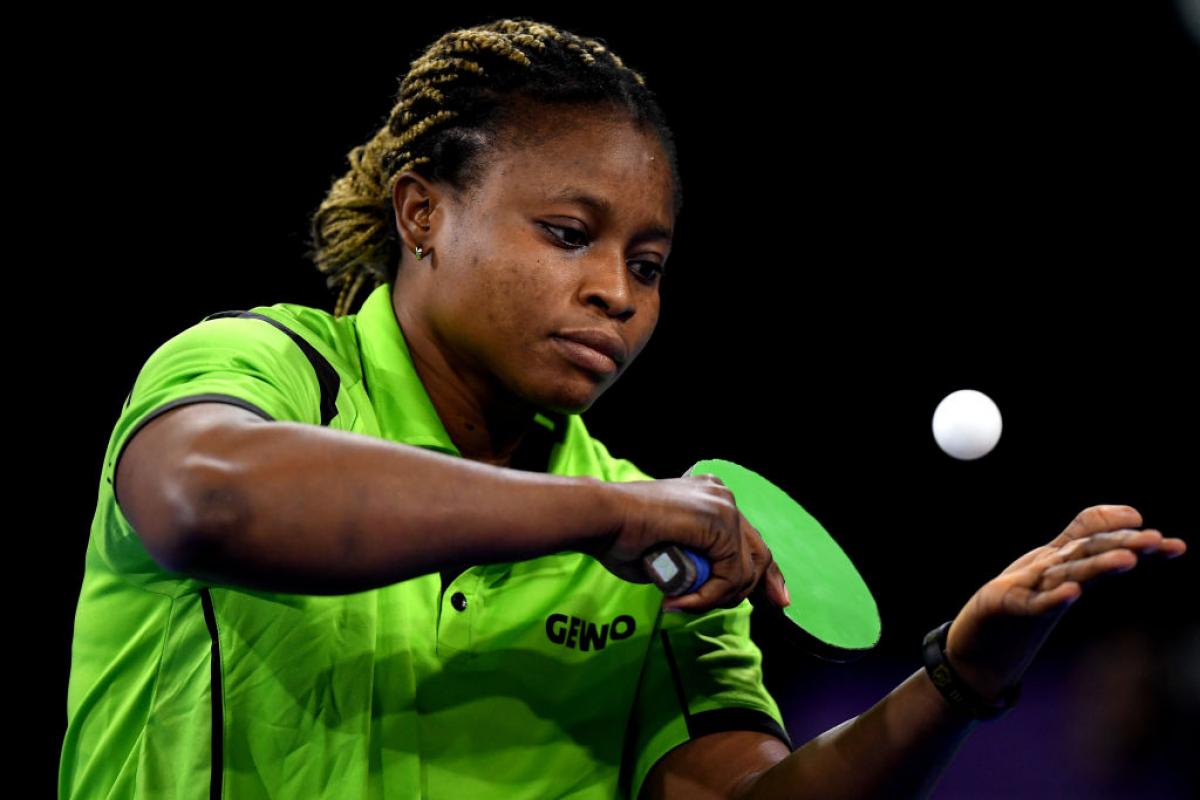 ⒸTom Dulat/Getty Images
By AMP Media I For The IPC
"Table tennis has given me honour in my family and in my society and it has given me and my family food."
In one sentence, talented youngster Ifechukwude Christiana Ikpeoyi sums up the impact that Para sport has had on her life since she first picked up a paddle six years ago.
Handmade out of carpenter's wood by her father, Mark Ikpeoyi, it marks the start of Ikpeoyi's journey from the small community of Idumu-Ogo in Nigeria's northern Delta State to the Paris 2024 Paralympic Games.
From homemade to home hero
The 20-year-old, who competes in Class 5 wheelchair table tennis, served notice of her talent at the Birmingham 2022 Commonwealth Games, finishing runner-up to Tokyo 2020 Paralympic Games silver medallist Bhavina Patel of India.
"It created a mindset on how well and how far I can go in this field," Ikpeoyi said. "Birmingham was amazing."
Watching from afar was her family, including her proud father, her three surviving sisters and five brothers, though there were no wild celebrations.
"I didn't take a break. I had to train harder than before because my main focus is Paris 2024 and to bring honour to my country," the athlete said.
"I started playing in 2017 and it was a great moment for me because I saw a lot of people living with disability and they were happy fighting for a ball on the table. I was like 'wow, where have I been?'.
"Sport was part of me, but I never knew I could choose it as a career because of where I grew up.
"My daddy was the first to construct a racket for me. Getting equipment is very difficult for me, it is what I lack the most.
"The sponsorship is poor here and that's why we don't go for outside tournaments."
Future of Nigerian Para table tennis
Nigeria is the most successful African country in Para table tennis history but their best players are ageing.
Ikpeoyi, whose right-leg impairment was caused by polio, believes her country shines at the sport because they have to overcome so many challenges.
"We are always training hard, even when there's no tournament from year to year or no monthly payment. And also, we find our happiness when we are in the sports circle."
Ikpeoyi hopes she is inspiring more players to join that circle. 
"I think I am leading the next generation as a young athlete and there are more young talented players coming up," she said.
"My achievement in sports has really turned some of them to sports and those who were not serious now are. Most of them come round when I am training to catch me and some of them have improved drastically – both men and women."
Scaling podiums
Ikpeoyi now trains at the Lagos table tennis sports indoor hall from Monday to Friday.
She has won medals at the annual Lagos Open, and in 2021 she won bronze at the French Open, her first trip out of Africa.
"It was a glorious moment going to Paris," Ikpeoyi said. "I didn't believe it until I was in the air. It was an amazing competition and I won the bronze medal."
Planning to take a short break over the holidays, Ikpeoyi already knew what her wish would be for the new year.
"I wish for sponsors to enable me to go to tournaments with qualification to Paris 2024," she said. "I will be with friends and family, have a little rest during the Christmas period, and focus for a year of training in 2023."