Wheelchair basketball and tennis player Ukari paving way for Para sports in Nigeria
The dual sports athlete is putting great efforts into promoting wheelchair sports in Nigeria despite numerous personal obstacles that stand in his way
30 Jun 2022
Imagen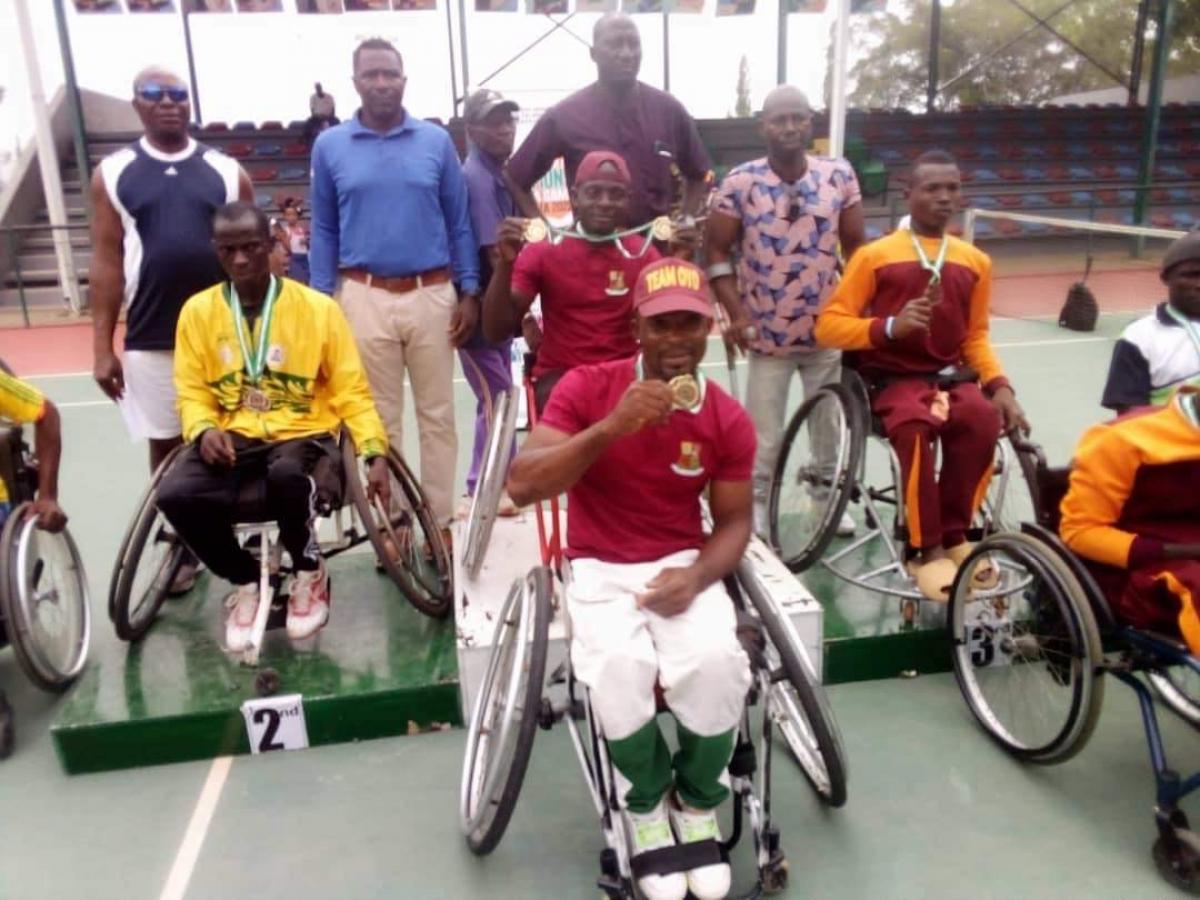 ⒸWilliams Ukari
By Aryanna Prasad | For PARA SPORT
Nigeria's Williams Ukari does not have the wheelchair he needs to do sports, the funding he needs to travel to international competitions and, hailing from Benue, a state that is in the midst of a violent farmer-herder conflict, he has plenty on his mind besides scores and medals. 
However, even these obstacles are not enough to dim his enthusiasm for sport. So much so that instead of one sport, Ukari has undertaken two at a competitive level.
The 28-year-old combines wheelchair basketball and wheelchair tennis, most recently winning four gold medals at the National Para Sports Festival, held from 9-15 April in Abuja, Nigeria. Three of these medals were in wheelchair tennis, one in wheelchair basketball. 
Juggling the two sports, Ukari's life is a constant whirlwind of training, travel and competitions. 
If there is one takeaway, it is this: Ukari is a talented and dedicated athlete who remains far from the global stage only due to local limitations. In his words, he and his teammates are "just managing it" as they forge a path forward as Paralympic hopefuls. 
Shots and serves
Originally from Vandeikya, Ukari began playing wheelchair basketball at 14 years old. He has controlled the court for years as a power centre forward, proven by an MVP award for most points scored at the 2017 Victor Ochei International Wheelchair Basketball Championship. 
At the moment, the Nigerian wheelchair basketball team is still too underfunded to compete internationally and obtain Paralympic eligibility, but Ukari found another way to break on the world scene, cultivating skills on the tennis court over the past seven years. 
It is in wheelchair tennis that he has won most of his medals: three gold and two bronze at the National Para Sports Festival and a silver at the 2019 BNP Paribas World Team Cup Africa where he defeated Egypt's top player. 
Ukari was last ranked 573rd globally, a fact he shares with immense pride. After all, he is the only Nigerian wheelchair basketball player who is also internationally ranked in tennis.
'Managing it'
While Ukari's accomplishment on the national stage is unparallel, there are many obstacles he faces just to compete. 
One of the many things Ukari thinks about is the state of the wheelchair he uses for tennis. Over a decade old, the chair's chipped paint and rusted frame renders it ineffective.  
"The wheelchair is not good," Ukari said. "It's of no use, but I'm just managing it."
Ukari believes his wheelchair is partly to blame for his losses on the court. According to his coach and teammates, Ukari's chair restricts his movements, meaning he cannot always respond to serves in time.
Like most athletes, Ukari could benefit from corporate sponsorship to fund equipment and travel to international tournaments, but his efforts to find sponsors have not been successful so far.
"I've been talking to a lot of people, but the response is not encouraging," Ukari said. "I've written letters to so many companies, and none of them have responded to me. So I just decided, let me manage what I have."
Escape from reality
On-court battles are not the only confrontations Ukari has to think about. Ongoing tribal warfare has forced him to flee Vandeikya because it became too dangerous. Clashes have claimed more than 3,600 lives in his home state since 2016.
"It was not easy," Ukari said when reflecting on his life in Benue. "You wake up one day, there will be peace. You wake up the following day, there is crisis. Just looking at how you will survive...it was not easy. It was not easy at all."
Ukari's family stayed behind, with his sisters still living in unsafe conditions. Before his mother passed away in 2020, she was Ukari's biggest supporter. 
"When you are a disabled person, people look at you as a burden to society," Ukari said of the general attitude to people with disabilities in Nigeria. "Despite my challenges, I always had hope because I had a very loving mother." 
When people mocked him at school and Ukari no longer wanted to attend, his mother offered unconditional support: "When I told my mom, she said I should never mind them, that I am the best and she loves me. I should not think about that focus. I'm a great person. And I take courage from there."
Chasing Paralympic dreams is something thousands of athletes are doing, but for Ukari, these dreams are also an escape from an overwhelming reality. On the courts, he can forget about everything else, distracting himself with serves and swishes. 
"When I'm doing sports, I feel happy, because I don't think about anything else," Ukari said. "But the moment I'm alone, I start thinking about a lot of things."
Opportunities for others
Since Ukari is not a salaried or sponsored athlete, "managing" also means living off of prize money from competitions. Still, Ukari is fortunate to build a career in the Para sports world: many Nigerians with disabilities are not so lucky. 
"If you come to Nigeria today, you see a lot of physically-challenged people on the streets begging," Ukari said. 
"The discrimination is too much. As I'm talking to you, most of our physically-challenged people are sleeping under the bridge."
Ukari is doing everything he can to not only build up the court for himself and his teammates, but try and fortify courts across the continent. He created a WhatsApp group for African wheelchair basketball leagues, fostering a community and potentially more tournaments among African teams. 
"If I have the opportunity to go forward in Para sports and make a little amount of money, I would like to give back to society." Ukari said of his desire to one day organise tournaments for wheelchair basketball and tennis. "Most especially, to those that have a disability that do not believe in themselves, that think everything in their life is hopeless, I want to give them hope."