Nigeria athletes striving for Games success
'Nigerian Para athletes are going for the kill'
24 Aug 2021
Imagen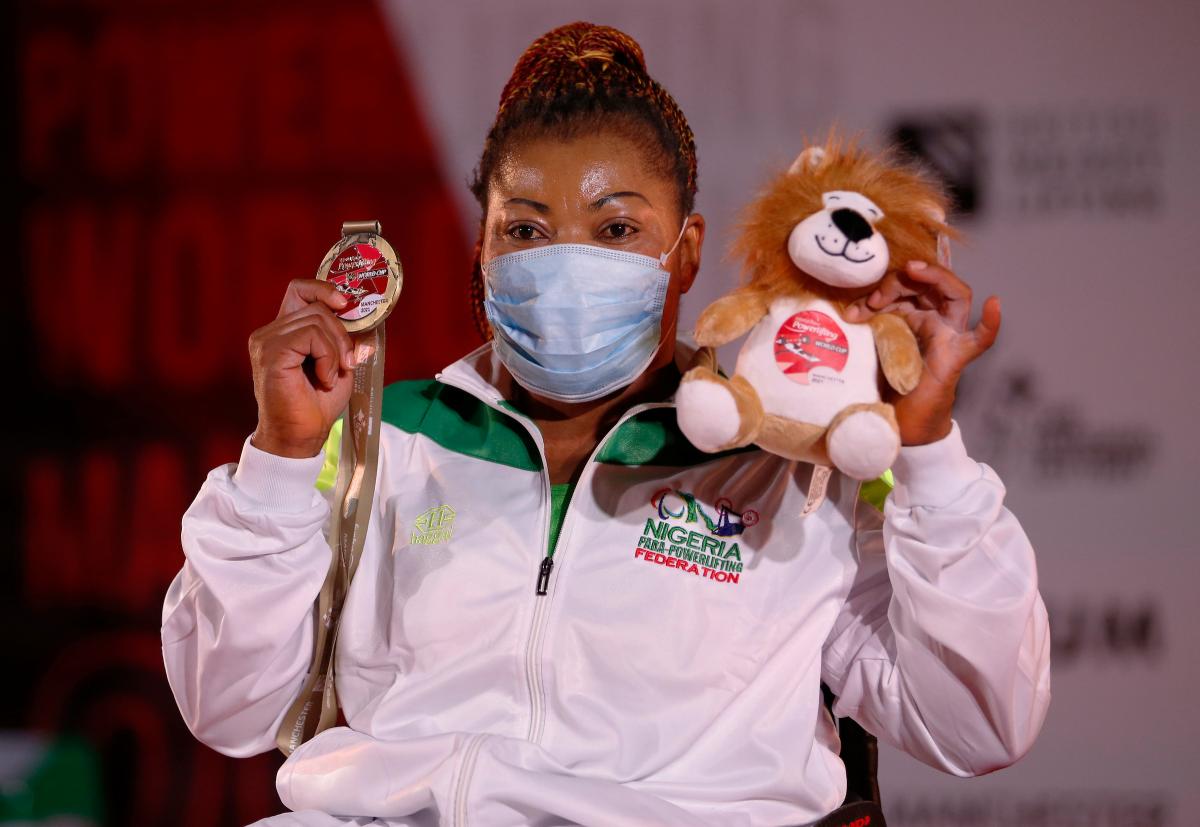 ⒸEd Sykes/SWpix.com
By Ruth Faulkner I For the IPC
With one athlete less than in Rio, Nigeria sends 22 athletes to the Tokyo 2020 Paralympic Games hoping for a spectacular performance. Nigeria has been represented by athletes at every Paralympic Games since it first sent a delegation to the Games in 1992.
Mr Suleyman, General Secretary of Nigeria NPC expressed a lot of enthusiasm. "We do believe that our medal prospects are very high and we look to better our overall finishing ranking in comparison to Rio where we finished 17th. The athletes are in good spirits and are looking forward to the Games. Nigeria Para athletes are going for the kill,'' he said.
The athletes from Para athletics, Para powerlifting, Para table tennis and Para rowing have trained together in a training camp bubble before their departure, leaving the team in high spirits.
"We are so excited to have our athletes train together in this camp after a very long time due to Covid-19. The athletes are in good spirits and are looking forward to the Games," Suleyman commented.
The officials from Nigeria have high expectations of their team, with a number of athletes hopeful for gold.
Powerlifting has been Nigeria's most successful sport in its Games history, providing 21 of its 36 gold medals. Lucy Ejike, five-time Paralympic medallist is looking forward to sixth Games and hoping to add to her powerlifting medal haul. "I am surely aiming a gold medal, though I know it will not be a walk in the park. I am very much ready for the Games, I am in good shape despite the postponement of the Games and Covid restrictions that slowed down our training schedules."
However, she remarked towards the strength of her competitors. "I know a lot of athletes are working hard towards good results, I look forward to seeing my greatest rival in powerlifting, Amalia Perez of Mexico."
Tajudeen Agunbiade is a Para table tennis player of class 9 who is aiming to repeat his 2000 Sydney gold history at the Tokyo Games. He mentioned that his greatest competitor was Laurens Devos from Belgium, Rio 2016 gold medallist, but training with a range of capable athletes has helped him improve. His motto is: "Victory is my quest".
Another one to watch is Ijomah Okoroafor Kingsley. While he only joined the Nigerian team in 2018, after initially training in Great Britain, he qualified for the Paralympic Games at the 2019 African Olympic and Paralympic Qualification Regatta in Tunisia. 
"It's quite interesting sharing the space with the rest of the Nigerian athletes. They're world champions in powerlifting, in table tennis and in javelin, but rowing just doesn't exist at that level yet. It's a big deal for Nigeria."
But it hasn't sunk in yet that he's here in Tokyo representing his birth country. "It still feels completely surreal. Literally, I woke up this morning thinking 'I am still in Tokyo, right?'," Kingsley concluded.