With gold and world record in mind, Nigeria's Lucy Ejike powers through challenges
Three-time Paralympic powerlifting champion opens up about COVID-19 pandemic setback and how she pushes on
23 Jun 2021
Imagen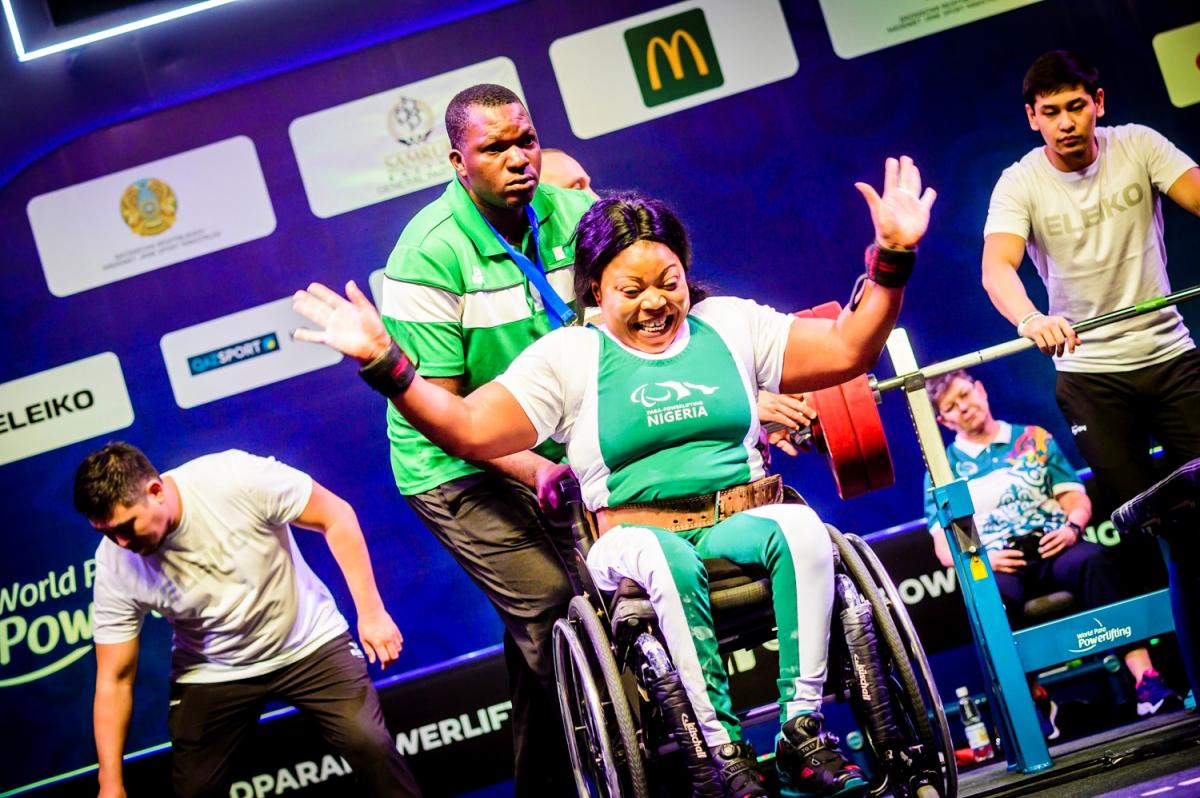 ⒸHiroki Nishioka for World Para Powerlifting
By Rob Howell | For the IPC
Once Nigeria's Lucy Ejike enters the powerlifting arena at Tokyo 2020, she will have not one but two goals in mind. The first is to successfully defend her Paralympic title in the women's up to 61kg category. The second is to break her own world record. 
As one of Nigeria's most successful Paralympians, let alone a household name in the sport, Ejike might feel more than the pressure of her 142kg – her current world record - against her chest. No doubt, the COVID-19 pandemic had an impact.
"I could not train as I had to stay at home," she explained. "I lost focus and it affected my body too. I put on weight and lost muscle strength. I tried hard not to but not being able to train made it harder. When I started training again, I started to lose the weight."
As the gold medallist from Athens 2004, Beijing 2008, and Rio 2016, as well as runner-up from 2000 and 2012, Ejike knew what brought her success then. For Tokyo, she knew she had to do more to get back in form.
"I used to train three days a week but right now I have increased that to four days now, for three hours at a time," said Ejike, who lives in the state of Enugu with her husband and two sons, aged 16 and 7.  "I changed my work out programme too to make sure I develop the strength I will need in Tokyo."
"I am developing both physically and mentally in my mind to be focussed. I don't need any distractions so after training I go inside my room to rest. I do everything according to time and I don't want to waste any of it." 
When not preparing for a major competition, Ejike works as a sports administrator for her local state. Now though, her job is to train. The government support, nationally and locally, has helped make Nigeria a powerlifting powerhouse, so being surrounded by top athletes also pushes Ejike.
"Normally I am paid by my state but, at the moment, the Nigerian Ministry for Youth and Sport has called us together for training with the Nigerian team, so now they are taking care of me."  
"Nigeria is good in powerlifting," explained Ejike. "They are a strong people naturally and very focussed. Being physically challenged we often have no other focus in our lives here. But, if we become successful in sport, we can focus on doing that and it becomes our way to make a living. We don't joke with it, it's our livelihood."
Ejike after the 2021 World Cup in Manchester © Ed Sykes/SWpix.com

The 43-year-old  knows the experience in Tokyo will be different than her previous five Games. Earlier this year she competed and won her event at the World Cup in Great Britain, which gave her a taste of what to expect this summer.
"In Manchester we couldn't go out and we couldn't eat together so it was a new thing to me. But I started getting used to that and so in Tokyo it won't be a new thing to me.
"But every Games is a new and wonderful experience and this one in Tokyo will be the same."
"Rio was so special," she said. "I felt so great there. My first lift, world record. My second lift, world record. My third lift, world record."
One constant of Ejike's Paralympic performances is if she manages to break her world records. She did it twice at Athens 2004, twice again at Beijing 2008 twice, and three times at Rio 2016. 
As she approaches her sixth Paralympics, Ejike remains enthusiastic about the impact the Games can have around the world.
"In Nigeria, Para sport is developing every day and moving higher and higher," she said. "There is lots of improvement in our government and the performance of our athletes. The Paralympics has done great things in the lives of Nigerian athletes.
"Every time I go to the Games it's not how it was in Sydney or Athens. I notice the number of athletes increasing every time and the performances are going higher and higher."