No. 15: Russian rookie rows to gold at Worlds
Natalia Bolshakova set a world-best time and upset the top contenders at the 2013 World Rowing Championships.
17 Dec 2013
Imagen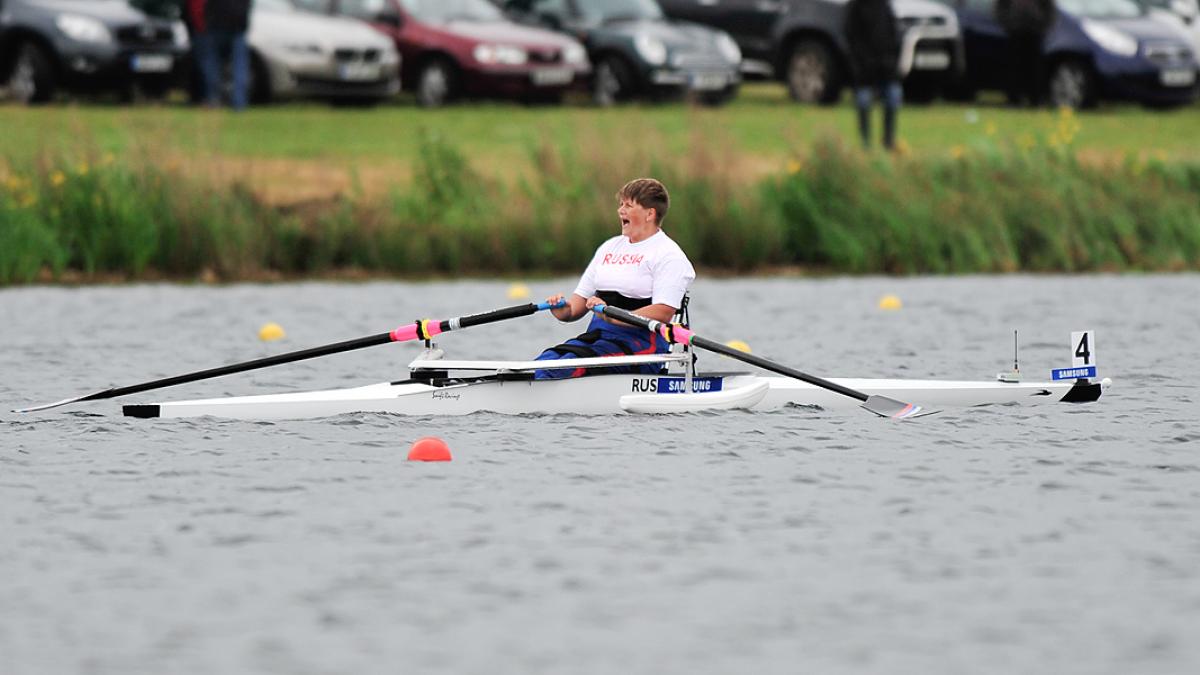 By Justin A. Rice | For the IPC
"There is always room for perfection."
When weather predictions caused her final race at the 2013 World Rowing Championships to be contested a day early this past August at Eton Dorney in Great Britain, Natalia Bolshakova was thrown for a loop.
The Russian rookie, competing in the women's single sculls (ASW1x), was thrown off by about three seconds, that is, according to her coach Valery Bisarnov.
"If the final races started as it was initially scheduled, Natalia would set the world best not by 12 seconds, but by 15," Bisarnov boldly stated. "It is (nerve racking) on the one hand. But on the other hand, we were nervous one day less.
"On 28 August we were planning to hold a tactical training (session), but it was replaced by the final race in the World Championships."
Either way, Bolshakova's destruction of the world-best time in the women's single sculls AS A-final at the World Championships has been chosen as the No. 15 moment of the year by the International Paralympic Committee (IPC).
And if Bolshakova's word-best time was in fact three seconds faster than what she logged, it would only have suspended her disbelief about being the word-record holder that much more.
"I still cannot get used to the fact that I've set the world best by 12 seconds," she said. "I've shown the world-best time and this is a great merit of my coach Valery Bisarnov; my huge thanks to him. We've done a great job. And I'm really happy that I could justify his hopes."
A humbled winner
For Bolshakova's part, she said racing a day early did not make her more nervous than she already was throughout the entire competition. Despite those nerves, her coach's confidence in her ability has clearly rubbed off on her confidence.
When asked how she was able to adjust to the last minute change she simply said, "Well, you can judge it by my results."
But that's not to say she is cocky or an ungracious winner. At the finish line, Bolshakova performed what was perhaps the best show of sportsmanship during the World Championships by presenting silver medallist, Birgit Skarstein, with a Russian nesting doll.
Like Bolshakova, Skarstein also burst onto the rowing scene this year and also recorded the fastest time in the heats two days before the final race. They also both collected wins against Paralympic champion Alla Lysenko of Ukraine this year.
But despite taking the early lead in the final race, Skarstein was overtaken by Bolshakova midway through the race and ultimately finished second as Bolshakova's time (5:13.95) shattered the world-best (5:25.17) set by Lysenko in 2009.
"I gave her a Russian nesting doll, called a Matryoshka," Bolshakova said of the Norwegian sculler. "I think it's a very symbolic gift. I really liked Birgit. She is always smiling. She is a very cheerful and friendly person. But she is also a worthy opponent. We should always learn from our rivals."
Rivalries unfold
Those rivals will surely be coming after her even harder in the run-up to the Rio 2016 Paralympic Games.
"I think that next year and in 2016 the rivalry will be much more keen and intensive," Bolshakova said. "But it is good. It pushes me to train harder to defend my title."
When asked what she needs to do to capture those three seconds to better her world-best mark that her coach believes she would have if the race was run as originally scheduled, Bolshakova simply said she will work harder.
"I will train hard and time will show," she said.
Of course, her coach had slightly more to say on the subject.
"The rivalry will be much more keen and intensive but we should defend the title. It is a must," Bisarnov said.
"I think we could (set a faster time), but we should keep training and training and training.
"There is always room for perfection."