No. 18: Namibia takes home first ever gold
Johanna Benson made history on 5 September when she became the first Namibian to win gold at either the Olympic or Paralympic Games. Now, the little-known Paralympian has been nominated for the Laureus Award.
14 Dec 2012
Imagen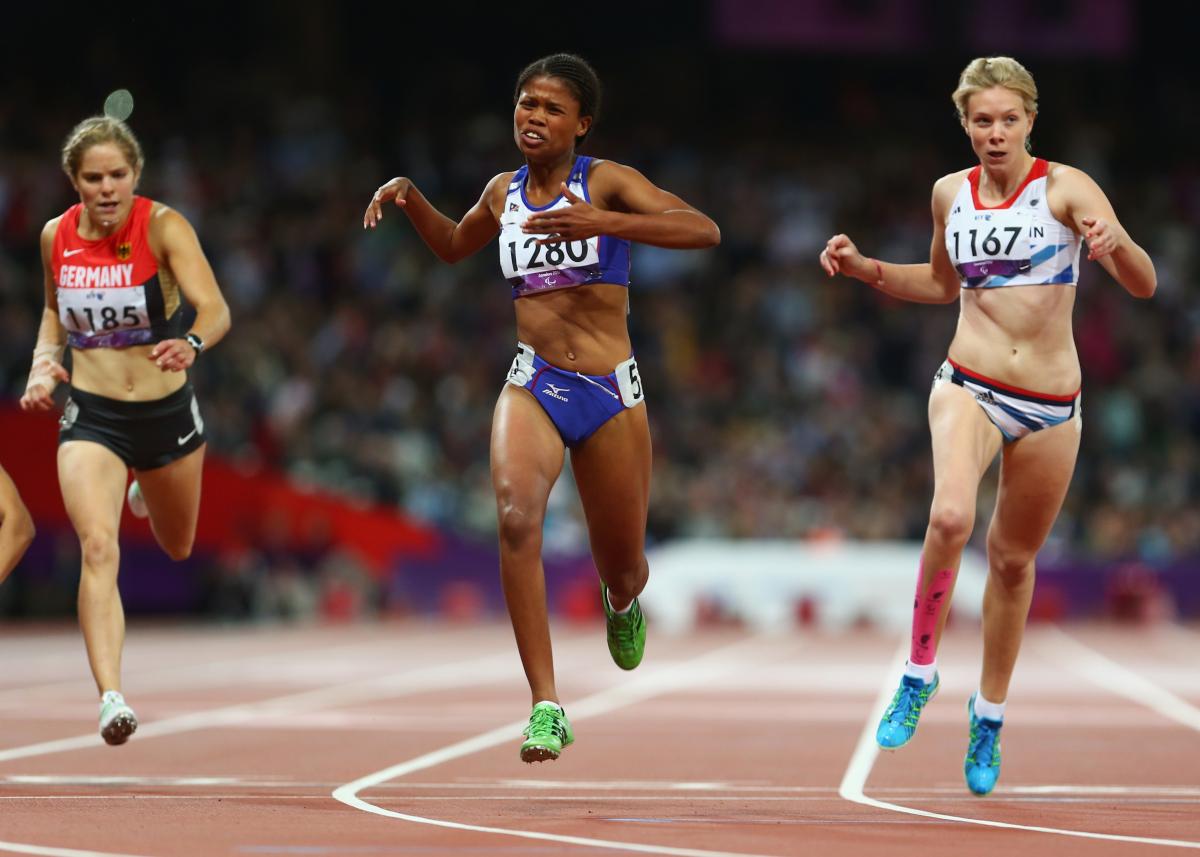 ⒸGetty Images
By IPC
Find out which other stories made it into the Top 50 Paralympic Moments of 2012.
When Namibia's Johanna Benson won gold in the 200m T37 the crowds in the Olympic Stadium were most likely celebrating the silver won by Great Britain's Bethany Woodward.
But 8,400 km away thousands of people watching live on SuperSport, the official broadcaster for southern Africa, were jumping on their sofas in delight and flooding Twitter with excited messages of congratulations for the 22-year-old who had just won Namibia's first ever gold medal – Olympic or Paralympic.
"I was also very happy to be the first female to win a medal for Namibia at a Games," said Benson.
"It was my dream to go and compete at the Paralympics."
Benson had already posted the fastest time in the heats earlier that day, finishing in 29.39 seconds.
"When I came first in the heat, I knew already that in the final, the gold is mine," she said.
But even still, her nerves began to rise before the final. She thought about what her coach, Tobias Hiskia had told her.
"He said, 'I know everyone is scared, but you don't have to show that you're scared.' So I just thought, 'I just have to do my best,'" Benson explained.
"I just concentrated on being calm and I just did the race."
Whilst she raced, there was one person notably absent from the TV audience that night – Benson's mother, who was too nervous to watch.
"She was praying, and she decided she wouldn't watch," said Benson, who posted a time of 29.26, a new African record.
Great Britain's Bethany Woodward took silver in 29.65 and Germany's Maria Seifert bronze in 29.86. The top six athletes finished within one second of each other.
When Benson's mother found out she burst into tears of joy.
Namibian national hero, Frankie Fredericks, who won two silvers in 100m and 200m at the Barcelona 1992 and Atlanta 1996 Olympic Games, presented Benson with her gold medal.
"It was the first time we heard the Namibian national anthem. Everybody was watching the television," explained Benson, who had won silver in the 100m T37 earlier that week.
When the Namibian delegation returned home from London 2012 they received a hero's welcome – something quite overwhelming for a girl from a small town.
"We thought maybe she could get a medal, a bronze or something, but it was not something that we expected for her to get a gold," said Penandino Drusilla Kandjii, President of NPC Namibia.
The day after arriving home, the team were in front of the Namibian President Dr. Hifikepune Pohamba, who rewarded Benson with a diplomatic passport, a house worth N$1.5 million (132,000 euros) and a N$170,000 (15,000 euros) grant.
The mayor of Walvisbaai, Benson's hometown, announced he would name a street after her, and she is also receiving lots of sponsorship offers.
Benson has also been nominated for the Laureus 2012 World Sportsperson of the Year with a Disability Award.
"Her life has changed totally," said Kandjii. "This is a wake-up call for all parents who are hiding their children with disabilities in our country. People are opening their eyes up to the Paralympics in Namibia. She has really put us on the map."
In a culture where a child with an impairment may not get access to schooling, the success of one 22-year-old on the world's stage has created a surge of momentum for societal change in Namibia.
"Everyone wants to join our sport" said Kandjii. "They want to be like Johanna. They're all calling us."
Editor's Note: For the final 50 days of the year, the IPC will count down the year's top moments in Paralympic sport, culminating with the year's best moment on 31 December.
The 50 moments were selected by nominations from National Paralympic Committees and International Federations and are based on sport performance, emotional moments, media attraction and athletes' personal stories.
The IPC would also like to call on the public to submit their own nominations for what they believe was the top Paralympic moment of 2012. They can do so by emailing ipc.media@paralympic.org, or by leaving a comment on www.Facebook.com/ParalympicGames or sending a tweet to @Paralympic.
Related Images