No. 24: UAE's unexpected champion
UAE shooting athlete Abdullah Alaryani created the No. 24 moment of 2012 when he beat 28-time Paralympic medallist Jonas Jacobsson for gold.
08 Dec 2012
Imagen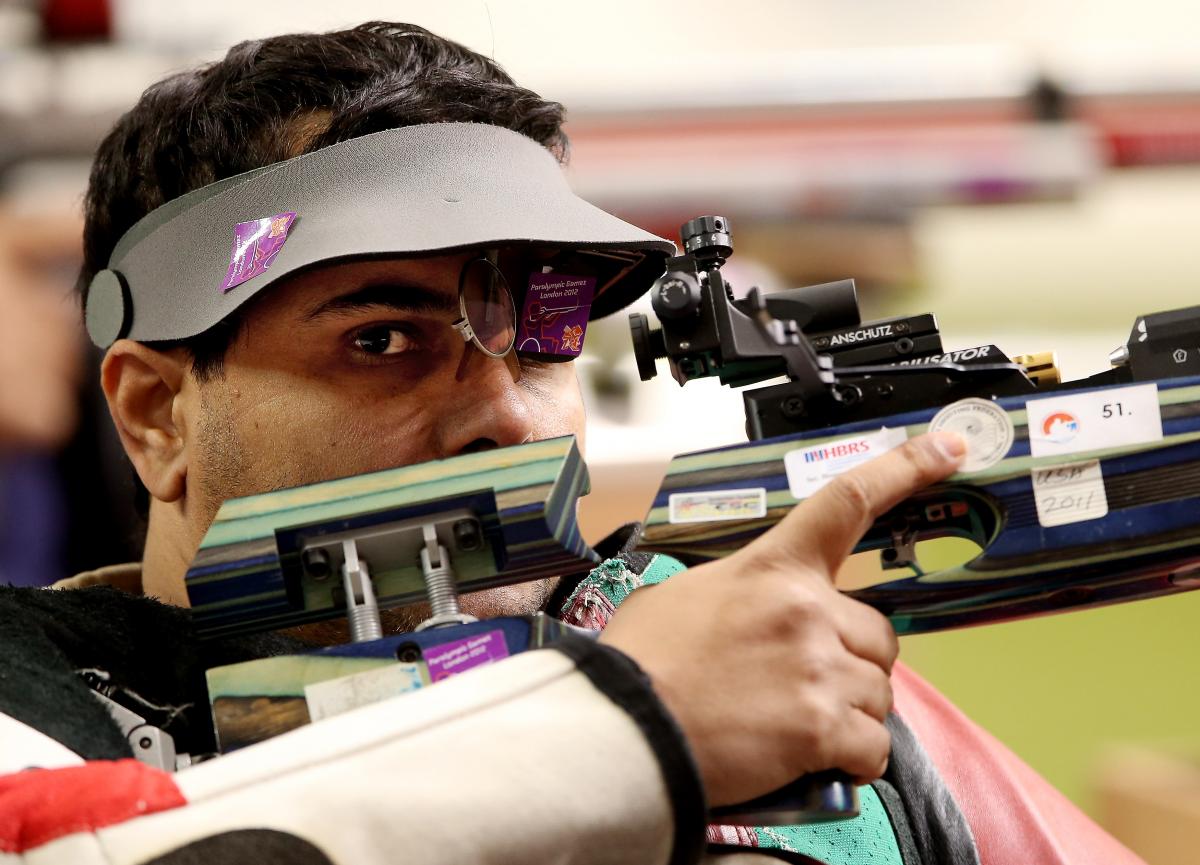 ⒸGetty Images
Find out which other stories made it into the Top 50 Paralympic Moments of 2012.
The London 2012 Paralympic Games did not go according to plan for Abdullah Alaryani, a shooting athlete from the United Arab Emirates (UAE).
Four years previously, Alaryani missed qualifying for the Paralympic finals by just a single place in the R6 50m rifle prone SH1, and once again in London he would be competing against 28-time Paralympic medallist Jonas Jacobsson of Sweden.
Also, he had to take into account he was representing a country that historically had only produced one Paralympic champion.
Now, let's say it again. London 2012 did not go according to plan for Alaryani.
Why?
Because he won gold.
Alaryani shocked the field, dethroning Jacbosson and beating Great Britain's Matt Skelhon to win the R6 50m rifle prone SH1, becoming just the second Paralympic champion ever to hail from the UAE.
"At London 2012, the UAE did not get any medals at the Olympics, so then all media focused on the Paralympic Games," Alaryani said.
"I became popular. Everybody knows me as the only gold medallist not for the United Arab Emirates only, but for all the gulf countries, for the six countries that include our neighbors."
Alaryani said he had not even thought about beating Jacobsson, his highest hopes only being coloured bronze or silver at best.
There were no reporters present to watch Alaryani in the qualifying round of the event, but when he finished the round in first
place to move onto the finals, the journalists swarmed in to watch UAE's contender for the medal-round session where he totaled his scored to 694.8.
"It was a big challenge to beat Jonas Jacobsson and I didn't expect it," Alaryani said. "He's like (James) Bond in the 50m rifle. I was worried about this, but I was confident. When I saw Jacobsson, I said ,'You are a big challenge, not the medals.'"
Prior to being injured in a car crash seven years ago, Alaryani was actually a member of UAE's Olympic shooting team at the Athens 2004 Games.
Alaryani now joins powerlifter Mohammed Khamis Khalaf as the only UAE athletes to have ever won a Paralympic gold, meaning the nation now has one more Paralympic title than it does Olympic.
Unlike some, Alaryani said life truly has changed for him since London 2012.
"When I arrived home at the airport, I saw lots of people coming that I didn't expect, most of them from the public and the media," Alaryani said.
"Also, people from the government came to say thanks for what I did for the country. It was the first time they saw our flag being raised at a medal ceremony. It was a very sensitive time for me, I couldn't even think about what it meant to me.
"I am so happy because now everybody knows more about Paralympic people and disability. Personally, this gives a big chance to me, my friends and everybody in this country to know about the Paralympics."
On 2 December, Alaryani received the nation's Merit Award in the sports category from UAE President Sheikh Khalifa in front of all government officials for helping put the country on the international sports map and creating new opportunities for disabled athletes in the Arab region.
Despite Alaryani already having 42 years under his belt, he insists this is not the last we'll hear from him.
"Now, in Rio de Janeiro, I'm expecting two gold medals, not one," he said.
Editor's Note: For the final 50 days of the year, the IPC will count down the year's top moments in Paralympic sport, culminating with the year's best moment on 31 December.
The 50 moments were selected by nominations from National Paralympic Committees and International Federations and are based on sport performance, emotional moments, media attraction and athletes' personal stories.
The IPC would also like to call on the public to submit their own nominations for what they believe was the top Paralympic moment of 2012. They can do so by emailing ipc.media@paralympic.org, or by leaving a comment on www.Facebook.com/ParalympicGames or sending a tweet to @Paralympic.
Related Images