No. 26: Weir pushes through marathon for gold
One of the most iconic photos from London 2012 was David Weir holding his bare chested one-year-old son after winning the marathon on The Mall. This moment on the final day of the Games is No. 26 in the Top 50 Paralympic Moments of 2012.
06 Dec 2012
Imagen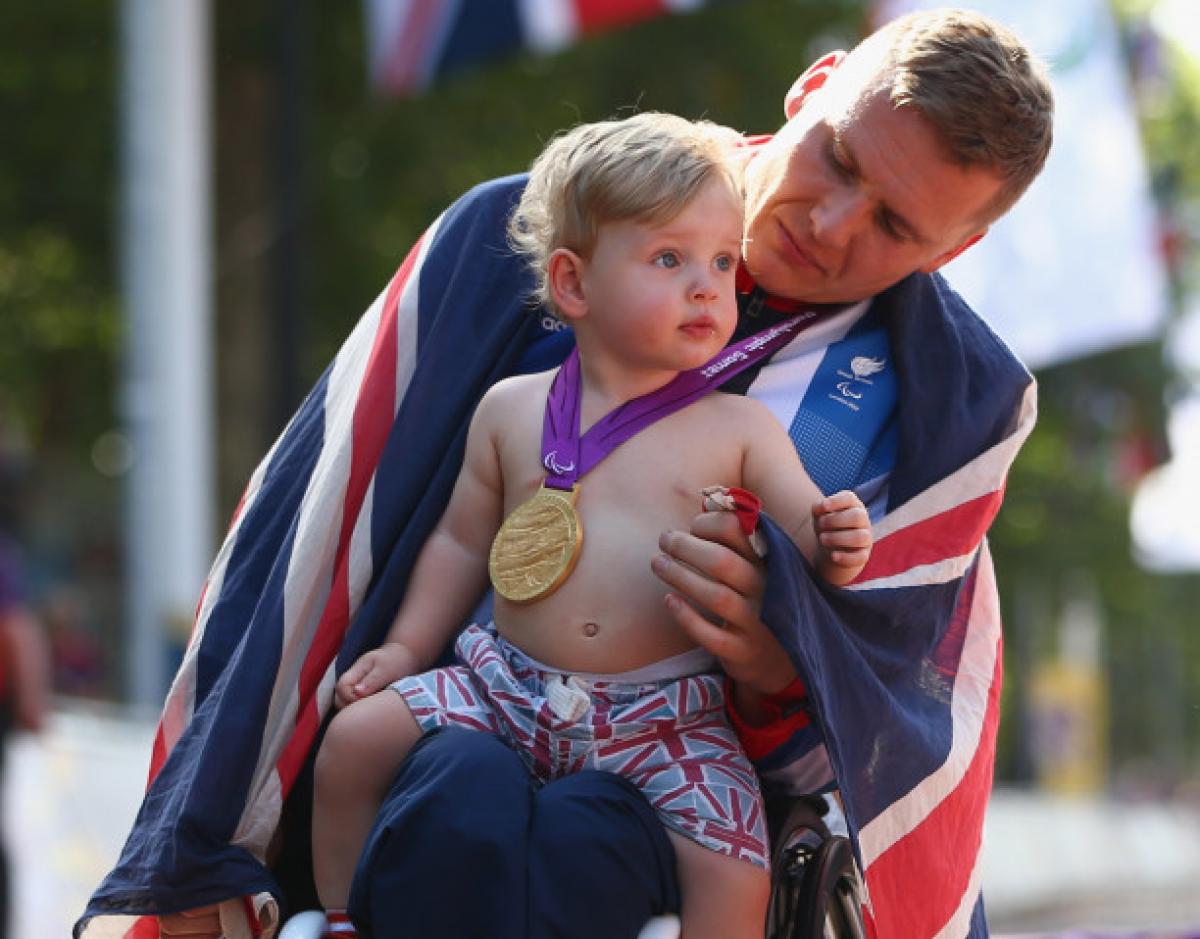 ⒸGetty Images
By IPC
Find out which other stories made it into the Top 50 Paralympic Moments of 2012.
David Weir still describes London 2012's marathon as his toughest race.
It was a hot summer day. His mind was full of thoughts about a clean sweep of the medals.
The pressure was on.
But he was exhausted.
The week's races in the Olympic Stadium had taken their toll. He had already won gold in the 800m, 1,500m and 5,000m T54 events.
In the first few miles of the T54 marathon, he felt like giving up in the staggering heat.
"I was up for it, but it was just hot and I knew that a lot of the guys were specifically there for the marathon and had just trained for the marathon," Weir said.
"For the first five miles, I just felt like I was dying, to be honest because it was just so hot and I was tired from doing well on the track. So, I had to dig deep, really. I think physically my body was OK but mentally it just got on top of me, I think – all the emotions and everything else."
Weir dug deep and focused on all the people watching him. He had dreamt about winning the marathon more than any other race.
"That was the one I really wanted to win because it would stay in people's minds forever – 'Dave Weir was the man who won the last race of the whole 2012 package.' That was going through my mind."
Chasing a dream
With thousands of people lining the route to cheer him on – some wearing wolf masks and howling in honour of his nickname, 'the Weirwolf,' he stuck it out in the leading pack which included Switzerland's Marcel Hug and Australia's Kurt Fearnley.
On the finishing straight, the 33-year-old pulled away from his rivals to complete his gold-medal haul in a time of 1:30:20.
"I just knew that in the end, I had to be in the lead," he said. "I knew that my speed was superior to theirs and I knew that the wind was slightly behind us in the final stretch. So, I knew they wouldn't come past me as long as I didn't leave it too late."
Hug came home in second place, with Fearnley taking bronze.
Iconic moment
What happened next with the iconic backdrop of Buckingham Palace has possibly become one of the most iconic photographs of the Games – the image of Weir's bare-chested one-year-old son, Mason, sitting on his lap
As Weir was on the podium singing the national anthem, he noticed his family waiting for him.
"When I got my medal, I went straight over and I just grabbed Mason and put him on my lap and that was it – it just went global after that," Weir said.
"It was a special moment for me. I've actually put it on a canvas and put it on my wall."
Weir finished the Games having pushed 35.3 miles in seven races over the course of nine days.
Since the Paralympics, he has had a daughter, Tillia Grace London Weir, and is busy up until Christmas with appearances.
After that, he plans to get back in his chair and prepare for the London Marathon in April.
He is not ruling out Rio 2016.
"I'll be 37 by then, so mentally, can I carry on pushing my body to its limits? I just think everything I gave during the Games was the top draw and I don't think I could have got any more out of me.
"Most of the finalists came from Asia. They're going to be a great force to recognise over the next four years, so it's going to be tough."
Editor's Note: For the final 50 days of the year, the IPC will count down the year's top moments in Paralympic sport, culminating with the year's best moment on 31 December.
The 50 moments were selected by nominations from National Paralympic Committees and International Federations and are based on sport performance, emotional moments, media attraction and athletes' personal stories.
The IPC would also like to call on the public to submit their own nominations for what they believe was the top Paralympic moment of 2012. They can do so by emailing ipc.media@paralympic.org, or by leaving a comment on www.Facebook.com/ParalympicGames or sending a tweet to @Paralympic.
Related Images