No. 29: USA's Campbell breaks 60m discus barrier
In addition to winning Paralympic gold, American Jeremy Campbell broke the discus F44 world record four times in 2012, making for the No. 29 moment of the year.
03 Dec 2012
Imagen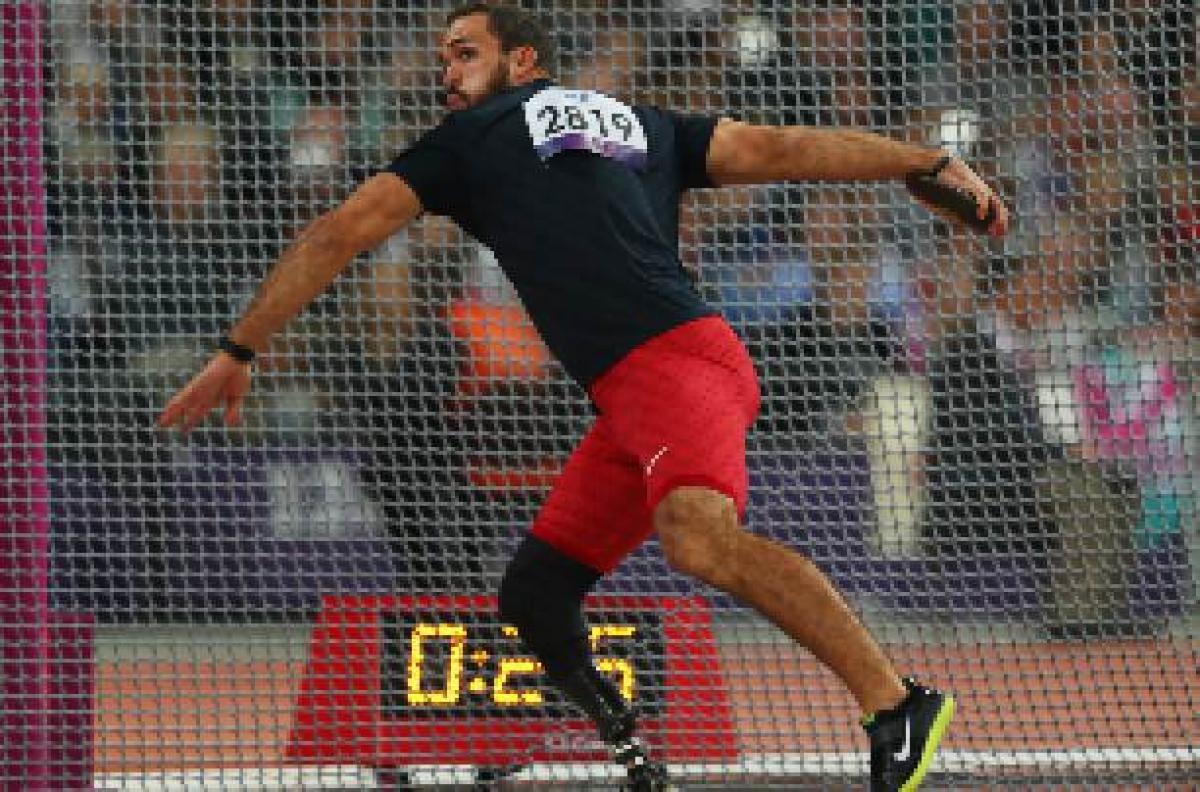 ⒸGetty Images
By IPC
"It's putting the competition up there and just showing that, 'Wow, those are big distances.'"
Through his actions, discus thrower Jeremy Campbell has reiterated several times during 2012 that he is one of the top Paralympic athletes in history on the field.
The 25-year-old American broke the discus F44 world record four times this year and became the first-ever Paralympic athlete to throw more than 60m.
Campbell first surpassed the 60m mark at the Triton Invitational in San Diego (Calif.), USA on 28 April, when he threw 60.19m.
And he did so with a cracked prosthetic leg.
"It's putting the competition up there and just showing that, 'Wow, those are big distances,'" Campbell said. "I just knew I had a lot left in me and still do."
On 23 May, he showed his international competitors his distances were no fluke, as he threw 62.18m to defeat his arch rival, Brit Dan Greaves, and win gold at the BT Paralympic World Cup in Manchester, Great Britain.
He threw even further on 10 June, breaking his own world record another two times in the same day at the UCO Endeavor Games in Edmond (Okla.), USA.
First, he recorded a new top distance of 62.3m and then exceeded that with a throw of 63.45m – a record that still stands today.
At the London 2012 Paralympic Games, Campbell took gold with a Paralympic-record throw of 60.05, but was disappointed that he just barely made it over the 60m mark.
He defeated Greaves, who had the home crowd behind him and threw a season-best 59.01m despite battling a hernia.
"It wasn't my best day. It wasn't bad, as I went 50-plus, but I was expecting to go a lot bigger," Campbell said.
"Eighty-thousand people rooting for the guy that's not you can become quite hostile. That definitely played a role. I just don't know. I think I peeked a little early in my season, but it just happens and it's a learning experience and I'm glad I learned off a win."
Campbell and Greaves have had a back-and-forth rivalry for several years now, with Campbell winning the last two Paralympic titles and Greaves finishing first at the last World Championships in 2011.
While Greaves claimed he has thrown over 60m in practice, Campbell is the only one to have done so in competition.
"He's just kind of kept me focused and propelled me," Campbell said of Greaves. "In World Championships, he's kicked my butt and put things back into perspective to show I needed to get my mind right and reassess my priorities."
"He's an amazing guy, an amazing athlete and an amazing thrower. He's definitely pushed me and he's never really let me slack off. Then when I did slack off, he beat me."
Campbell, a Perryton, Texas native, has always had someone there to push him since his leg was amputated at 15 months old after being born without a fibula or ankle in his right leg.
He grew up in a very athletic home, as his brother Caleb played as a linebacker for the NFL's Kansas City Chiefs and his oldest brother Jacob nearly made it as a professional bull rider until he broke his back.
"Growing up with two athletic brothers and just the competitive spirit in the family – both my parents were athletes – and being raised in that environment really helped me just to really focus on being an athlete and not really look at my leg as a hindrance or anything like that," Campbell said.
Campbell has had a roller-coaster of a year, breaking records and defining his sport on the Paralympic scene, though he did not have a chance to soak up all he had achieved until London 2012 was over and he was back home.
"You just go, go, go and then it's like, 'What?'" Campbell said excitedly.
"I love the sport, and I'm looking forward to another four years at least. I want to pick up a heavier implement and try to make some noise with that."
Editor's Note: For the final 50 days of the year, the IPC will count down the year's top moments in Paralympic sport, culminating with the year's best moment on 31 December.
The 50 moments were selected by nominations from National Paralympic Committees and International Federations and are based on sport performance, emotional moments, media attraction and athletes' personal stories.
The IPC would also like to call on the public to submit their own nominations for what they believe was the top Paralympic moment of 2012. They can do so by emailing ipc.media@paralympic.org, or by leaving a comment on www.Facebook.com/ParalympicGames or sending a tweet to @Paralympic.
Related Images