No. 29: Young women target greatness in shooting
Germany's Natascha Hiltrop wins her first major title, and judge Robynne Browne raises the Paralympic flag at 2013 IPC Shooting European Championships.
03 Dec 2013
Imagen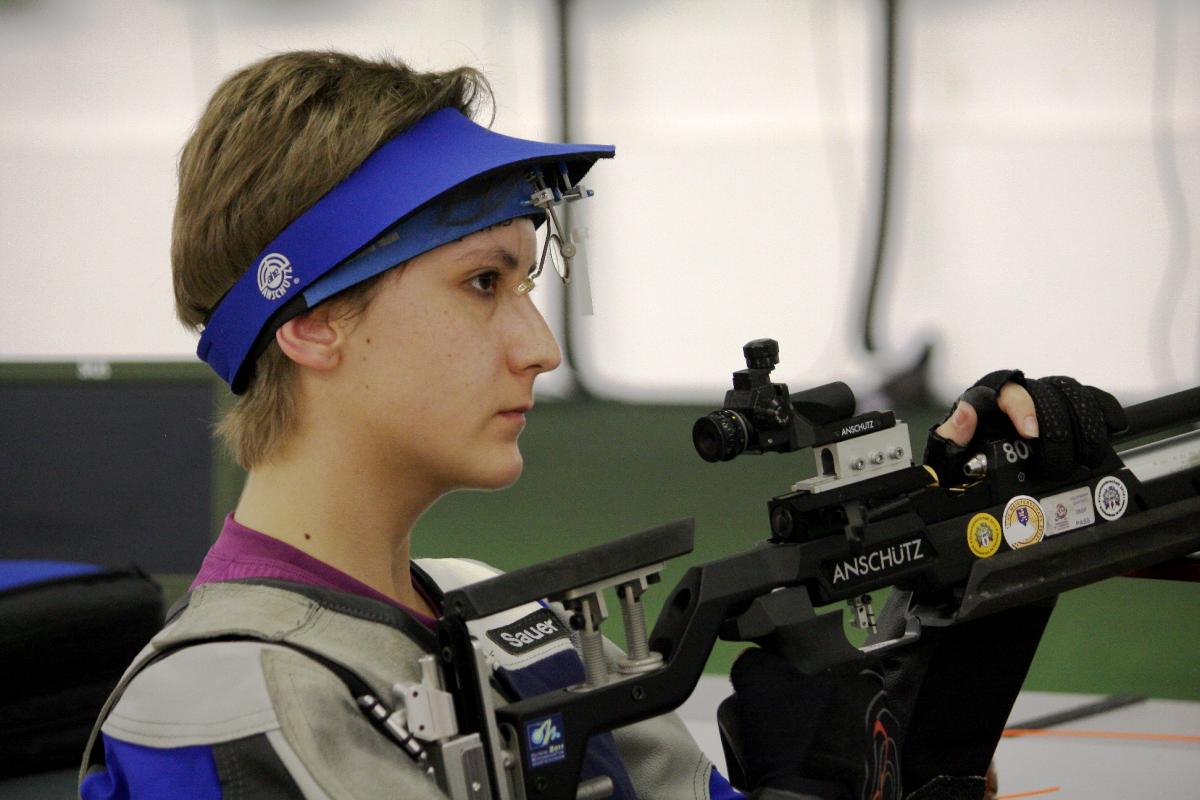 By IPC
"Go for it. If you don't try, then you will never know the outcome. Take the opportunity to listen to and learn from the more experienced officials around you."
The 22 October 2013 could well go down in history as the day that shooting para-sport fully gazed through the window of its future.
Twenty-one-year-old German Natascha Hiltrop beat an incredibly strong field of shooters, including London 2012 gold and silver medallists, to win the R3 (mixed 10m air rifle prone SH1) at the 2013 IPC Shooting European Championships in Alicante, Spain.
Just the day before young female judge Robynne Brown was nominated to raise the Paralympic Flag at the Opening Ceremony, in a demonstration of the growing number of young women involved with or competing in the historically male-dominated sport.
"I was quite surprised. I didn't train differently this year, but I trained more than last year," Hiltrop said of her golden performance.
Encouragingly, neither Hiltrop nor Browne report any barriers related to gender in shooting during their careers.
"Everyone faces barriers and difficulties at some time or another, and everyone's barriers are different. I have not found that being female has been any hindrance," Browne said.
Growing numbers
Of the 541 athletes licensed in shooting for 2013, more than 25 per cent are women. Furthermore, 20 per cent of those are under 30. In judging, nearly 15 per cent of the 41 people registered at an international level are women and two of those are qualified to head up competitions as a Technical Delegate.
The recently elected Chairperson of the Sport Technical Committee, Ghislaine Briez, is also an ISSF judge who brings years of experience to the role.
Clearly full equality is a way off yet, but performances like Hiltrop's show that female athletes can compete on the same level as men and crucially win coveted titles. This was no fluke victory. Hiltrop skilfully and maturely bided her time on the line, choosing the last two rounds to strike with a 10.9, 10.6, 10.8, and 10.5.
A number of other female athletes, such as Slovakian Veronika Vadovicova, are also beginning to come of age alongside more established shooters like Macedonia's Oliveira Nakovska-Bikova who both won European titles in Alicante.
Both Hiltrop and Browne entered the sport at a young age, with Hiltrop tagging along to a competition with a friend of her brother at the age of 12 and Browne volunteering as a Range Officer at local and national competitions "to give something back to the sport".
Inspiring women
Strong role models within the sport are not in short supply to help young people, and young women, get involved. Within the German team, Hiltrop credits 41-year-old former Paralympic champion Manuela Schmermund as being her inspiration: "I hope to one day be as good as her later on in my career."
For Browne, male and female officials and athletes alike are a constant source of learning and inspiration:"They [senior officials] too inspire and motivate me. Without their guidance, I would not have built the confidence required to progress as an official.
"My greatest inspiration is the competitors. Watching someone achieving their goal, whether it be a record, a medal or a personal best, helps motivate me to strive to do my best as a referee for them."
Hiltrop is now looking ahead to the 2014 IPC Shooting World Championships, which will take place on home soil in Suhl, Germany, from 19-26 April.
Browne meanwhile has the following advice to young women aspiring to take part in shooting at an international level:
"Go for it. If you don't try, then you will never know the outcome. Take the opportunity to listen to and learn from the more experienced officials around you. Most importantly, pay attention to the competitors. They are the reason we are here."