No. 30: Silver swansong for South Africa's swimming great
South Africa's Natalie du Toit rounded of her swimming career with 13 Paralympic and 12 world championship golds. Her final competitive swim brought in her second Paralympic silver and a huge cheer from the crowds in London's Aquatics Centre.
02 Dec 2012
Imagen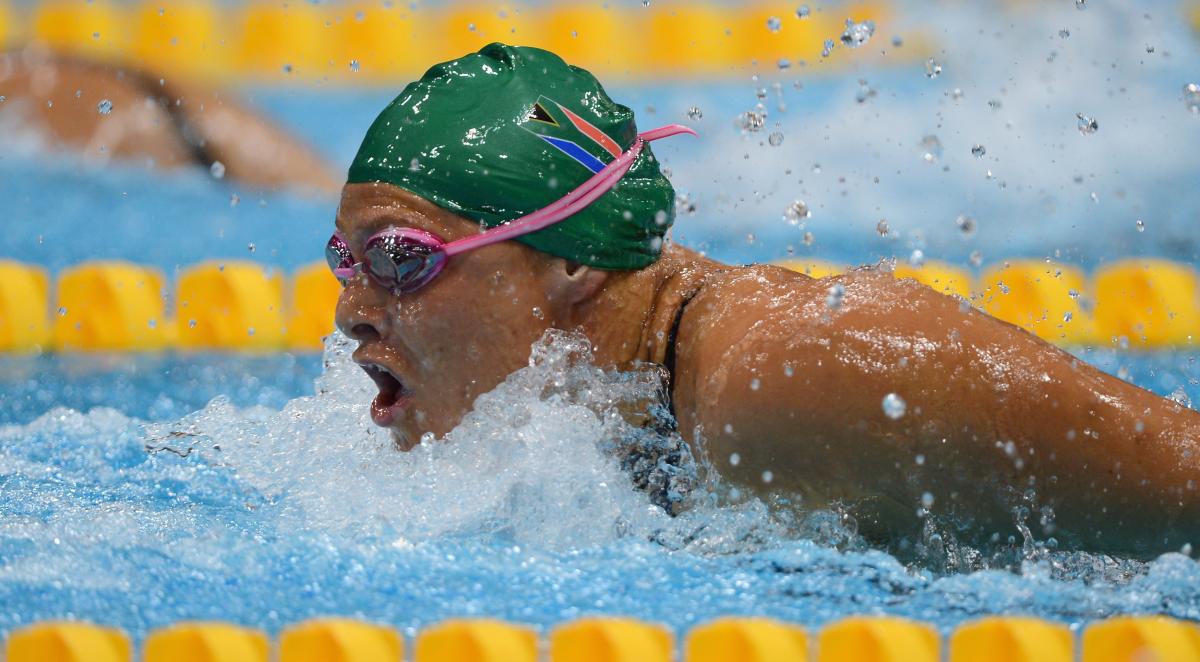 ⒸGetty Images
By IPC
"I walk away knowing I have no regrets."
South Africa's Natalie du Toit is something of a legend. The 28-year-old was the first ever amputee to qualify for the Olympics, placing 16th in the 10km swim at Beijing 2008.
With 13 Paralympic golds and 12 world-champion titles under her belt, she announced her retirement just days before the competition began in London.
"The highlight of London for me was the stadium and the crowds – the way that London got together for the Paralympics. It was just amazing to get up on the starting blocks and have all the crowds behind me," said the South African.
"I just want to say thank you for the amazing championships that we had and for all the support and good work that went into it from all the volunteers."
Her final competitive swim took place on Friday 7 September in the 100m freestyle S9. Her swansong marks the end of one of the greatest Parlaympic careers, earning it a spot in the top 50 Paralympic moments of 2012.
Though she managed to hold on to the world record title she had set in 2008, it was not the golden send-off the 28-year-old had dreamt of. She had to settle for her second ever Paralympic silver medal, finishing in 1:03.45, just 0.68 seconds behind Australia's Ellie Cole.
Afterwards, the emotional South African fought back the tears on the podium, and reflected on her achievements in a remarkable two decades in the pool.
"It's not the medal that's emotional," she said. "It's knowing that I'll never walk out again [to the pool]. Seeing the youngsters doing so well and coming up, that's really special.
"I walk away knowing I have no regrets.
"It's all over, I went out there and tried my best," she said. "To get second is a little disappointing."
Australia's Ellie Cole who won her third gold of the London 2012 in 1:02.77 had been tearful before the race as du Toit announced her imminent departure.
"I'm really going to miss her," said gold medal-winning Cole. "She's been such a great support over the last few years, a really great mentor. She's taught me so much about Paralympic swimming.
"She's Paralympian of the year, she's got nearly every medal under the sun, so she's like the Michael Phelps of swimming for me. She's still definitely my biggest hero."
Before her silver, du Toit had won three golds in London in 100m butterfly, 400m freestyle and 200m individual medley S9, the first of which was particularly special.
"I think that winning the race, which was so close, it was like a weight that got lifted off my shoulders," she said.
Afterwards, she was delighted to hear a story about Kate Middleton, the Duchess of Cambridge, going out of her way to arrange a photograph with Nicole, the daughter of du Toit's manager.
"Values are so important to me, and to see her do that was actually quite amazing," said du Toit. "After I had won silver, Kate had already left, but Nicole showed me the photos. I thought it was amazing for someone of that stature to keep her word. It was fantastic to know that there are people out there who stick to values and they're not bigger than anyone else, but willing to do things like that."
Even as a little girl, du Toit says she decided to quit at the age of 28. Now that she has achieved all she wanted, it is time for her to find her next challenge. With her sponsorship continuing until next year, she has time to figure that out what she wants to do with her life.
"I'm a bit nervous because I don't really have anything else to do. I don't know what I'm good at, or what I want to do one day. Hopefully I can show to the rest of the world that it is possible to make a success twice in a row."
"I've still got to find the next challenge, but it will come along!"
"I think it's time to get myself away from the sport and see what it is I enjoy."
Editor's Note: For the final 50 days of the year, the IPC will count down the year's top moments in Paralympic sport, culminating with the year's best moment on 31 December.
The 50 moments were selected by nominations from National Paralympic Committees and International Federations and are based on sport performance, emotional moments, media attraction and athletes' personal stories.
The IPC would also like to call on the public to submit their own nominations for what they believe was the top Paralympic moment of 2012. They can do so by emailing ipc.media@paralympic.org, or by leaving a comment on www.Facebook.com/ParalympicGames or sending a tweet to @Paralympic.
Related Images