No. 43: Men's 4x100m relay showcases sportsmanship in London
The No. 43 moment in Paralympic sport of 2012 is when USA's Jarryd Wallace honoured officials' decision of being disqualified from the relay at the London Games.
19 Nov 2012
Imagen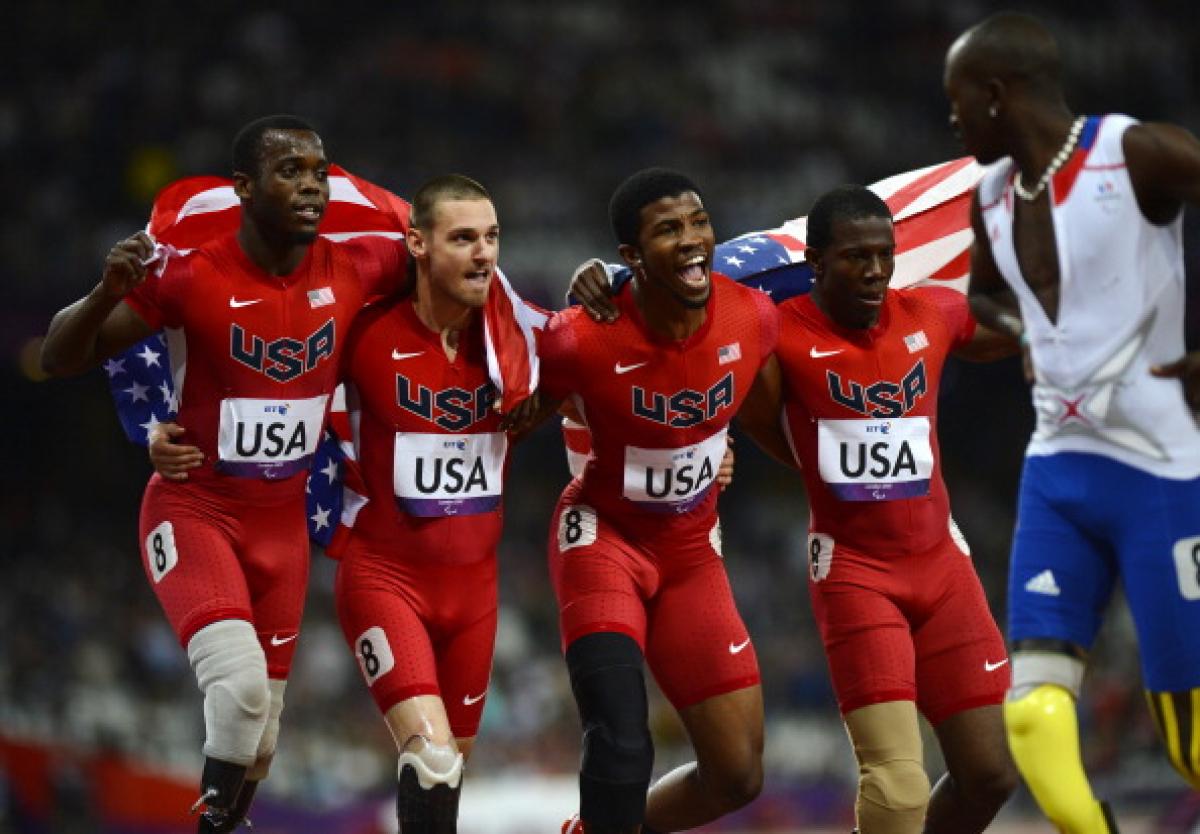 ⒸGetty Images
By IPC
"I also wanted people to recognise that there are moments where you may trip, or face adversity. But it is not the moment or trip that defines you, it is how you react to it that defines you."
The men's 4x100m T42-46 relay at the London 2012 Paralympic Games was packed with storylines, from the Oscar Pistorius and Alan Oliveira rivalry to Germany's star lineup and USA's up-and-coming sprinter Blake Leeper.
And while Pistorius led South Africa to gold in a world-record time of 41.78, it was the disqualifications of Brazil, France and USA that may have led to some of the night's most memorable moments.
In particular, the valiant reactions of those teams who were disqualified personified the Paralympic spirit at its finest hour.
Brazil finished the race in second place but were later disqualified for not touching the baton within the take-over zone. USA finished in third place but were also disqualified for a lane infringement.
As a result, China jumped up to silver-medal position with a time of 42.98 and Germany were rewarded the bronze with a time of 45.23.
Brazil and USA's relay squads both paraded around the Olympic Stadium after the race, though, as they did not find out about their disqualifications until nearly 30 minutes afterwards.
"It was an amazing opportunity, and I think a lot of the disqualifications were in direct relation the hype that was brought upon that one race," USA's Jarryd Wallace said.
"Until you are a part of a race where a world record is set, it's really hard to explain it. In that moment, I wanted everything to go right for my team and I. Unfortunately, it did not, but that by no means takes away from the best 4x100m T42-46 relay ever run in Paralympic history."
Wallace, who was part of the IPC's Samsung Video Bloggers project during London 2012, recorded a blog following the race that recorded true sportsmanship and respected the disqualification decision.
His video won Samsung's award for the most inspirational blog, which was given to the film that best conveyed the message of Samsung's "Sport doesn't care who you are" campaign. The panel of judges from Samsung and the IPC were very impressed with Wallace's true display of sportsmanship.
Just last week, two months removed from the race, Wallace commented further after having more time to reflect.
"I was privileged, along with everyone else on that track and in that stadium, to be a part of it, and I wanted people to recognise that," he said.
"I also wanted people to recognise that there are moments where you may trip, or face adversity. But it is not the moment or trip that defines you, it is how you react to it that defines you."
The Brazilian and French relay teams took the decision in stride as well, respecting the call and congratulating South Africa on their world-record performance.
The result for all of them, Wallace insists, has just encouraged them to work harder for next time around.
"Besides the obvious initial disappointment, we know our own potential," Wallace said.
"It was hard looking back, knowing that if it would have run a cleaner race the outcome would have been much different.
It's not a good feeling having a medal taken away from you after working so hard to get to that moment, but we will be back, and faster than ever."
Editor's Note: For the final 50 days of the year, the IPC will count down the year's top moments in Paralympic sport, culminating with the year's best moment on 31 December.
The 50 moments were selected by nominations from National Paralympic Committees and International Federations and are based on sport performance, emotional moments, media attraction and athletes' personal stories.
The IPC would also like to call on the public to submit their own nominations for what they believe was the top Paralympic moment of 2012. They can do so by emailing ipc.media@paralympic.org, or by leaving a comment on www.Facebook.com/ParalympicGames or sending a tweet to @Paralympic.