No. 47 Great Britain's Steadman ends McClelland's dominance at triathlon worlds
A new world champion was born as Lauren Steadman stopped Faye McClelland's four-year world title winning streak at the 2014 ITU Para-Triathlon World Championships.
15 Nov 2014
Imagen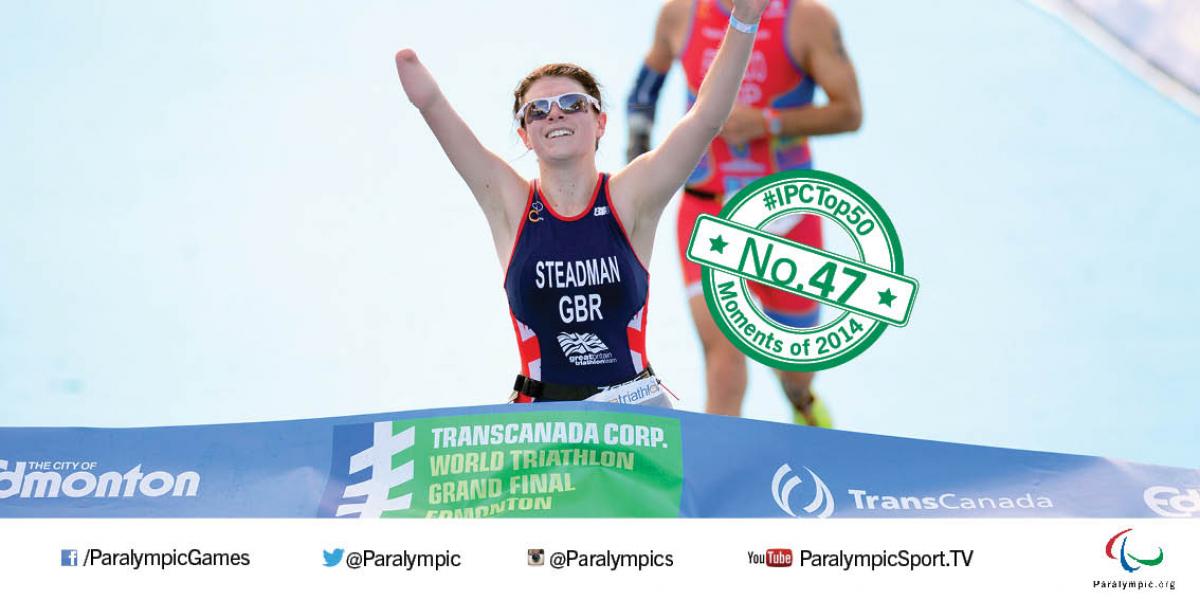 ⒸITU
By Ashley Schrader | for the IPC
"She sort of took me under her wing and she has helped me fantastically so far throughout my career. We are enemies when we race, but outside of it we are really good friends."
Since 2010, the PT4 para-triathlon category had long been dominated by one woman – Great Britain's Faye McClelland.
That was until the emergence of her compatriot and rival, 21-year-old Lauren Steadman, who made history when she became the first person in three years to defeat McClelland at the London Para-Triathlon World Series on home soil in May 2014.
This acted as a preview to the 2014 ITU Para-Triathlon World Championships in Edmonton, Canada, as a buoyant Steadman claimed her first world title and put a stop to McClelland's run of four-straight world titles.
"It felt like a big achievement. I never expected to [defeat Faye], but once it happened once, it gave me confidence," Steadman said.
"I just kept my head down, she is so fierce as a competitor – Faye can come right back at you."
A triathlon natural
This wasn't Steadman's first foray into international para-sport, however, after competing at the Beijing 2008 and London 2012 Paralympic Games as a swimmer.
After being introduced to triathlon by her uncle, she quickly sent a warning shot to her rivals with her first European title in 2013 before repeating that success this year.
But despite this achievement, she never expected to end the dominance of McClelland on the way to her first world title.
"It was a really good feeling because I had won a European title this year as well, but never, ever in my career, swimming included, did I have a world title," said Steadman.
"Only one person gets to win a race, so it's a target that is hard to achieve; so for me to achieve it meant the world to me."
Steadman outdid McClelland's 1:13:23 with victory in a time of 1:11:55. She jumped out of the water in a lead of 10:43. McClelland followed, clocking 13:05 in the 750m swim.
In the 20.4km cycle, McClelland made up ground despite the steep climb and long downhill drag, outdoing Steadman by 49 seconds.
Gruelling run
The 21-year-old was pushing on tired legs in the run, but persevered through the 5km in 21:15, compared to McClelland's 21:18 to take the World Championship title by just under two minutes.
"The bike was a bit uncomfortable, apart from that I enjoyed the whole race and I knew if I just stuck with me and my coach's plan, and all the training I had done in the season, I would be fine," Steadman said.
Despite being one of the only athletes to overcome her talented compatriot, Steadman notes that McClelland has been very supportive to her so far.
"[McClelland] has told me what I have done well and where I can improve. She is a world champion and didn't have to do any of that since I am her competitor," she said.
"She sort of took me under her wing and she has helped me fantastically so far throughout my career. We are enemies when we race, but outside of it we are really good friends."
The Great British dominance of the PT4 category is clear, and now Steadman, along with McClelland and fellow Brit Clare Cunningham, are aiming for a clean sweep of the podium and the Rio 2016 Paralympic Games in Brazil.
"Myself, Faye and Clare want to keep pushing the boundaries to make sure we keep a one-two-three going all the way through to Rio," she said.
Visit the IPC's Top 50 Moments of 2014 campaign page for more information.