No. 48 World records destroyed at Track World Championships
Australia's Michael Gallagher and the USA's Jamie Whitmore were amongst those athletes who broke 23 world records at the Para-Cycling Track World Championships.
14 Nov 2014
Imagen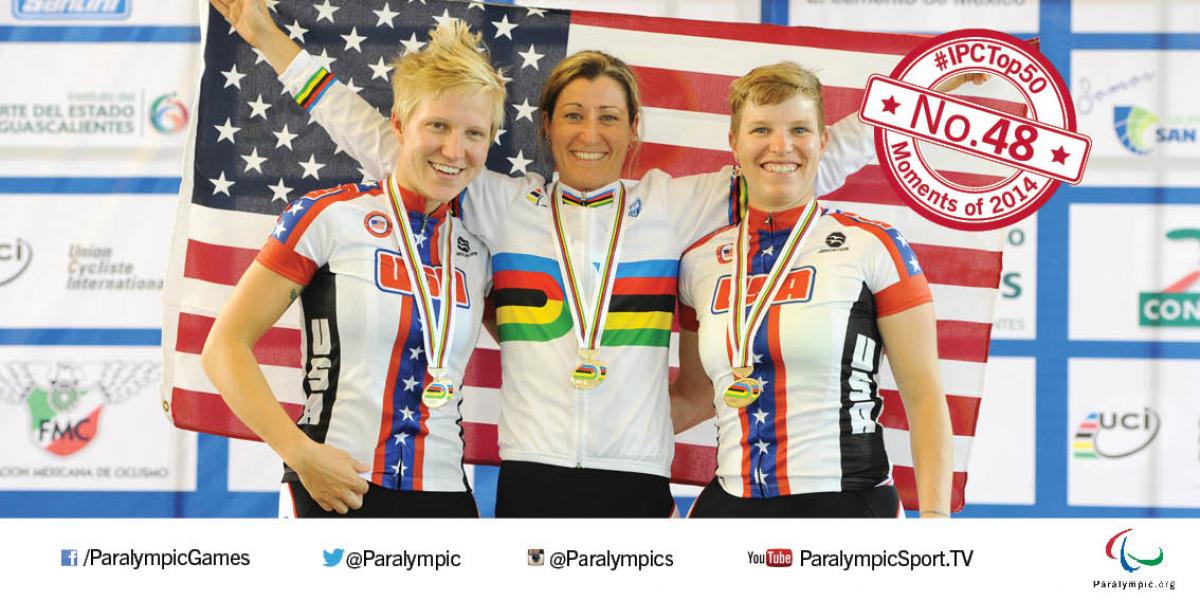 ⒸJean-Baptiste Benavent
By IPC
"It is definitely a pressure and I guess it drives me to look for ways that I can be better myself."
The 2014 UCI Para-Cycling Track World Championships in Aguascalientes, Mexico, saw an amazing 23 world records smashed across three days of intense racing action.
In total, 122 athletes from 28 countries competed for 29 world titles and the coveted rainbow jerseys between 10-13 April.
Racing at the Bicentenary Velodrome at an altitude of 1,880m above sea level, and with the mercury regularly tipping the 37 degrees Celsius mark, the conditions were perfect for electrifying times.
But the 23 world records were somewhat unforeseen, as athlete after athlete tore up the track to rewrite the history books.
One such athlete was Australia's Michael Gallagher, as he cruised to a ninth world title with victory in the men's 4km individual pursuit C4, whilst also recording a time of 4:24.057 in qualifying, to break the world record he set at the London 2012 Paralympic Games by six seconds.
The two-time Paralympic champion was relieved that his hard work and dedication was rewarded in the perfect manner.
"Because of the altitude and the heat, the track is known as one of the fastest in the world, so it was a great experience to be able to ride such a fast time," said the 35-year-old.
"There was a lot of pressure going in as the reigning world champ as there is definitely an expectation on you from your team mates, the management and the coaching staff.
"It's definitely a relief that you are able to deliver what you have done in the past and there is a lot of enjoyment that your plans have worked out."
Pressure of success
A relative latecomer to the sport, Gallagher started cycling at 25 years old, and introduced himself onto the international scene with his first world title in 2006.
Being a world champion comes with a lot of pressure, but Gallagher states that he thrives off being the 'man to beat'.
"I have been undefeated at the World Championships since 2006," he said.
"I guess that continued success, and the fact I am able to back that up each year, is because I feel everyone is chasing me and that I have to prove myself and stay ahead.
"It is definitely a pressure and I guess it drives me to look for ways that I can be better myself."
Newcomer to cycling
In contrast to Gallagher, the USA's Jamie Whitmore was competing in her first ever track World Championships in Aguascalientes.
Quick to stamp her authority, the 38-year-old walked away with two world titles and two world records.
First, she shaved 18 hundredths of a second off the record in the 500m time trial C3 in 42.955, before repeating this feat in the 3km individual pursuit C3 in 4:07.487 – an achievement she was never expecting.
"It was only my third track race ever, so I pretty much just wanted to be able to medal. My ultimate goal was to win, I wasn't even thinking about world records," said Whitmore.
"The 3km pursuit is more my style because I am an endurance athlete, I love the longer stuff, so that one wasn't as hard for me as the 500m.
"The time trial is all out, it is all power and all about your start. That world record in the 500 was much more of a shock. I am an endurance athlete; I shouldn't be winning a 500 time trial."
She added: "Five or six years ago I would never has thought I would be here. It is the greatest feeling ever knowing what I have conquered and overcome, and to be successful in the sport I love is the icing on the cake."
Whitmore was a successful triathlete, before contracting cancer at the age of 31. Despite being told she may never race again, she overcame her leg impairment to continue her sporting career in para-cycling.
Visit the IPC's Top 50 Moments of 2014 campaign page for more information.