No. 9 McKeever returns from fall to win gold
Canada's Brian McKeever famously fell flat on his back during the 1km sprint race at Sochi 2014, but overtook three competitors to claim gold.
11 Dec 2014
Imagen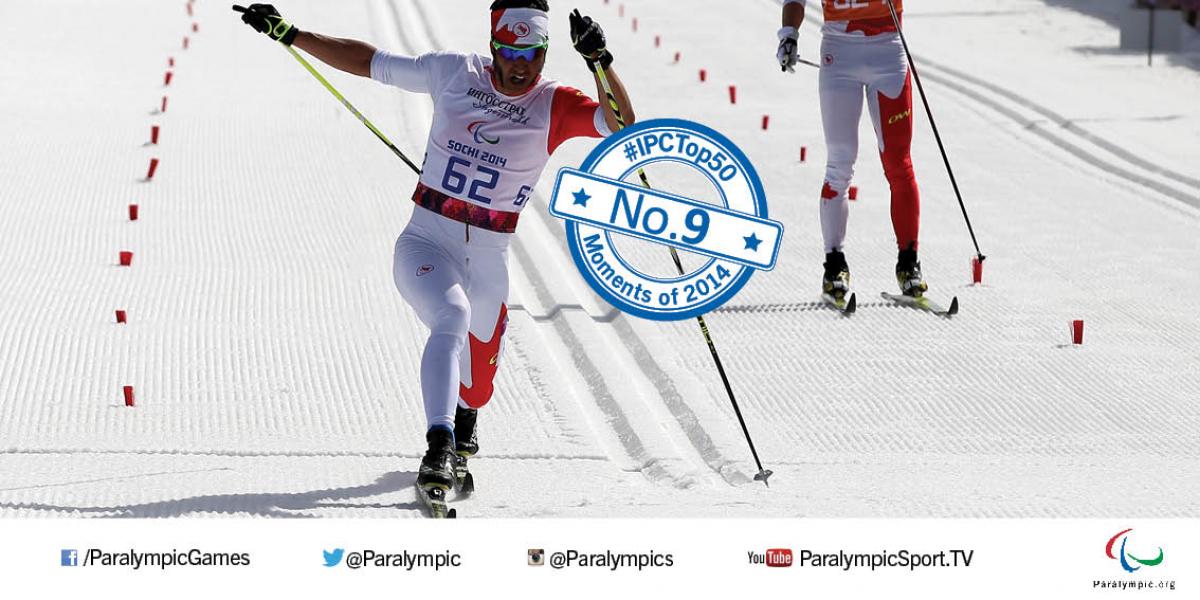 ⒸGetty
By IPC
"You just put the bit between your teeth and go."
Described by Canadian national broadcaster CBC as 'the best performance of his career', Brian McKeever's sensational comeback from a fall during the 1km sprint cross-country at Sochi 2014 makes it into the top 10 moments of 2014 at No. 9.
A clash of skis with Russian Vladimir Udaltcov near the start of the men's visually impaired event not only threw McKeever on his back, but momentarily dashed his hopes of sealing his second gold of the Games, and ninth career Paralympic title.
McKeever described the moment: "The way that I thought about it was 'ok, I've crashed, at least it's early, not late'. It was just about getting up quickly and assessing the situation and as I realised there was nothing broken, no poles, I was pretty calm."
There was not much time for McKeever and guide Graham Nishikawa to catch the leading pack.
At this point, racing instinct kicked in and the pair knew what had to be done.
"I don't think I thought about it," he said. "When I'm racing a lot of times it's not about the winning or losing it's about putting in the effort […] I yelled at Graham that I was fine and let's go."
That is exactly what they did. After catching Udaltcov, McKeever and Nishikawa reeled in Russia's Oleg Ponomarev. Next in their sights was the leader, Swede Sebastian Modin.
"I think we pushed at the top of the hill and had we not made any headway then you will eventually pull the pin, but we could see on the first downhill that we were good and we were catching the guys and that gave us a lot of confidence," McKeever said.
They only caught Modin just in time, on the very last bend, to finish with a 1.8 second lead and grab the gold in the most dramatic of styles.
"We're racers so once you're on the course and stuff happens, that's part of racing," McKeever reflected. "You just put the bit between your teeth and go."
The race generated a huge amount of interest around the globe and became one of the most iconic moments of Sochi 2014, as well as in Paralympic history.
McKeever and Nishikawa went on to win three cross-country titles in total, to bring McKeever's Paralympic gold medal haul to 10.
For the man that nearly made history by becoming the first athlete to compete in the same Olympic and Paralympic Games at Vancouver 2010, McKeever is once again focusing on able-bodied competitions.
Back then he was agonisingly cut from the team the night before his first race, after being out-qualified by his teammates.
Now 35, McKeever is right back into training again, preferring the longer distances that able-bodied races offer and conscious that time is running out in his career.
"I came out of the Games this year happy and to try and make another run," he said. "I certainly know I am closer to the end of my career than the beginning. It's the first time I felt that - that it's rapidly coming to an end."
To find out more, visit the IPC's Top 50 Moments page.