No stopping 'Queen of Sprint' Omara Durand
With 400m T12 in the bag, the Cuban sensation sets sight on retaining 100m, 200m T12 titles
31 Aug 2021
Imagen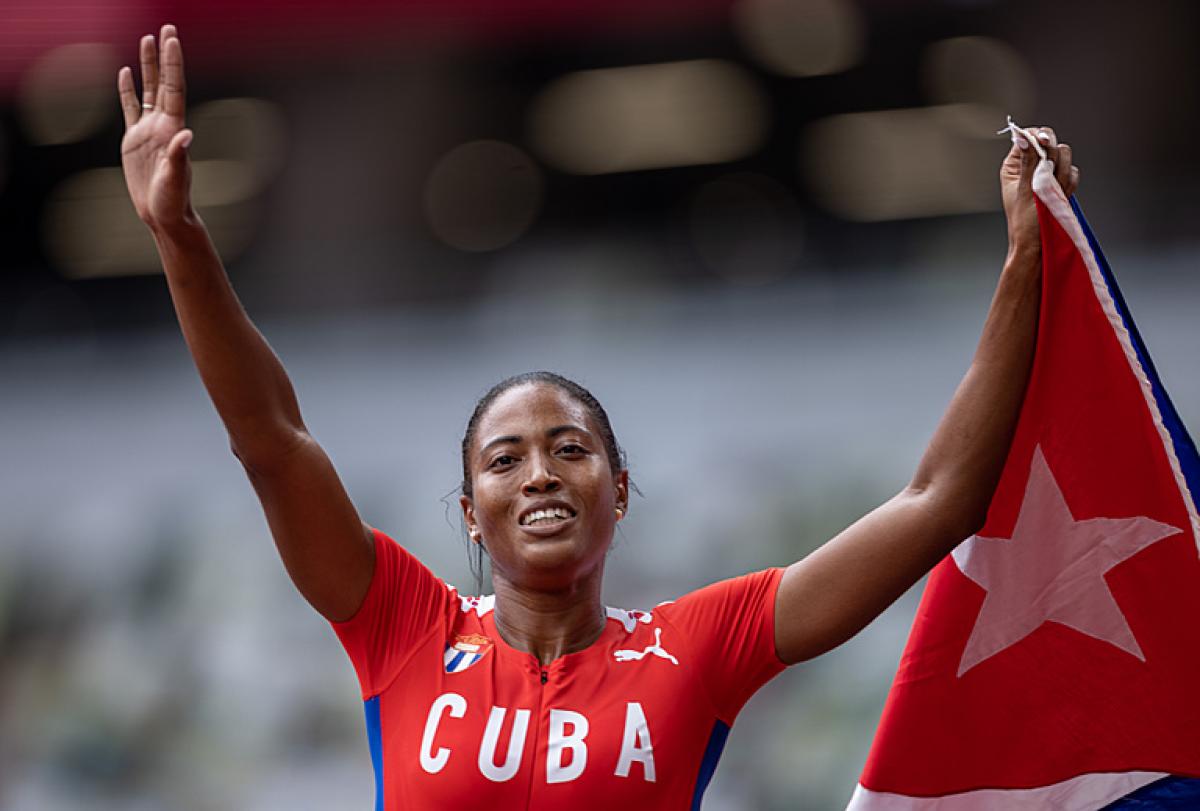 ⒸOIS Photos
By ND Prashant I For the IPC
Six years of bonding and an unrelentless amount of hard work is yielding rewards for Cuban 'Queen of Sprint' Para athlete Omara Durand and guide Yuniol Kindelan.
The duo stormed towards the finish line with ease to retain their title in the women's 400m T12 final of Tokyo 2020 Paralympic Games clocking a season's best of 52.58sec at the Olympic Stadium on Tuesday (August 31).
Ukraine's Oksama Boturchuk, partnering with Mykyta Barabanov, settled for silver with (55.33s) while Venezuela's Alejandra Paola Lopez Perez, teaming up with Velasquez Manzanilla, claimed bronze with (57.06s). 
There is an amazing calmness about Durand and that's what clearly gives her the edge. It is a rarity for a sprinter. She can be a fierce competitor on track but off the field she is like the girl next door going about her business as usual.
However, her guide Kindelan looks a far more flamboyant character and now sports a smart afro hair that literally cuts through the air when he is hitting full pace with Durand.   
"We shared a tremendous camaraderie from the first day we met each other, and it has just grown over the years and that is one of the reasons for our success.
"I was a bit anxious today before the race but that is natural. I'm satisfied the way we ran today," said a delighted Durand after her flawless performance.
The 11-time World Champion revealed it is her passion to keep running faster and faster every time she steps on to the track. 
"You will see us doing the right things and in the same vein. Giving it our best and training harder and harder is what we love to do," said Durand, adding that, she was "ready" to retain the remaining two titles - 100m and 200m T12 here in Tokyo.
"I wouldn't like to say we are 100 percent certain of retaining the 100m and 200m T12 title as well, but we are very much prepared for it," said the vision-impaired athlete, who holds a World record in three categories - two of those records were from Rio 2016.
Durand, who still hasn't lost a single race in a major championship - a record stretching back to 2011, did miss some crucial training in the run up to the Games due to COVID-19 restrictions. 
"When everything with the COVID started, we were forced to stop training as well. However, then slowly we got back to training following the safety procedures. 
"We had to somehow find and way to be in the best of shape and that's what we did. We are in good shape for the Games," revealed Durand, whose reign started when she made a clean sweep of gold in all her three pet events 100, 200 and 400m T12 in London 2012.
Guide Kindelan too attributed the success to the way their relationship grown over the years.
"I need not tell her much and that's because of the understanding and trust that we have. It only happens with time, and I hope that our hard work keep paying off wherever we keep competing. If we can win the other two medals as well then nothing like it," said Kindelan.