Iron will and the 'healing power of horses': a hard road to Tokyo 2020 for two riders
Philippa Johnson-Dwyer and Louise Etzner Jakobsson tell remarkable stories of strength to overcome illnesses to compete
31 Aug 2021
Imagen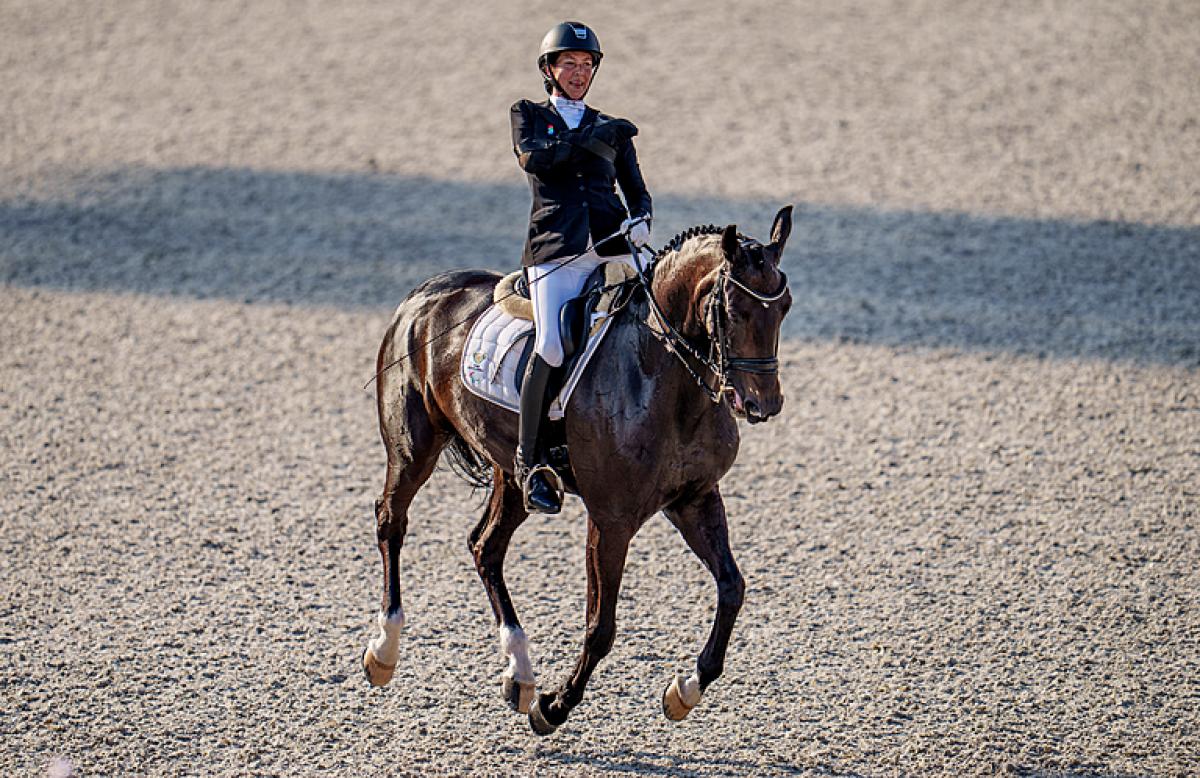 ⒸOIS/Thomas Lovelock
By Ruth Faulkner I For the IPC
In the year leading up to Tokyo 2020, Philippa Johnson-Dwyer battled cancer and underwent open heart surgery. But nothing would stop the South African from representing her country in Para equestrian for the fifth time. 
"About 10 months ago, I was diagnosed with endocarditis and in the tests, they also found out I had cancer. After the (heart) surgery, it was then five weeks of radiation and chemo but that took me out of riding for seven months," she said.
Having taken home two silvers from Athens 2004 and two golds from Beijing 2008, her focus for Tokyo was on being in the top eight in the individual test to make it to the freestyle test on 30 August. Her score of 69,780% in the individual grade IV secured her entry to the freestyle event, where she finished eighth.
"There was never any doubt in my mind that we would get here. Come hell or high water, kicking, screaming, we were going to get here. And then to be able to make the final, that was my goal," the 46 year old said. 
This is not the first time Johnson-Dwyer has persevered despite medical issues. In 1998, she was in a car accident that left her with no strength in her right arm and 60 percent strength in her right leg.
Then, a few years later she fell and broke her back when mounting her horse. Doctors recommended she did not continue riding, but she never gave up and competed in her first competition in 2002, going on to be South Africa's most decorated Para equestrian athlete.
With the time spent in hospital in 2020, Johnson-Dwyer had only a couple of months to train with her new horse Just in Time, who she credits in helping with her healing. "The healing power of horses, you know we forget about that. You see it here clearly at the Paralympics. People who are in a wheelchair, who have no way of moving. They are given freedom and they are given power. These horses they don't need to do that for us, but they do it with love and kindness. For that it's a blessing."
From a broken leg to a silver medal in two months
Louise Etzner Jakobsson also demonstrated an unrelenting perseverance to compete at Tokyo 2020. The Swede delivered a spectacular performance, gaining her the silver medal in the individual freestyle grade IV, despite a harrowing summer. Only two months earlier she had broken her leg when she fell stepping off a bicycle.
Like Johnson-Dwyer, she was simply not going to take no for an answer. "Mentally I decided I am going to fix it. There's no other conclusion. I told my doctor that (the cast) has to be taken off at that day as I have to ride."
Jakobsson could not ride straight away but cross trained until she could get back on her horse only two weeks before Tokyo 2020. "My daughters helped me by riding my horse. When I was allowed by my doctor I was doing the bicycle. Not the real one as it was when I stepping off a real one that I broke my leg, so I had this training bicycle."
While this sounds miraculous, Jakobsson was matter of fact about the feat. "If I decide something, I do it. My intention was to do the best I could after the circumstances from this summer. I know that all the other riders are very good, and my horse is new so I never expected this (the silver medal). It's so wonderful to see my mind can do this."
She beamed that she came so close to being the best, despite the accident having hindered her training. "I didn't take the gold but I nearly did."