Great Britain win gold in the team test to music despite inexperienced horses
Netherlands take silver with a narrow score margin
29 Aug 2021
Imagen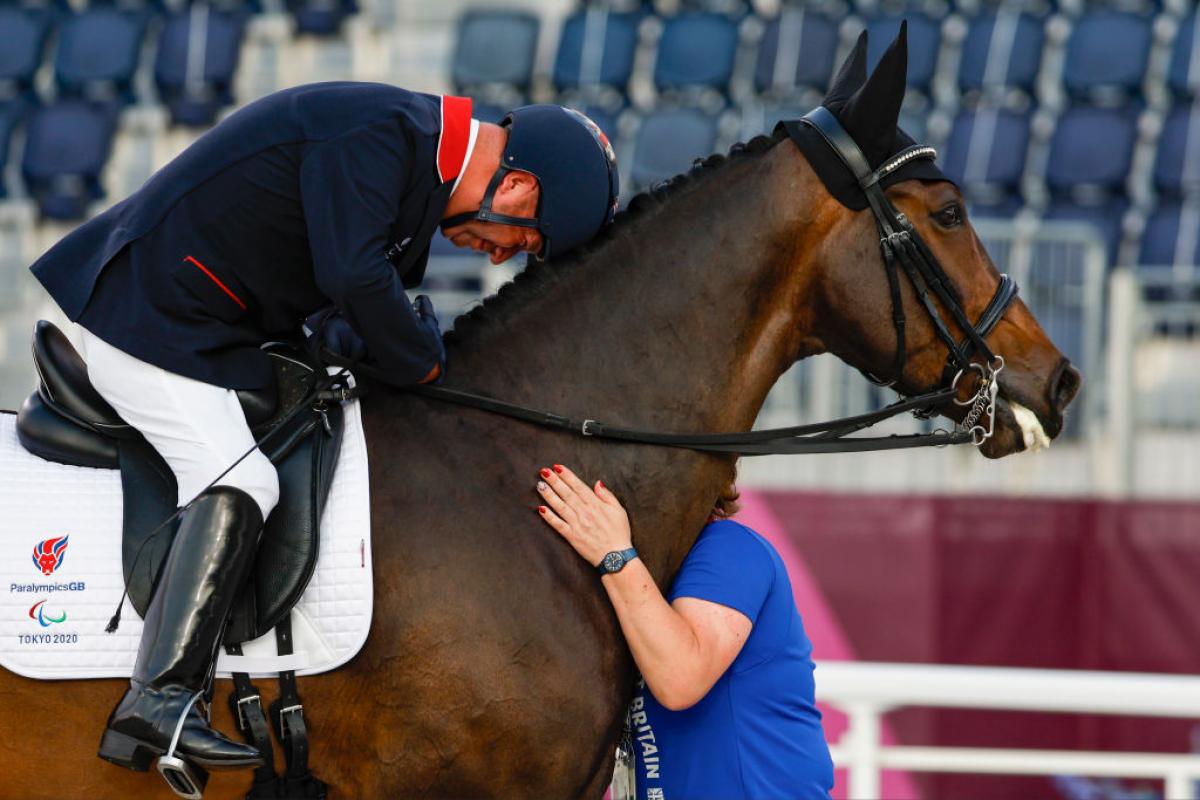 ⒸTasos Katopodis / Getty Images
By Ruth Faulkner I For the IPC
Great Britain surprised those in the know to win gold in the equestrian team test to music, despite the full team having less experienced horses. They won gold with a combined score of 229.905, only narrowly ahead of the Netherlands who had a score of 229.249 to gain them silver, with the USA placing third for bronze at the Tokyo 2020 Paralympic Games.
The team test spread was over two days, with grades I, II and III competing on Saturday 28 and grades IV and V on Sunday 29 August, at the Equestrian Park. Each team fielded three athletes across the grades, with their results combining for the final score.
The British team featured Natasha Baker, Sophie Wells and Lee Pearson. Pearson started day one strong for the team, winning his grade II team test with horse Breezer with a score of 77.636%. However, the outcome still couldn't be predicted as Roxanne Trunnell of the USA then lay down a 80 plus score in the grade I team test. At the end of day one, the gold medal was still up very much for grabs.
Baker, Wells and Pearson were as surprised as anyone else with the result. "I don't think any of us expected that in a million, trillion, gazillion years to be honest with you. We were hoping to come and maybe challenge for a bronze medal," said Baker.
It's possible the lift of the pressure with the less experienced horses worked in the team's favour. "We were just so much more relaxed than we ever really have been in other championships because we weren't really fighting for it," Baker considered.
Sophie Wells echoed this sentiment, saying: "We all had horses that have never done it before and we've not been against anybody else. The Dutch are so strong, they're so established and secure on those horses, and they've been doing amazing."
"We just made it look like we knew what we were doing, when we really didn't. We haven't even got a championship horse on this team," Pearson said. 
The Netherlands team, of Sanne Voets, Frank Hosmar and Rixt van der Horst, who came so close to the gold shows the development and investment in the team. 
"A few years ago, it was like, obviously Great Britain will win. That was always (the case), but now there's real competition," said Hosmar.
Unfortunately this also ends Voets hopes for a 'triple-triple': medal across all events. Considering that campaign, Voets felt that maybe it added extra pressure. "Well I think there was so much pressure. Yesterday when we saw the order to go, I realised that I was the last rider of the three countries that were expected to win the team competition. So I would know the score needed for team gold.
"And then I took my breath at that moment and I just realised that I am here to make my horse shine in that arena. That's my part of the deal. And I just tried to focus on that."