Jorgensen and Claeys, the new riders on the block in Para equestrian
The Dane and Belgian are expected to put on a show in their Paralympic debuts
02 Jul 2020
Imagen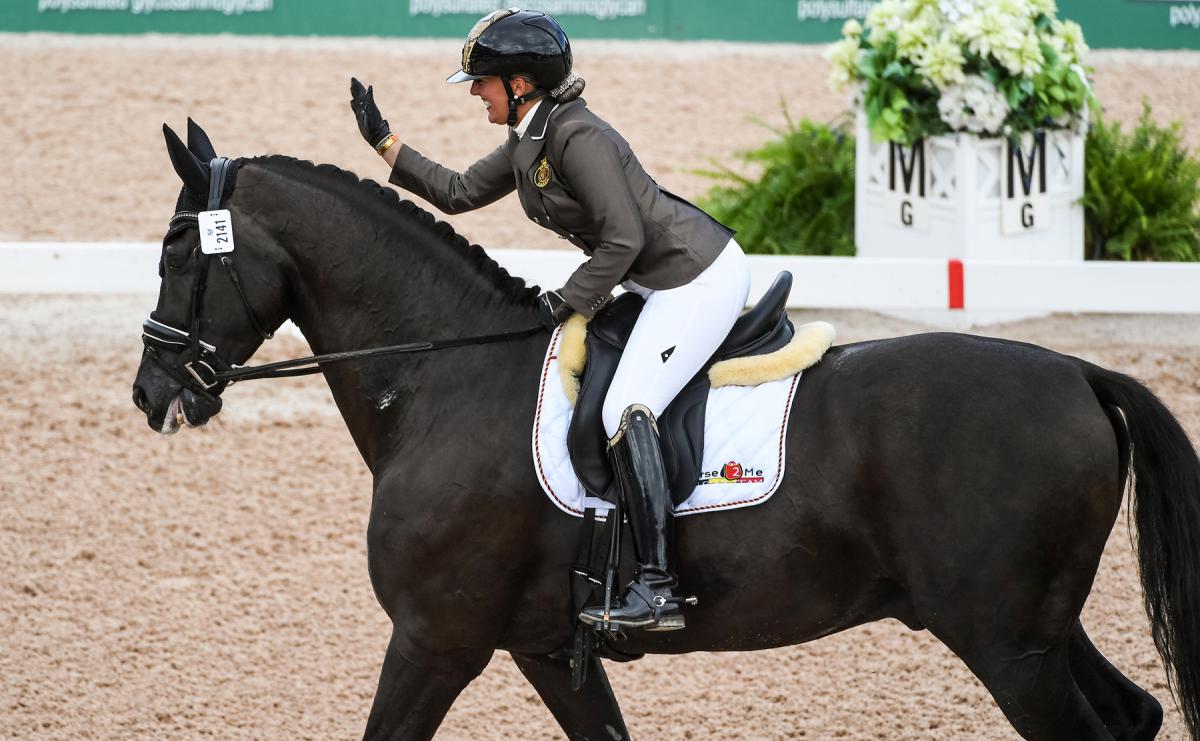 ⒸFEI/Liz Gregg
By Rob Howell | For the IPC
The anticipated Paralympic debuts of Tobias Thorning Jorgensen and Manon Claeys are on hold due to Tokyo 2020's postponement. But, it should be worth the wait in the Para equestrian world that has been seeing an emergence of new faces. 
Denmark's Jorgensen and Belgium's Claeys captured a pair of individual medals at the 2019 European Championships, which in the past had been dominated by British, Dutch and German riders.
Jorgensen took the gold in the grade III individual and freestyle, while Claeys picked up a silver and a bronze in the grade IV. 
The latter lives near Bruges in Belgium and has been riding since she was five. A riding accident at 21 that broke her back, but after several hours of surgery and two years of rehab, she was back on a horse.
"My first Para dressage horse was a two-and-a-half-year-old stallion," Claeys, now 34, laughed. "Everyone said I was crazy."
Jorgensen, contrarily, is the son of Denmark's Line Thorning Jorgensen, who competed at the Athens 2004 Paralympic Games, and has been riding for 20 years.
He has a "muscle wasting condition." 
"It's a genetic condition that causes weakness and severe tiredness. I've always been into riding though, and my parents bought me my first pony before I was even born," he explained. 
They are two exciting newcomers with two different stories.
Claeys and Jorgensen made their major international debuts at the 2017 European Championships, and already displayed podium potential.
"I went to Gothenburg with no expectations," said Claeys. "But everything fell into place and it was amazing to have that experience, and to win a silver medal." 
Jorgensen commented: "It was my first major Championships and on the first day I came fifth and it was close. I was a mix of disappointed and happy to be there. But I ended up being part of the silver medal winning team and won an individual bronze medal. Everything fell into place and it was amazing to have that experience."
The competition field has expanded in recent years with riders from Belgium, Denmark and the USA. 
Denmark has been led by Paralympic and Worlds medallist Stinna Kaastrup and new blood has emerged from the nation.
"I've pretty much grown up with (the national team)," Jorgensen said. "Stinna, for example, is not much older and has always been in my life."
Claeys also has a fellow Belgian rider in multi-Paralympic and world champion Michele George, mentoring her. 
"She helped me to get classified so I could compete officially," Claeys explained. "And she has this mantra of 'If it's possible, it's possible,' which I find really inspiring."
As for the Tokyo 2020 Paralympic postponement, they have been finding ways to make up for the time.
"Obviously, I see the logic but you spend your whole year planned out to the smallest detail," Jorgensen said. "I'm still studying, for example, and all my studying was planned around the Games happening this year. Now, I have to look at that again."
Claeys has a slightly different approach. 
"For me, the change of plans could work out well though, and I'm always positive," she said. "I have my horse, San Dior 2. But I have two others as well. This gives me the chance to see which of the three I can train to be the best for Tokyo."