Japan holding its horses for Tokyo 2020 Paralympics
The nation was set to medal at a Games for the first time ever thanks to development efforts
11 Jun 2020
Imagen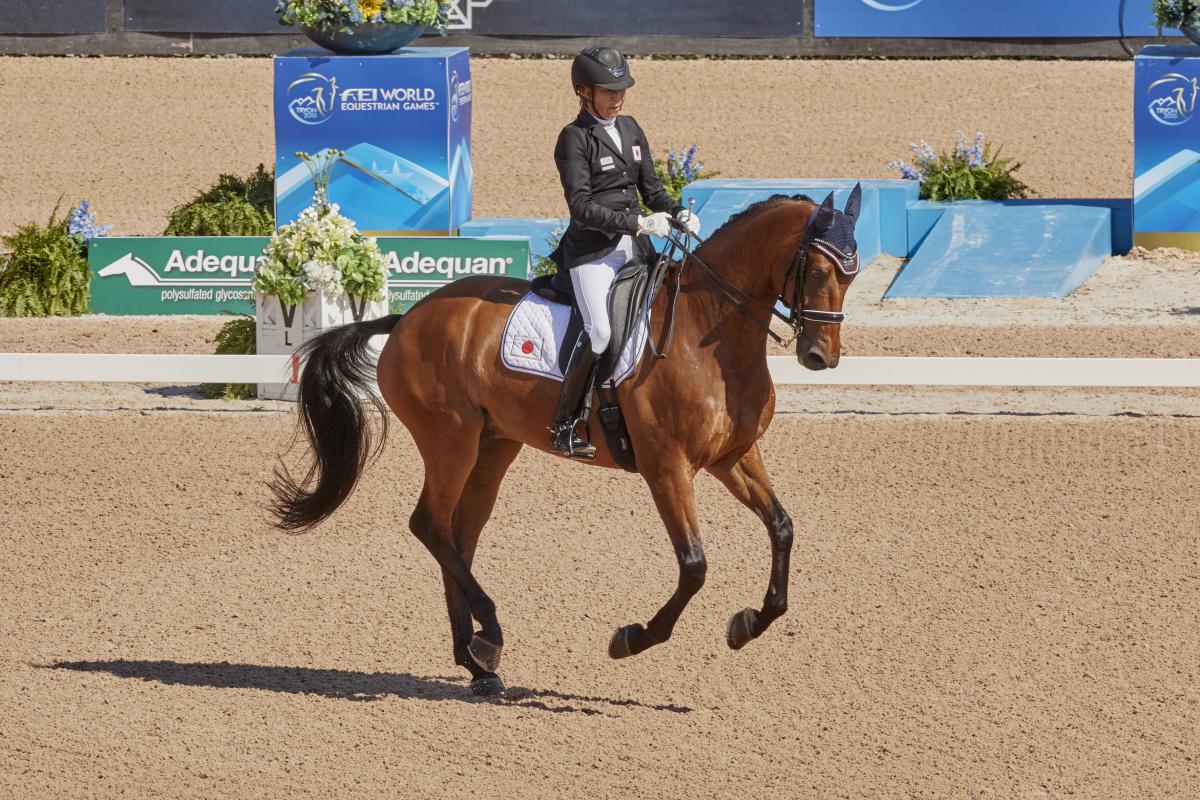 ⒸLiz Gregg/FEI
By Rob Howell | For the IPC
Japan has fielded a Para equestrian squad at every Paralympics since Sydney 2000. But Tokyo 2020 was set to be special, with high expectations of medalling for the first time and on their home soil.
While that excitement will have to wait until 2021, with the Paralympics postponed due to the COVID-19 pandemic, Japan's trajectory in the European-heavy sport was a long-time coming. 
Para equestrian developed from the Japanese Riding Association for the disabled, which was founded in 1993. Their first major international was the World Championships in 1999. But the division between Para dressage and Therapeutic Riding only occurred when Tokyo was chosen to host the 2020 Games, Masatoshi Kohno, director of the Japanese Riding for the Disabled Association said. 
"As Para dressage is a Games' sport, we have been expected to manage its growth and the competitiveness of our riders," Kohno said.
That preparation has two key elements – participation of a full team at 2018's World Equestrian Games, and having riders spend time in Europe, on leased European horses. 
"In 2018 we leased four horses in the Netherlands to form a team and sent our top four riders to the WEG," said Kohno. "As that proved so successful, we decided to do it again in 2019, and give opportunities to the most promising riders a chance to compete in Europe and hopefully achieve better results. 
"That's very important as our riders get to experience being judged by different judges, in different venues, and among the well-known riders. And the higher quality horses will bring the riders to a higher stage."
Sho Inaba was one of those riders who took part in competitions in 2019 and before the coronavirus pandemic halted competitions. 
He commented: "I watch the other athletes, and I look at how they are riding, the aids they use and so on. 
"Whether I am learning something new or better ways to do things, I get so many things from competitions." 
Japan's medal potential manifested when grade V rider Tomoko Nakamura won a bronze at the 2018 World Equestrian Games. It was the nation's first medal on the global stage. But with Nakamura no longer competing, the mantel has passed to grade III athlete Inaba. 
"I would love to finish in the top eight of each competition, and I believe I could even get a medal in the freestyle," said Inaba, who first competed internationally in 2017.  
Inaba is one of the five potential riders to make the Japanese team for the Games. At the moment, Mitsuhide Miyaji, Soshi Yoshigoe, Mina Chinju and Katsuji Takashima are other riders trying to secure their spot on the national squad and now have a year to prepare.
The rising competition is good news for Kohno.
"As Para sport and dressage become higher profile, we hope our legacy is a more inclusive society," he said. "For us we'll keep organising annual Para competitions and we have riders who are willing to keep working towards the next Paralympics in Paris in 2024, and beyond."